Donald Trump Thinks Evangelicals Are a Cheap Date; Is He Right?
Donald Trump thinks shallow Christian references are sufficient to win Evangelical votes. Is he right?
In his campaign for the Republican presidential nomination, Trump has, so far, mentioned that the Bible is his favorite book, compared himself to evangelist Billy Graham, showed his personal Bible to the audience at the Values Voter Summit, and promised to force Macy's to celebrate Christmas if elected president.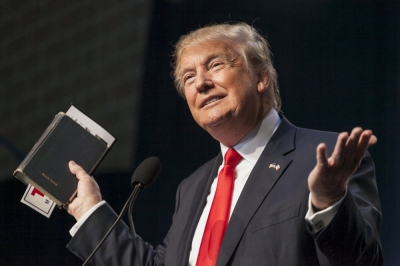 Amid these attempts to warm up to Evangelicals in the most frivolous and sometimes absurd ways imaginable, Trump has fallen flat.
When asked to name his favorite Bible verse, he first took a pass, and on his second try he cited a verse that's not in the Bible; he reached out to prosperity gospel preachers, who most Evangelicals view as heretics; and, he claimed to be a Presbyterian and a member of Marble Collegiate Church, which is not Presbyterian and has no record of him ever being a member.
Worst of all, Trump said he has never asked for God's forgiveness because he hasn't done anything that needs to be forgiven.
If Trump hasn't asked for forgiveness, he can't be a Christian. The Bible says that we're all sinners (Romans 3:23), Christ came for the forgiveness of sins, and to accept God's gift of eternal salvation one must repent of their sins and follow Christ as lord (Acts 2: 36-39).
This does not necessarily mean that Trump is intentionally misleading people about his faith. There is certainly enough false teaching in American churches that it could be Trump who is being misled into believing he is secure in his salvation even if he is not.
In another goof, Trump assumed that being "middle of the road" and a Presbyterian would appeal to Evangelicals.
"And, look, I don't have to say it, I'm Presbyterian," Trump said. "Can you believe it? Nobody believes I'm Presbyterian. I'm Presbyterian. I'm Presbyterian. I'm Presbyterian. Boy, that's down the middle of the road folks, in all fairness," Trump touted Saturday.
To the ears of most committed Evangelicals, however, being Presbyterian and "middle of the road" is nothing to brag about.
The Presbyterian Church (USA), the largest Presbyterian denomination in America, is a Mainline Protestant, not Evangelical, denomination. Like other Mainline denominations, it has moved away from core Christian teachings that Evangelicals continue to uphold.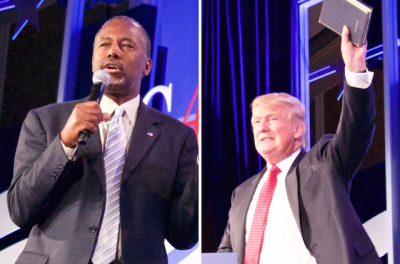 Indeed, PCUSA's attempt to be "middle of the road," or aligned with cultural norms, has been exactly the problem, from an Evangelical viewpoint. This year, for just one example, the PCUSA changed its definition of marriage to include same-sex couples.
There are conservatives within the PCUSA who are fighting on behalf of biblical truth, and there are other Presbyterian denominations that are Evangelical, the Presbyterian Church in America being the largest, but these don't represent the dominant themes among Presbyterians today.
What made Trump's statement even more strange was that his middle-of-the-road-Presbyterianism brag was intended as a contrast with rival Dr. Ben Carson's Seventh-day Adventist faith.
After stating, "Boy, that's down the middle of the road folks, in all fairness," Trump continued, "I mean, Seventh-day Adventist, I don't know about. I just don't know about."
In this statement, Trump clearly demonstrated his cluelessness about what is important to Evangelicals.
Seventh-day Adventists are best known for holding the Sabbath on Saturday instead of Sunday. This indeed sounds strange to many Evangelicals, which is probably why Trump believed pointing out Carson's denominational affiliation would give him an advantage with Evangelical voters.
But for most Evangelicals, strange is nothing compared to heresy, which describes the direction of the PCUSA. Indeed, strange is preferable to "middle of the road," if middle of the road means gaining cultural acceptance.
In his new book, Onward, for instance, Russell Moore, president of the Southern Baptist Convention's Ethics & Religious Liberty Commission, argued that Christians should embrace the strangeness of the Gospel, which is properly counter cultural. He is not talking about Saturday Sabbaths, of course, but a counter cultural Christianity would certainly find no appeal to being "middle of the road."
If he read more Moore (or Moore more), Trump would understand Gospel trumps culture.
There are some Evangelicals, however, who support Trump, despite the missteps, flubs and heresies. According to some polls, as many as one in four Evangelical Republican primary voters say they would vote for Trump.
What explains that?
In part, Trump's Evangelical supporters are what pollsters might call "weak identifiers." When asked if they are Evangelical and if they support Trump, they answer "yes" to both, but in reality they are EINO's (Evangelicals In Name Only).
As Gallup's Editor-in-Chief Frank Newport pointed out, self-identified Evangelicals who practice their faith and take their faith seriously are less likely to support Trump.
There is also the fact that Trump appears to be drawing support from prosperity gospel Evangelicals. The prosperity gospel emerged from certain strands of Evangelical Christianity, the holiness movement in particular. But, as mentioned above, its teachings have diverged so far from orthodox Evangelical beliefs that most Evangelicals consider its teachings heretical. So, Trump has not helped himself with most Evangelicals by embracing prosperity gospel preachers.
Beyond the EINO's and prosperity preachers, however, there are some orthodox Evangelicals who support Trump. The most visible of these has been Southern Baptist Pastor Robert Jeffress.
Jeffress appeared on stage with Trump and prayed for him at an event in Dallas, Texas. In interviews with The Christian Post, Jeffress explained that he has not endorsed any candidate and is willing to pray for anyone who asks. He also, however, traveled to New York to attend Trump's meeting with prosperity gospel preachers, and he continues to praise Trump in media interviews.
In a Monday op-ed for Fox News, Jeffress claimed that after speaking to "thousands of people" he is "convinced that there are a legion of 'closeted' Evangelical Trump supporters who are almost apologetic for being attracted to him."
If not fully sold on Trump, Jeffress is clearly intrigued by the possibility of a Trump presidency.
Why? Jeffress says Trump's Evangelical supporters want a "strong leader."
There could be another factor at play: the Christian Right has often preferred pragmatism to purity, backing candidates they perceive as winners over candidates most aligned with their values.
For instance, in 1988, Jerry Falwell backed George H. W. Bush over Pat Robertson; in 2000, Gary Bauer supported John McCain over George W. Bush; and in 2008, Pat Robertson endorsed Rudy Guiliani (at a time when pundits thought he would win the nomination) over several pro-life, pro-marriage candidates.
Hence, Trump's support among some Evangelicals could simply be a function of the belief that he will be the Republican nominee.