Trump: My Presbyterians Better Than Ben Carson's Seventh-Day Adventists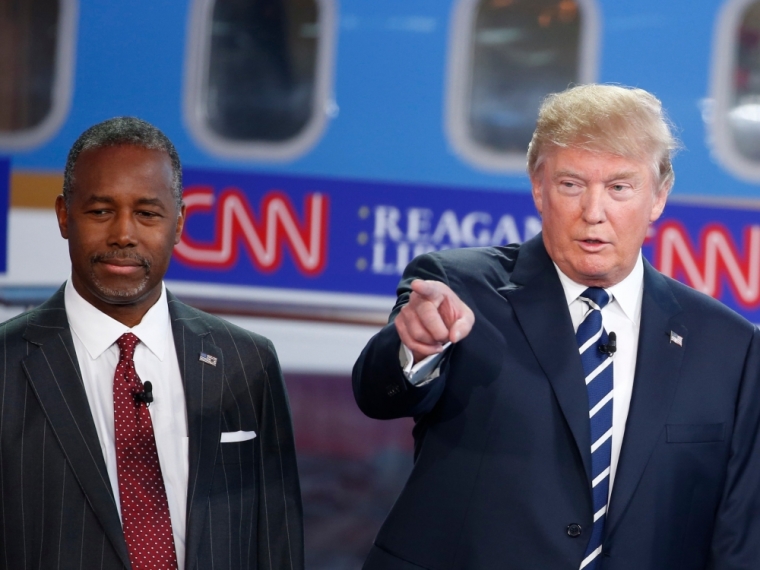 Having lost his Republican frontrunner status to Ben Carson, presidential candidate Donald Trump sought to compare his Presbyterian faith with that of his rival's Seventh-Day Adventist affiliation.
At a campaign rally in Jacksonville, Florida, on Saturday, Trump said, "I love Iowa. And, look, I don't have to say it, I'm Presbyterian. Can you believe it? Nobody believes I'm Presbyterian. I'm Presbyterian. I'm Presbyterian. I'm Presbyterian."
Trump added, according to The Washington Post, "Boy, that's down the middle of the road folks, in all fairness. I mean, Seventh-day Adventist, I don't know about. I just don't know about."
Asked about his intention, Trump spokeswoman Hope Hicks later said, "I think the remark speaks for itself."
Last week's Des Moines Register/Bloomberg Politics Iowa Poll showed Carson at 28 percent, leading Trump, a billionaire businessman, by 9 percentage points, with the rest of candidates trailing far behind.
Carson, a retired neurosurgeon, responded to Trump's remarks on Sunday, saying on Fox News, "I really refuse to really get into the mud pit. I really think that was a huge mistake in the last cycle and I'm certainly not going to get into that, no matter what anybody says."
Carson had previously said denominational affiliation doesn't matter.
"I spend just as much time in non-Seventh-day Adventist churches because I'm not convinced that the denomination is the most important thing," he told Religion News Service in 1999. "I think it's the relationship with God that's most important."
Last month, Carson and Trump were engaged in a back-and-forth debate over who is more genuine in their Christian faith.
Asked to name a difference between himself and Trump in September, Carson said, "The biggest thing is that I realize where my success has come from, and I don't any way deny my faith in God. And I think that probably is a big difference between us."
Carson added: "I haven't heard it, I haven't seen it. You know, one of my favorite, Proverbs 22:4, it says: 'By humility and the fear of the Lord, are riches and honor and life.' And that's a very big part of who I am. Humility, and fear of the Lord. I don't get that impression with him. Maybe I'm wrong."
Carson later apologized for those remarks.
In an earlier media interview, Trump wasn't able to name his favorite Bible verse.
"I wouldn't want to get into it. Because to me, that's very personal," the billionaire businessman said on Bloomberg's "With All Due Respect," when asked to share his favorite Bible verse. "The Bible means a lot to me, but I don't want to get into specifics," he said.
Trump was then asked which does he prefer the New Testament or the Old Testament. "Probably equal. I think it's just incredible," he responded.