Ben Carson Turns the Other Cheek After Donald Trump Attacks: 'You Have to Be Humble'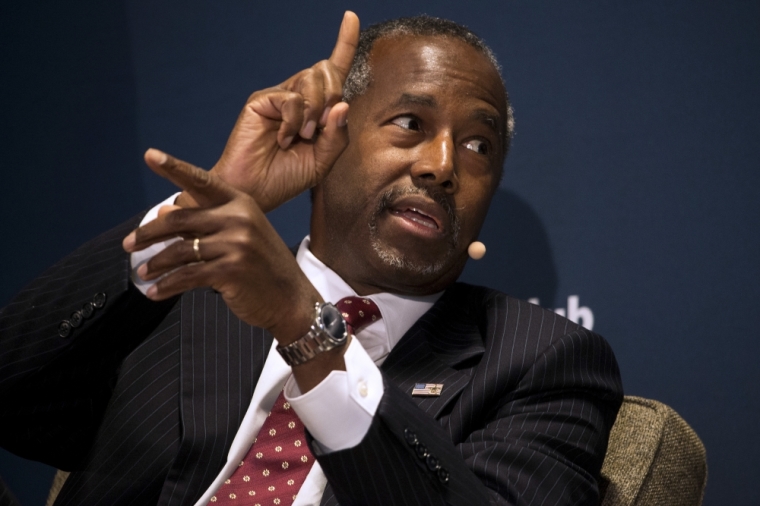 Even though Dr. Ben Carson was hammered repeatedly by Donald Trump this weekend, he's been turning the other cheek during interviews, refusing to hit back.
Trump said that the former neurosurgeon is "not a deal-maker" and lacks "natural ability," but instead of attacking Trump, Carson apologized for previously questioning the billionaire businessman's faith.
"You have to be humble enough to be able to listen to other people and recognize that, sometimes, they might actually know more than you do, and be able to integrate that," Carson said on CBS' "Face The Nation" Sunday.
However, he did make sure to rebuff Trump's argument that he lacks energy.
"It doesn't bother me, because I recognize that I have plenty of energy," he said on ABC's "This Week." "You know, operating on people for 10, 12, sometimes for greater than 20 hours at a time, making critical decisions after many hours of intense work, having unexpected situations come up. You don't have to be loud to be energetic."
Carson taking the high road seems to be part of his political strategy of avoiding a political battle with Trump. He previously questioned Trump's faith in God at a rally in Anaheim, California, but the retired surgeon later apologized for his words in an effort to squash the feud.
"I think I did slip," he told Fox News' Greta Van Susteren. "And that's why I apologized. There is no reason ever to question anybody's faith. That's something between them and God."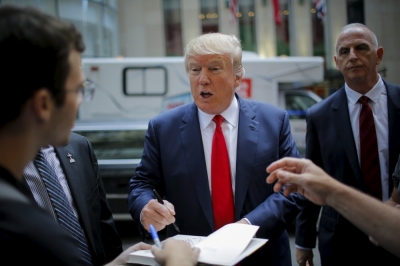 The apology, though acknowledged by Trump — "He was nice enough to apologize, so I respect him," the businessman said Saturday — wasn't enough to stop him from slamming Carson the next day. The mogul appeared on CBS' "Face The Nation" as well and when asked about the main difference between him and his political rival, he talked about their negotiation skills.
"Well, I'm a deal-maker. I will make great deals for this country. Ben can't do that. Ben's a doctor, and he's not a deal-maker," Trump said, adding that he was focused on bringing back jobs to the U.S. and stimulating economic growth by lowering corporate taxes.
Later on in the interview, he said that Carson, who is known for his calm and collected demeanor, is a "nice man" — but that affability isn't always a desirable quality when facing enormous challenges as President.
"Frankly, Ben Carson is a very, very nice man. But … this will not be a good situation, because of the fact that he's not a dealer, he's not a negotiator," Trump explained. "And the president has to be able … to bring wealth back into our country. We're a country with $19 trillion in debt. We have $19 trillion. We have to get rid of that and we have to bring wealth back into our country. Ben can't do that."
After hearing the criticism, Carson was asked if Trump would make a good president. He avoided a fight by twice answering that he would "leave that up to the voters."
In addition to sidestepping a fight with Trump, Carson is focusing on a different strategy: highlighting his business experience. Though the Christian physician is known internationally as a gifted neurosurgeon, he is now marketing his leadership abilities.
"My life is multifaceted, growing up, having multiple jobs, experiencing every level, socioeconomic level, in our country, spending multiple years in corporate America, 18 years on the board of Kellogg, 16 years on the board of Costco," he said Sunday on "Face The Nation." "You get an enormous amount of experience doing those things, [being] chairman of the compensation committee for a Fortune 500 company."
"I have a lot of experience doing things, starting a national nonprofit, nine out of 10 which fail. … It's working in all 50 states and has won major national awards that are only given to one nonprofit in the country a year," Carson continued. "So, it's ridiculous to think that the only thing that I can do is neurosurgery."
Trump has a commanding lead with GOP voters at 33 percent, while Carson has climbed to 20 percent in the latest polls. The two frontrunners will face-off at the CNN Republican Primary Debate on Wednesday, Sept. 16 at 8 p.m. EST.