3 Things Trump Doesn't Know About Seventh-Day Adventists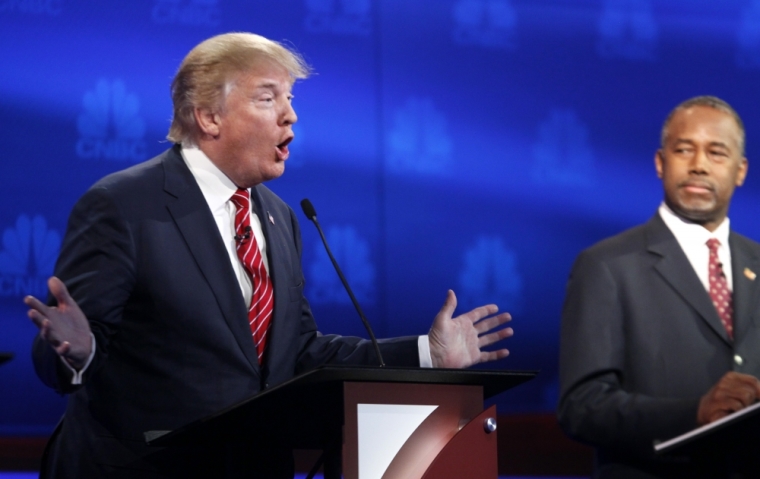 Donald Trump received criticism for his somewhat vague comments that appeared to cast seeds of doubt on Seventh-day Adventists, the denomination of his main rival, Dr. Ben Carson.
There are over one million members of the denomination in the United States and over 18 million worldwide.
Few would argue that Carson, a Seventh-day Adventist and retired neurosurgeon, does not have a sincere faith. Carson's political popularity emerged after he criticized President Barack Obama while next to him at the National Prayer Breakfast in 2013.
While Seventh-day Adventism is a unique and newer brand of Protestantism that was once considered a cult by some, a large swath of Seventh-day Adventists have in more recent times mainstreamed themselves and fully embraced orthodox Christian beliefs.
Since Trump asserted his Presbyterian faith is "down the middle of the road" at a rally in Florida Saturday and admits, "I just don't know about it" when referring to Seventh-day Adventism, below are three important things to know:
1. Seventh-day Adventism is Trinitarian:
Like Presbyterianism and any denomination must be to claim a proper understanding of Christianity, Seventh Day Adventists are Trinitarian.
If one visits the denomination's website they not only see Trinitarian language but an important affirmation of the Protestant doctrine of Sola Scriptura, or "Scripture alone." Scripture to them is the infallible Word of God. They uphold and affirm other important tenets of Christianity such as the resurrection of the dead, and the incarnation of Christ, and virgin birth.
In a USA Today column Tuesday, Mark Kellner penned a column titled, "Ben Carson's faith – and mine – has already touched your life." Kellner addressed some of the unknowns surrounding the denomination's controversial founder Ellen White:
"The church and its members also respect and take counsel from the writings of Ellen White, who we believe exercised the biblical gift of prophecy during her decades of public ministry," declares Kellner.
"But we don't worship White or her writings, nor do they substitute for the Bible. 'Brethren and sisters, I commend unto you this Book,' were White's final public words, referring to the Bible she held in her hands, at a 1909 meeting of Adventist leaders. (She died six years later.)"
While White's prophecies are certainly controversial, it remains unclear how much if any of those Carson endorses or if it even matters to Evangelical voters.
2. Seventh-day Adventists affirm the traditional understanding of marriage and human sexuality, unlike the Presbyterian U.S.A. denomination.
In 2014, The Presbyterian Church U.S.A., of which Trump claims affiliation, voted to allow marriages between same-sex couples and changed the wording in their Book of Order in 2015 to "between a man and a woman" to "between two people, traditionally between a man and a woman."
Seventh-day Adventists take a Biblical view of human sexuality and affirm belief that marriage is exclusively between a man and a woman.
 3. Seventh-day Adventists worship on Saturday and profess Christ is coming soon.
The return of Christ, taught by Scripture and affirmed in the Nicene and Apostles Creed, is a central theme within the denomination.
"The almost complete fulfillment of most lines of prophecy, together with the present condition of the world, indicates that Christ's coming is near," reads the Seventh-day Adventist Website.
Seventh-day Adventists teach that while the return of Christ is near we can't predict the date. While some of the denomination's founder's visions and prophecies are certainly outside traditional Protestantism or Evangelicalism, the fact that the Bible takes precedence over her teachings has helped to mainstream the group in the broader Christian community.
The denomination's website offers a broader and what they call "humble" explanation citing their interpretation of Scripture on why they worship on Saturday and keep it as the Sabbath. While this puts them out of the mainstream of most Christian interpretation, few Protestants still consider the denomination or sect a cult.
Conclusion:
While presidential candidates attacking opponents is nothing new in politics (Thomas Jefferson was falsely called "a howling atheist and an infidel" by the Federalists in 1800 election) the tactic has generally been an ineffective strategy in presidential races.
In 1980, Jimmy Carter who was trailing in the polls to Ronald Reagan, went so far as to ask Ted Kennedy to bash Ronald Reagan as anti-Catholic, a request that Kennedy, to his credit, found appauling.
As Iowa and other GOP primary states with large swaths of Evangelical states becomes more competitive during the presidential race, it's always possible campaigns to gamble by criticizing an aspect of a candidate's faith in the race to the nomination. History shows it has happened before.