Trump Refuses to Apologize for Comment on Ben Carson's Faith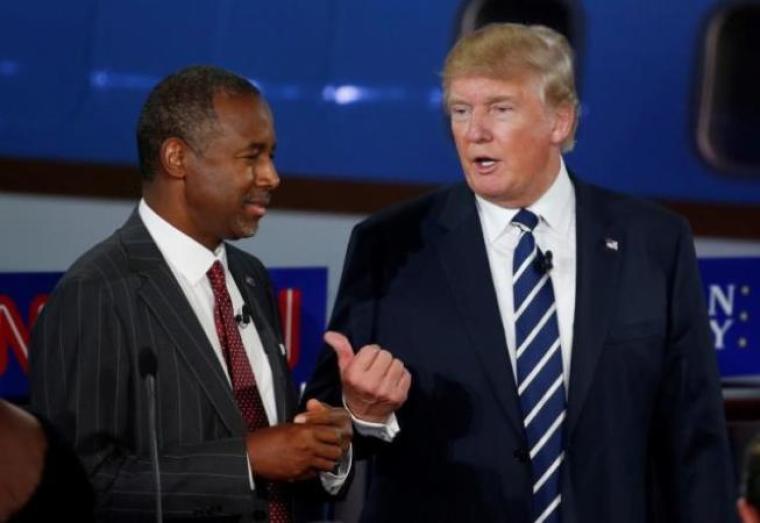 GOP Presidential candidate Donald Trump has said that he will not be apologizing for a comment he made about rival candidate Dr. Ben Carson's Seventh-Day Adventist faith.
Trump has earlier said that he "doesn't know" about the Christian denomination that Carson follows, which prompted the retired neurosurgeon to ask for an apology – but Trump maintained in an interview on Sunday that he meant no offense in his comment.
"I know nothing about it really. I'm a Presbyterian and I had mentioned that, and I did say I don't know about it. And in fact those are my exact words," Trump said on ABC's This Week. "I didn't say anything bad about it. I just don't know about it. I would certainly give an apology if I said something bad about it. But I didn't. All I said was I don't know about it."
On Saturday during a campaign stop in Iowa, the billionaire businessman lauded his Presbyterian faith.
"I love Iowa. And, look, I don't have to say it, I'm Presbyterian," Trump said. "Can you believe it? Nobody believes I'm Presbyterian. I'm Presbyterian. I'm Presbyterian. I'm Presbyterian. Boy, that's down the middle of the road folks, in all fairness. I mean, Seventh-day Adventist, I don't know about. I just don't know about," he added about Carson's faith.
The Washington Post pointed out that Carson is a twice-baptized Seventh-day Adventist.
Following Trump's original comments, the retired neurosurgeon pointed to an incident from September, when Trump "went ballistic" when Carson questioned the frontrunner's faith, but then took back his comments.
"I've realized where my success has come from, and I don't in any way deny my faith in God," Carson said in the latest Fox News interview.
"So it seems a little interesting that he would now be doing that," he added about Trump.
"I really refuse to really get into the mud pit," he continued, adding that Trump "is who he is. I don't think that's going to change. And I am who I am. That's not going to change, either."
The two Republican candidates are locked in an intense battle for public support in Iowa, with a Quinnipiac Poll and the Bloomberg Politics/Des Moines Register Iowa Poll finding that Carson is leading Trump for the first time in the state.
Trump downplayed the latest polls, however, adding that he remains confident of his support in Iowa.
"Well, in Iowa he is [leading]," Trump said on ABC. "Not everywhere else, because everywhere else I see they're all different people all over the lot, all scattered all over the place. New Hampshire is totally different. In New Hampshire I have a massive lead and we have different seconds. You look at different states, it seems to be a lot of different people. But certainly in Iowa, he got a lot of PR by going a little bit ahead of me in Iowa. But we'll see what happens because I find it hard to believe."