Trump's Meeting With Prosperity Preachers Is Outreach to Heretics, Russell Moore Says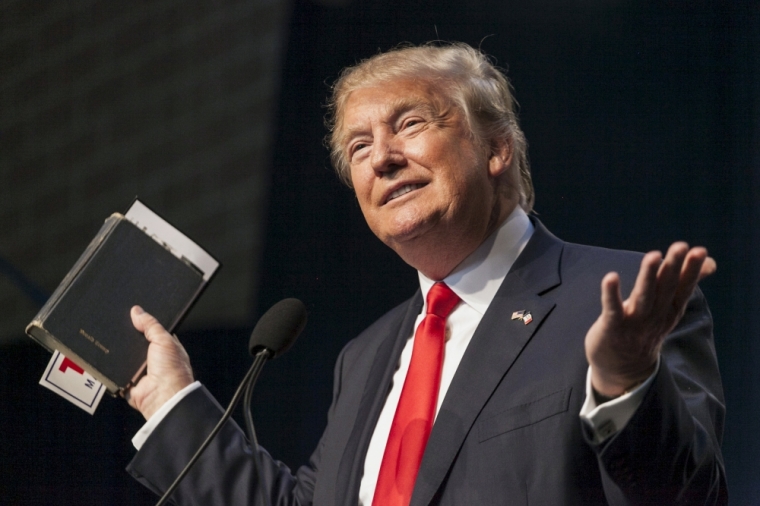 Donald Trump's Evangelical outreach is mostly with preachers who mainstream Evangelicals would consider heretics, Russell Moore, president of the Southern Baptist Convention's Ethics & Religious Liberty Commission, says.
Despite his veneer of bombast and blunt pronouncements that sometimes bristle even the most composed of his political rivals, GOP presidential frontrunner Donald Trump told about 40 religious leaders in a private Monday meeting that he is indeed "a man of faith," but just doesn't wear it on his sleeve.
Don Nori, founder of Christian book publisher Destiny Image, who was at the meeting held on the 26th floor of Trump Tower in New York City, told CNN that while Trump spoke to the leaders for a bit, he spent most of the time listening to their concerns and advice about him as a candidate.
"It started out inquisitive and a little cautious, but by the end it was more cordial, everyone wanted a picture with him," said Nori. "People had a lot to say to him, a lot of advice, (but) it was not a pep rally for Donald Trump."
And although Trump has developed a reputation for being brash, mean and insincere about his faith, Nori said on Monday religious leaders saw a different man.
"He talked a lot about his faith. He says it's not something he wears on his sleeve, but it was very obvious he was a man of faith," said Nori. "He is a much kinder man than he appears."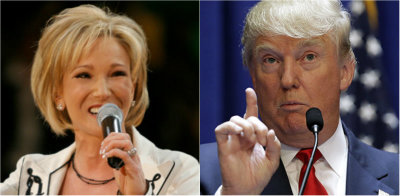 Bishop Clarence McClendon of the Full Harvest International Church in Los Angeles called the meeting "insightful" and "enlightening."
"I believe there's a reason why Mr. Trump is making such an impact with such a broad range of constituents," McClendon told CNN.
A description of the meeting by Politico, however, said it was "a gathering dominated by preachers of the prosperity gospel and media-savvy faith leaders" like McClendon.
Others in attendance included Robert Jeffress, pastor of First Baptist Dallas, Messianic Rabbi Kirt Schneider; Cleveland Pentecostal pastor Darrell Scott and televangelist Paula White.
Jeffress and Schneider reportedly raised concerns with Trump about his habit of personally attacking rivals and critics. Scott, on the other hand, urged him not to get too soft despite the criticism.
"To be quite honest if you tone it down too much, you won't be you," said Scott as many at the meeting applauded.
"You do need to refrain somewhat from calling someone a moron or something, but you can't turn into a milquetoast neither for the sake of winning a vote," added Scott, whose church owns its own radio station.
Other popular religious figures in attendance were televangelists Gloria and Kenneth Copeland and Trinity Broadcasting Network co-founder Jan Crouch, who is also the president of a Christian theme park in Orlando, according to Politico. At the end of the meeting, they all laid hands on Trump and prayed.
Moore, who has been an outspoken critic of Trump, argued that most of the so-called "Evangelicals" Trump is reaching out to would be considered heretics by most Evangelicals.
"The people that Trump has so far identified as his evangelical outreach are mostly prosperity gospel types, which are considered by mainstream evangelicals to be heretics," he told Politico.
"Trump seems to be positioning himself as a secular version of the health-and-wealth televangelists … What Donald Trump is doing in terms of promises for the future is very similar to what's going on among these prosperity gospel hawkers," he said.
Moore also wrote a Sept. 17 op-ed for The New York Times arguing that Evangelicals who support Trump are betraying their values.
When asked about that op-ed the same day it was published, Jeffress told The Christian Post that he had not read it, but he also has not endorsed any presidential candidate and is willing to pray with any candidate who asks, including Democratic front-runner Hillary Clinton.
Jeffress appears to be the only Southern Baptist at the meeting and does not have a prosperity gospel background.
Craig Brown, a Trump supporter and employee of Ohio Christian University told Politico however that many evangelical leaders disapprove of Trump only because "political correctness had made tremendous inroads into facets of our society and culture."
According to the Christian Broadcasting Network's chief political correspondent David Brody who also reported on the meeting, Trump is winning the "sick and tired of it" bloc of evangelicals.
"Evangelicals have felt used and been burned before," said Brody. "Along comes Donald Trump and he is a breath of fresh air for them."
In the meeting Monday, Trump promised to start engaging black voters better and will be meeting with a group of black pastors in Atlanta on Oct. 10. He is expected to hold a rally at the Wave Church's convention center in Virginia Beach, Virginia on Friday.
Correction: The original version of this story published on Sept. 30 incorrectly reported that Rabbi Kirk Schneider was a member of Jews for Jesus.