Trump Bible? CNN 'Searches Multiple Bibles' in Hunt for The Donald's Bible Verse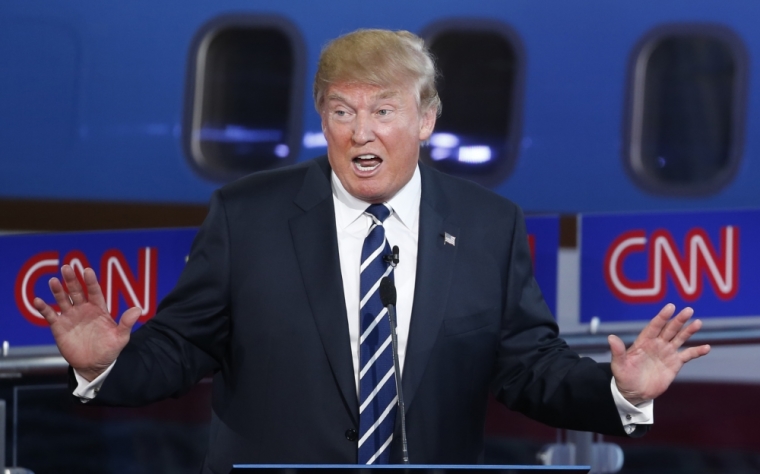 Republican presidential hopeful Donald Trump is being accused of misquoting a Bible verse during an interview with the Christian Broadcasting Network at a California golf course that he owns.
"Proverbs, the chapter 'never bend to envy.' I've had that thing all of my life where people are bending to envy," the billionaire businessman and reality TV star proclaimed. "There's so many things that you can learn from it."
Eugene Scott of CNN noted that the phrase "never bend to envy" does not actually appear in the book of Proverbs.
"It was not immediately clear, which verse Trump was referencing. Multiple searches of various English versions failed to produce a verse with the phrase 'never bend to envy' although Proverbs mentions the topic of envy on several occasions," CNN reported.
As with other Republican primary candidates, Trump's religious beliefs have become a subject scrutiny from both party members and mainstream society.
Last month during an interview on the Bloomberg program "With All Due Respect," Trump was repeatedly asked what his favorite verse of the Bible was after saying that it was his favorite book.
"I wouldn't want to get into it. Because to me, that's very personal," responded Trump. "The Bible means a lot to me, but I don't want to get into specifics."
The lack of specifics led to much criticism, including a social media trend about what must be in the "Trump Bible."
"Trump insists that the Bible is his favorite book, which inspired some clever people on Twitter to imagine what the Bible would have been like if it had been written by Trump," noted bgr.com.
"Does anyone actually think Donald Trump is a devout Christian? If he is then he has a very funny way of showing it …"
For its part, a Trump spokesperson told CBN that Trump's quote of "never bend to envy" was in reference to Proverbs 24:1-2: "Be not thou envious against evil men, neither desire to be with them. For their heart studieth destruction, and their lips talk of mischief."