Marble Collegiate Church Says Donald Trump Is Not an Active Member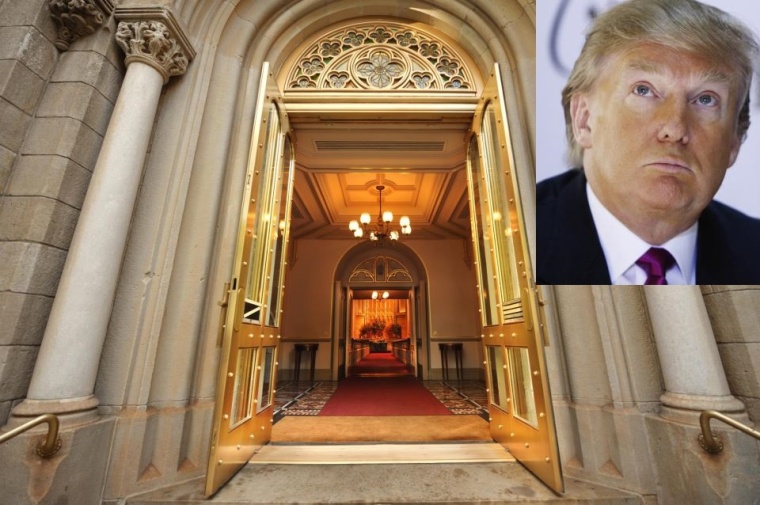 The historic Marble Collegiate Church on Fifth Avenue in Manhattan, New York where leading 2016 GOP presidential candidate Donald Trump told reporters Thursday that he is a member, said Friday that the billionaire real estate mogul is not an active member.
"I am Presbyterian Protestant. I go to Marble Collegiate Church," Trump reportedly told reporters in Greenville, South Carolina Thursday according to CNN.
Marble Collegiate Church is not a Presbyterian denomination, however, but part of the Reformed Church in America.
In a statement released to that network however, the church, which dates back to 1628, acknowledged a strong connection with Trump's family but said he was not an active worshipper.
"Donald Trump has had a longstanding history with Marble Collegiate Church, where his parents were for years active members and one of his children was baptized. However, as he indicates, he is a Presbyterian, and is not an active member of Marble," the statement said.
Marble Collegiate church according to its website is the oldest place of worship of the Collegiate Reformed Protestant Dutch Church of the City of New York and the oldest Protestant organization in North America with continuous service. It was organized in 1628 under the Dutch West India Company.
"We are a community of people on a shared journey of life and Faith. We are committed to inclusivity, to being a place of welcome, safety, love, and respect for all persons regardless of age, station, economics, color, sexual orientation, or any of the categories the world constructs to segregate or alienate people from people," states the church in a welcome message on the website. "In this place, we celebrate that we are all children of the same God and thus are all sisters and brothers to each other."
According to CNN, Trump expressed admiration for Dr. Norman Vincent Peale, author of self-help book "The Power of Positive Thinking," who also served as pastor at Marble Collegiate Church for 52 years from 1932 until 1984. Peale died in December, 1993.
"Dr. Norman Vincent Peale, The Power of Positive Thinking was my pastor," Trump said Tuesday. "To this day one of the great speakers I've seen. You hated to leave church. You hated when the sermon was over. That's how great he was at Marble Collegiate Church."
Trump who is a favorite among white evangelical voters also said on Thursday that "at some point I'm going to be meeting with ministers and pastors."
Next month, according to the Wall Street Journal, televangelist Paula White, who the real estate mogul has a longstanding relationship with, will host a meeting with Trump and other Christian leaders in New York City.
The meeting, set for Sept. 28 at Trump Tower is expected to be "a small group meeting, maximum 30 people."
"Mr. Trump's goal is simple, to hear the heart of America's Christian leaders and learn what they feel are the most critical issues facing our nation today," wrote Sheila Withum, a Tampa, Fla., public relations executive.