Donald Trump Declines to Name His Favorite Bible Verse: 'That's Very Personal' (Video)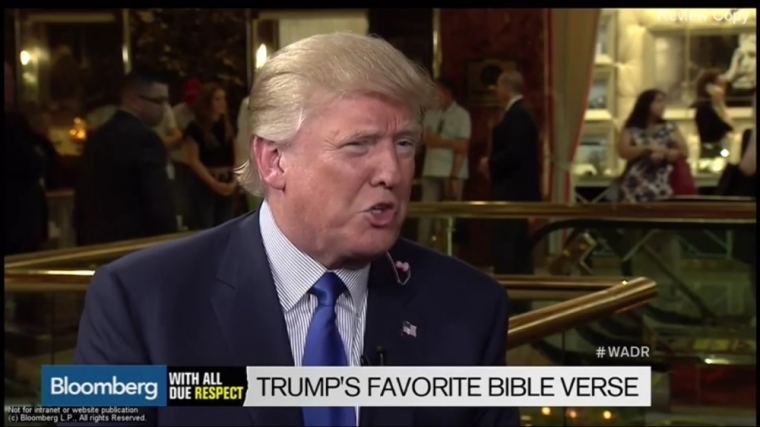 GOP Presidential candidate Donald Trump was repeatedly asked in an interview to state his favorite Bible verse, since Trump had previously declared the Bible to be his favorite book, but declined each time and explained that it is "very personal" to him.
"I wouldn't want to get into it. Because to me, that's very personal," Trump said Wednesday on Bloomberg's "With All Due Respect."
He was asked again if there is any one particular verse that means a lot to him, to which he said: "The Bible means a lot to me, but I don't want to get into specifics."
A third time he was asked to cite a verse that he likes, but Trump replied "No, I don't want to do that."
When asked whether he prefers the Old Testament or the New Testament, Trump said "probably equal."
Earlier this month the billionaire businessman identified the Bible as his favorite book at a campaign stop in Michigan.
"It's my second favorite book of all time," Trump told the crowd of his own book The Art of the Deal.
"Do you know what my first is? The Bible! Nothing beats the Bible," he added.
Back in June, Trump identified himself as a Presbyterian, and said that he is "very proud" of his faith.
"Believe me, if I run and I win, I will be the greatest representative of the Christians that they've had in a long time," he said before making the official announcement that he is running for president.
The GOP candidate has spoken out on faith-related topics a number of times since, and at the Family Leadership Summit in Iowa in July admitted that he's unsure if he has ever asked God for forgiveness.
"Why do I have to repent or ask for forgiveness, if I am not making mistakes?" Trump asked CNN's Anderson Cooper in an interview. "I work hard, I'm an honorable person."
He later clarified: "I go to communion and that's asking forgiveness, you know, it's a form of asking forgiveness."
A recent CNN/ORC poll pointed out that Trump has 23 percent of the vote and is leading all other GOP candidates, including former Sunday School teacher Ben Carson, former Baptist pastor Mike Huckabee, and evangelical Ted Cruz, who launched his campaign at Liberty University.