Dr. Bobby Jones Exclusive: 'Bobby Jones Gospel' Host Reveals Challenge With the Longest Running Show on Cable
Dr. Bobby Jones Exclusive: 'Bobby Jones Gospel' Host Reveals Challenge With the Longest Running Show on Cable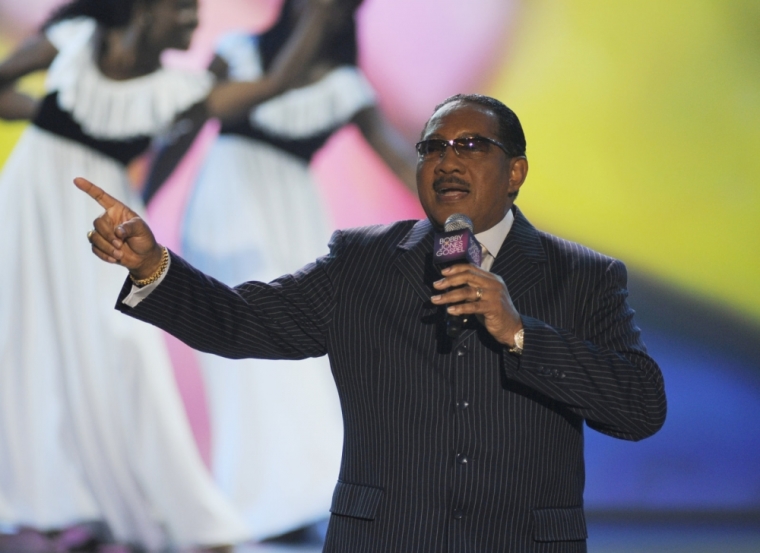 Dr. Bobby Jones has the longest continuous running original series on cable television, which he said does not come without challenges.
Jones, 75, recently returned to BET for the 34th year of his show, "Bobby Jones Gospel." Since the show airs at 9 a.m. ET on Sunday mornings, many people who would tune in are attending their respective church services.
For this reason, Jones hopes that his program can garner a prime time slot, which has not proved to be an easy feat.
"I think that's a consistent challenge to ensure that we're on at an appropriate time for all of the audience to be able to catch us other than being able to DVR it," Jones told CP. "I'm not saying 9 a.m. is not prime time, but a lot of people are in church 9 a.m. I probably would like to see an evening show on Sunday."
Still, the host of two gospel television and radio shows who started on BET when the network formed in 1980 has faith that enables him to continue his duties on "Bobby Jones Gospel."
"My faith has kept me there because I understand that faith is the substance of things hoped for and the evidence of things not seen. I quote those passages and do that with an understanding, so I know that faith is essential for anything to develop," Jones told CP. "In the Christian world you must have faith, so I understand that. That's how it undergirds my ability to go forth in that manner."
The show premiered last week with gospel artist Kirk Franklin bringing his brand of humor to host alongside Jones, who showcased his ability to bridge the gap between veteran and new gospel artists.
Veteran musicians like Vicki Yohe, Twinkie Clark and Moses Tyson graced the same stage as up-and-coming artists Tasha Page Lockhart and The Walls Group during the premiere episode with Jones at the helm. Jones believes it is important to showcase the different generations of talent in the gospel music industry and promises some new and exciting things for the program's broad audience in its 34th year.
Exclusive Op-eds from the Presidential Campaigns
"You know you have to keep doing, keep reintroducing yourself to people ... and people will see a lot of interesting new features this time," Jones told The Christian Post. "We always have something very different on these shows and that's what I think is another reason why this show maintains itself."
While Jones is front and center for BET's flagship Gospel program that is the longest-running continuous original series on cable, fans have watched it provide a platform for veterans like Kirk Franklin, Yolanda Adams and Mary Mary over the years. The senior Gospel music industry veteran says he remembers each story of how countless talents have come to grace his show's stage and recognizes the importance of providing newer artists with a platform.
"As long as we keep getting these new artists, that means our music stays alive. If we only work with the ones that are there now, some of us, we're going to leave here and then we will have nobody else to carry it on," Jones told CP. "So I am absolutely thrilled with the new artists. I'm so grateful that the Lord keeps sending us new artists whose message is inspiration in support of the kingdom."
Although he has contributed to "Bobby Jones Gospel," remaining on the air as BET's flagship gospel program as a host, Jones' singing abilities are on par with the gospel musicians who grace the stage on his show. Jones has received a list of awards and accomplishments as a leader of his New Life singers and Nashville Super Choir. He has been honored with a Grammy Award, Dove Award and three Stellar Awards.
While he has received a number of other nominations, Jones has showcased his other abilities by writing and performing the black gospel opera, "Make A Joyful Noise" and authoring two books. Despite his hosting duties on four shows, Jones is not thinking about slowing down but increasing his workload.
"I'm not ready to quit yet," Jones told CP, saying he'd love the possibility of creating, "a new book, another movie and whatever else God puts on my plate."
Despite all that he has accomplished in and for the gospel music industry, the fact that "Bobby Jones Gospel" still appears on BET amazes Jones.
"It's amazing to me, I have watched so many shows that have come and gone and we are still there after 34 seasons. I think you have to give it up to God for placing it there and seeing to it that His word is expressed through this genre of music as well as other means of getting His word out," Jones told CP. "The people that He sends to us to do that, they understand what He is, who He is and how He is. And He gives us all the interims that make it a special presentation."
"Bobby Jones Gospel" appears each Sunday morning on BET at 9 a.m. ET.