Duck Dynasty Scarecrow Parents Forgive Teen Who Stole, Burned It to Ashes; Will Rebuild Uncle Si (PHOTO)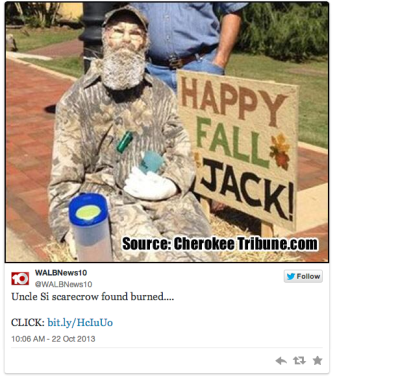 The parents and children who built an Uncle Si Duck Dynasty scarecrow have said they forgive the Georgia teen who stole it from their elementary school and burned it to ashes recently.
The charred remains of a scarecrow portraying Duck Dynasty star Uncle Si Robertson was recently found in the town of Ball Ground in north Georgia, with police officials saying a teen stole the scarecrow simply because "he wanted it."
A 16-year-old teenager has since been arrested for stealing the scarecrow from a local elementary school and burning it.
Police chief Byron Reeves told the Atlanta Journal-Constitution: "[The suspect] admitted that he did take it on his way home one night, and he burned it because he got afraid of the media attention and what it got on social media."
The scarecrow, which was made by fourth grade students and their parents at the local elementary school, went missing last week.
The Duck Dynasty-themed scarecrow, which reportedly took over 40 hours to make, was created for the town's scarecrow contest. A $1,000 reward was offered for the return of the scarecrow.
One person had called the police to report seeing the "Uncle Si" scarecrow sitting on a porch.
The teenager, who was arrested last week, will now face charges of theft in juvenile court.
Reeves said, "It's unfortunate that they lost their scarecrow, but maybe…out of his own remorse, he might make them a new one. If they learn anything, [it is] that stealing is wrong no matter whose it is; if it's not yours, don't take it."
The parents who made the scarecrow have said that they now plan to build another one, and have said that they have forgiven the teen for what he did.
Allison Martin, one of the moms who made the scarecrow, said, "To begin with we were kind of upset, the main reason we had done 'Duck Dynasty' was because of the background and their beliefs and we truly believe in them, and as a community we have to forgive."
The popular Duck Dynasty show airs Wednesdays at 10 p.m. on A&E.
Uncle Si share his philosophy on life and Christianity