'Duck Dynasty' Star Sadie Robertson Launches New Faith-Inspired Home Decor Collection, Jewelry Line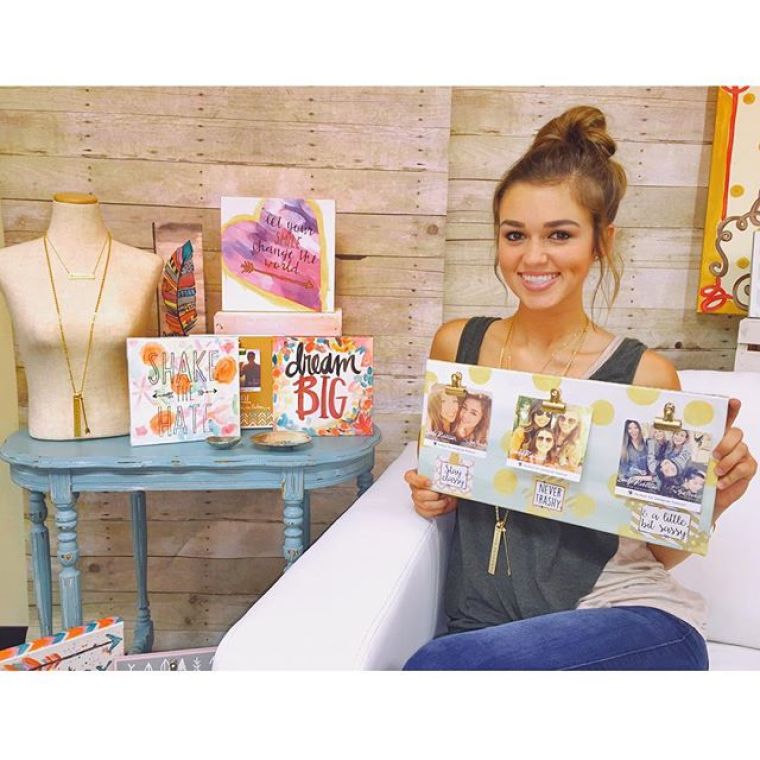 "Duck Dynasty" star Sadie Robertson continues to expand her fashion empire following the recent launch of her home decor range and jewelry line.
The 18-year-old A&E personality has now added silver and gold trinkets along with decorative home decor ornaments to her Live Original collection, which was inspired by her 2014 book of a similar name. The products come as part of Robertson's partnership with Christian-inspired decor company, Glory Haus, and each item features uplifiting messages of hope and encouragement while also showcasing her Christian faith.
"Live original is the message I share everywhere I go … [it's] living who God created you to be and being confident in the person you are," shared Robertson in a statement on Tuesday. "Everything I do is the 'Live Original' brand."
The collection, described as "girly" and chic, is said to be in line with Robertson's own personal taste in fashion, and is inspired by her 2014 book about faith and conservative values, Live Original: How The Duck Commander Teen Keeps It Real and Stays True to Her Values.
Robertson rose to stardom in 2012 following the debut of her family's hit reality TV show "Duck Dynasty." The Live Original brand was launched a year later in 2013 and it already encompasses a range of products including school supplies, a "daddy-approved" prom dress line and a book.
The brand name was inspired by the challenges she faced in her childhood as a unique kid struggling to fit in with others.
"I was different than most kids," Robertson said. "My dad [Willie Robertson] used to call me 'The Original.'"
The reality TV star began working with Marietta, Georgia-based company Glory Haus — whose focus on giving back to the community resonated with Robertson — earlier this year and the collection will be made available for purchase online beginning in August.
Each product's faith-inspired message, such as "dream big" and "be you," was carefully chosen with the intention to "make someone's day." Robertson said that so far the collection has been a hit among friends and family. She has been seen modeling some of her own necklaces on Instagram recently and each post has garnered tens of thousands of likes and comments.
"The response has really been awesome," she said. "The collection has a good variety to reach everyone."
Among the unique range of products are Instagram-inspired picture frames, which Robertson said are a personal favorite.
"Everyone's really into Instagram right now, and there's several things in the line that I think girls are going to absolutely love," she said.
Glory Haus hailed the former "Dancing With The Stars" contestant for her "girl-next-door modern charm" and "high values."
"Glory Haus is excited to announce our new partnership with Sadie Robertson!" the company said in a statement on its website on Wednesday.
"Sadie has captivated audiences with her girl-next-door modern charm, authenticity, and high values. The new Sadie Robertson Live Original Collection was inspired by her new book and encourages and uplifts teens and adults alike to always 'Live Original.'"
Glory Haus CEO Molly Holm also commended the teen for being "a great role-model for teens and adults alike" who "truly inspires others to always 'Live Original.'"
The fashion launch comes one week after Robertson announced that she would be releasing a line of rain boots through Dallas-based company Roma as part of an initiative to help combat childhood poverty.
"Can't wait for my new rain boot line with Roma to hit stores this fall! For each pair bought a child in poverty will get a pair. We are going to give poverty the boot. So honored to be apart of a great way to give back. #givepovertytheboot," Robertson wrote in an Instagram post shared with her 2 million followers last week.
Last year, she launched her line of Live Original prom dresses with fashion designer Sherri Hill.
Earlier this week, it was revealed that Robertson will make her acting debut in "God's Not Dead 2: He's Surely Alive," which is a follow up to 2014 Christian drama "God's Not Dead." The film is scheduled for released in 2016.