Duck Dynasty's Alan Robertson: 'America Will Collapse If It Doesn't Repent'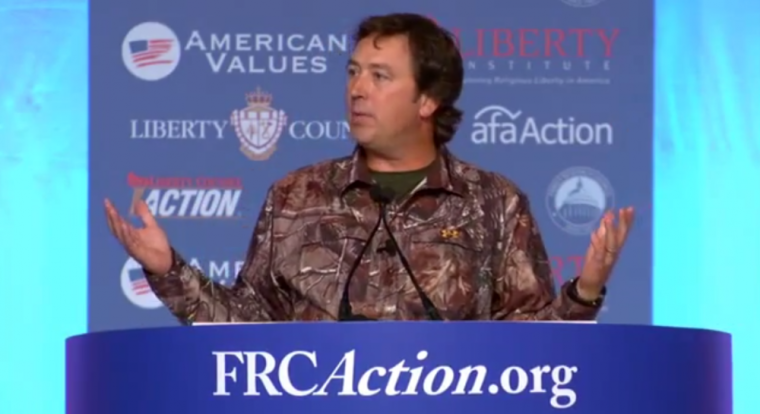 "Duck Dynasty" star and minister Alan Robertson issued a warning on Monday for all Americans calling for them to repent of their sins before civilization collapses in on itself.
"Let's look at human civilization and go back at all the great cultures that rose up, like the Romans or others, and it [sin] just weighs in on itself and it destroys. It becomes such a weighted-down culture in its own seeking of personal pleasure or personal gain, and then it collapsed. It's happened every time, up to now. Do I think it will happen to America? Absolutely," Robertson told CNSNews.com.
Robertson is part of the "Duck Dynasty" clan that became famous for its family and Christian values. He has seemingly followed in his father's footsteps by becoming a minister and preaching the Word to the people. He also worked with his father to co-edit the new study Bible, The Duck Commander Faith and Family Bible.
"We should be doing something different," Robertson said of the TV series, which will enter its seventh season this month. Viewership has grown since its initial premiere, and even though the family has been through controversy and criticized for their political and religious views, they have held strong to their faith.
Alan joined the show in the fourth season, which gave "Duck Dynasty" its highest-rated premiere, alongside wife, Lisa, and their children. He has pastored at White's Ferry Road Church of Christ but never expected that to be his calling.
"My high school years were just terrible," he told CBN last year, "and it was all a secret life — running around and drinking and cutting up. So I was at the worst possible place; I was hiding in plain sight. I was in the church but I wasn't a Christian. I wasn't living for Christ."
After graduating, he landed in more trouble, then made the decision to give his life to Christ and move back home with family. It was a decision that he has never regretted and that led to new opportunities in his life. It's a message that Robertson says America needs to hear and learn from.
"I think there are personal, individual examples of that [sin leading to destruction], but certainly you see from a cultural setting throughout history and what we see in the Bible especially, that ultimately costs a society and a culture whenever sin reigns," Robertson explained to CNSNews. "Whatever sin that is, and you're right, it could be a lot of different ones. It's not just Bible stories."
"Do I think it will happen to America? Absolutely," he added. "Unless we somehow figure out that we were founded on the principles of godliness and following the law, because law is good and things like that. I think we have the element to repent."