'Duck Dynasty' Star Alan Robertson Says His Family Votes for Leaders Based on Social Values, Not Fiscal Policy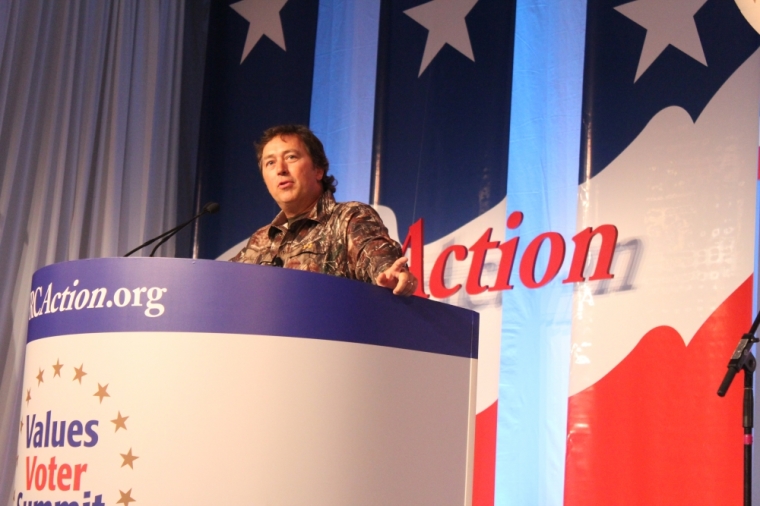 WASHINGTON — Alan Robertson of "Duck Dynasty" fame and a featured speaker at this year's Values Voter Summit, says his family votes for leaders based on their social values, not fiscal policy.
"I vote per my values, what I believe in," said Robertson, the eldest son of Duck Commander company founder Phil Robertson in an interview with The Christian Post on Friday.
A former senior pastor of White's Ferry Road Church of Christ in West Monroe, Louisiana, Robertson explained that, as conservative Christians, his family tends "to vote more because of our spiritual values than anything else."
"Our values tend to drive the way we look at people in terms of politics. There may be somebody we agree with some on money issues or fiscal issues, but socially, not so much," he said.
Robertson also told CP that he believes the "pendulum" of entertainment is swinging from a largely secular medium that was prevalent in the 1980s to an increase in "faith-friendly" television and movies.
"Faith-friendly television and films, when successful, will be aired. And it's interesting, because in the values system [of Hollywood], if it makes money, they're going to put it on the air."
Robertson was not the only reality TV star to speak at Friday's event. Stars from the TLC series "19 Kids and Counting," husband and wife Jim Bob and Michelle Duggar, shared the stage with most of their children and two grandchildren.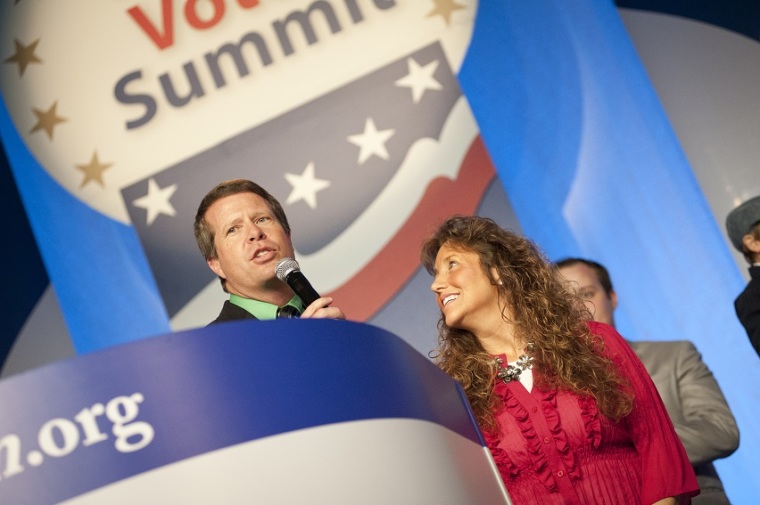 After the young Duggars gave a musical performance, Jim Bob and Michelle addressed the audience in remarks that focused on advice for families that they've learned from the Bible and friends over the years.
Michelle remarked before those gathered that she had met with many young people earlier in the day and was "encouraged" by their presence.
"I got to visit with a lot of young people downstairs earlier and I just have to say, I am so encouraged to see these conservative young people," she said. "That is our next generation here and we are so inspired."
Robertson and the Duggars were among several speakers at the Regency Ballroom for the Values Voter Summit, an annual event sponsored by the conservative organization the Family Research Council.
The event includes remarks by several conservative public figures, politicians, and social commentators.
Notable speakers for the main stage included former Alaska Gov. Sarah Palin, U.S. Sen. Ted Cruz, R-Texas, retired U.S. Lt. Col. Oliver North, author and pundit David Limbaugh, and Louisiana Gov. Bobby Jindal.
For its Saturday evening schedule, recently freed Sudanese Christian Meriam Ibrahim will be in attendance for the Family, Faith, and Freedom Gala.
Ibrahim will be given the "Cost of Discipleship" award for her experiences of being a prisoner of conscience in the strict Islamic country of Sudan.