Rand Paul: Don't Tell Me 5 Lb Babies Have No Rights Simply Because They're Unborn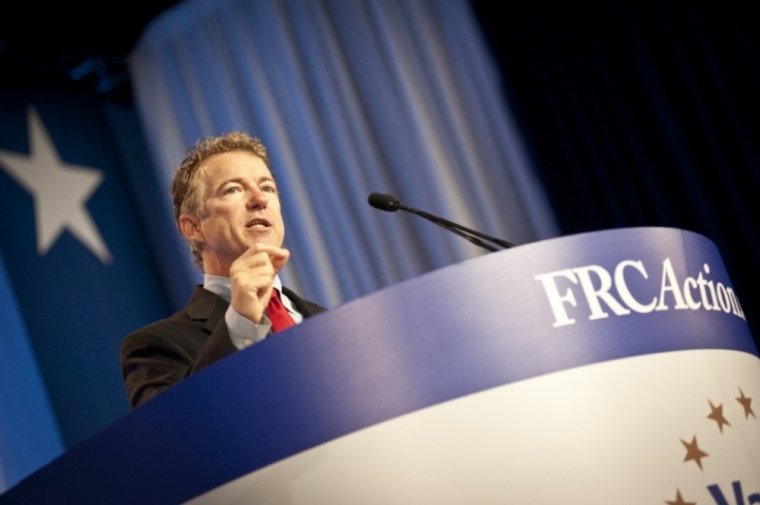 WASHINGTON — U.S. Sen. Rand Paul, R-Ky., who has an uneasy relationship with the pro-life community, took a stand in opposition to late-term abortions in a Friday speech at the Values Voter Summit.
"I've held 1 and-a-half pound babies in my hand," he said. "I've seen them sucking their thumb on an ultrasound, and I've seen surgeons operate on babies still in the womb. So don't tell me that 5-and- 6-pound babies have no rights simply because they're not born."
Paul is an eye surgeon. His father, former congressman and presidential candidate Ron Paul, R-Texas, delivered babies in his career as an OB/GYN.
The abortion debate is not over whether or not the government should protect life, Paul said, but when life begins.
"No civilization," Paul added, "can long endure that does not respect life from the not-yet-born to life's last breath."
He ended the abortion segment of the speech by saying he would "march for life and will continue to stand up in defense of life as long as I'm privileged to be in office."
There has been some tension between Paul and the pro-life community. He has previously made comments that caused pro-lifers to doubt his commitment to defending the lives of the unborn.
In 2013, for instance, he said in an interview that there could be "thousands of exceptions" to a ban on abortion. And earlier this year, Paul said that if he were elected president there is "not much" he would do on the issue of abortion.
Tony Perkins, president of FRC, criticized that second comment in an April 25 op-ed for The Christian Post. While granting that Paul may have simply been inarticulate in expressing his own position, he argued that pro-lifers expect any presidential nominee they support to not only sign pro-life laws, but to advance pro-life arguments.
"Obviously," Perkins wrote, "no president has the power to unilaterally ban abortion, but he does have the power to make the issue a priority — something most Americans assumed Rand Paul would do. Regardless of the GOP's pick, conservatives expect their nominee to use the Oval Office to advance a culture of life. Changing minds is important, but what better way to accomplish it than using a national platform to talk about its importance?"
Paul's full commitment to the pro-life cause may remain in doubt after his VVS speech. Pointing out that 5-and 6- pound-babies deserve legal protection is an argument against late-term abortions, which pro-lifers certainly support. Doubts may remain, however, about Paul's commitment to defend life from the moment of conception.