'Duck Dynasty's Phil Robertson Asks Democrats If They Love or Hate Jesus (Video)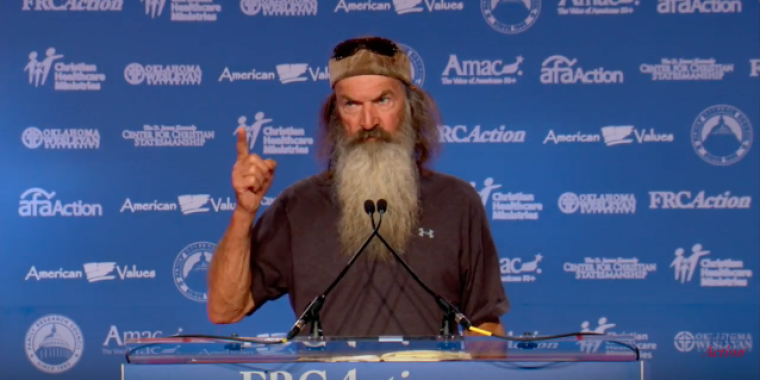 Phil Robertson of "Duck Dynasty" fame has warned that the "whole world is under the control of the evil one" and said he wonders if members of the Democratic Party "love Jesus" or hate Him.
During his speech at the Family Research Council's Values Voter Summit in Washington, D.C. last Friday, Robertson, with his Bible in hand, said he's dedicated his life to sharing the Gospel with those who are "down and out."
The new CRTV host referenced 1 Thessalonians 4:11, which says: "Make it your ambition to lead a quiet life: You should mind your own business and work with your hands."
Robertson admitted that he's never once "turned on the internet and looked at it" because he strives to live a quiet life while minding his own business.
"When I hear about the vitriol and the hatred just remember, I love you," he said. "I really do. You know why? I've identified you as human beings. So I love you. And God loves you."
He added, "I'm almost tempted to ask the Democratic Party four little words: 'Do y'all love Jesus? The reason I'm asking you, Democratic Party, is I've never heard you say one way or the other. Do you love Him? And I'm waiting on an answer.'"
The Duck Commander founder went on to ask mainstream media outlets CNN, CBS and MSNBC the same question.
"Do you folks love Jesus? Because I've never heard you say one way or another. Maybe, or do you hate Him? Do you love Him or do you hate Him? I'll unashamedly say I love Him. I'll tell anybody that. The final question I would like to ask everyone, including you — what's wrong with Jesus? I've investigated Him. I've carefully inspected the Man. I can't find anything wrong with Him."
The 71 year old also addressed the Las Vegas shooting massacre and the sexual abuse allegations surrounding Hollywood film producer and former studio executive Harvey Weinstein.
"The whole world is under the control of the evil one," he explained. "Satan has taken them captive to do his will. Evil doesn't need a motive. All it needs is Satan, working in people, prompting people."
"But you know what, we don't need to forget something: Weinstein can be forgiven. Don't forget that," he stressed. "I've had some pretty raunchy sins in my first 28 years on the Earth. Grace is far better than law. Grace says all your past sins can be removed and never counted against you again."
Robertson recently revealed that he will be joining the team at Conservative Review TV for the series "In the Woods with Phil."
"What does a man do when they try to run him out of town for quoting a Bible verse? I tell you what he does, he goes deep in the woods," Robertson is heard saying in a promotional video for the new series. "For far too long we have been told to shut up. No more. Here's the deal, America. These are my woods. Out here, I call the shots. Out here, we reject political correctness, or as I like to say, 'pontificated crap.'"
CRTV is a digital streaming network that costs $99 a year. Robertson will join commentators Mark Levin, Steven Crowder and Michelle Malkin on the network.