Duck Dynasty's Phil Robertson Was Praying For Cancer-Stricken Woman as Controversy Swirled Over Comments Labelling Homosexuality Sin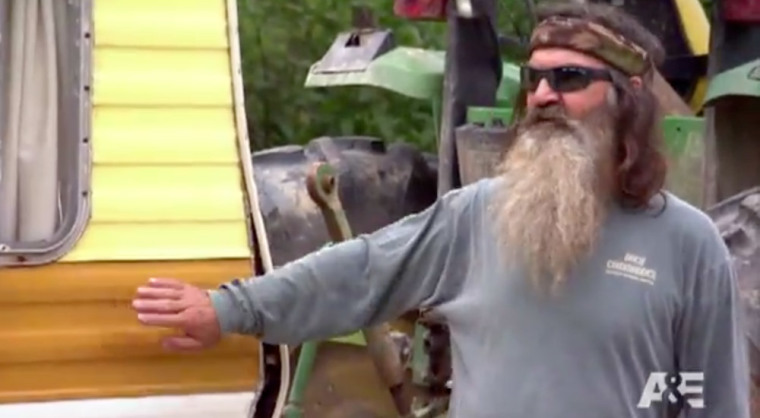 Phil Robertson, patriarch of the popular A&E hit series "Duck Dynasty" who was recently suspended indefinitely from the show for call homosexuality a sin, was busy praying for a cancer-stricken young woman at his longtime church in Louisiana when the controversy erupted Wednesday.
Mike Kellet, senior pastor of White's Ferry Road Church of Christ in West Monroe, La., told CNN, "Phil led us in prayer. There were greater things on our minds than the firestorm of controversy about this article."
The article he refers to is an account of a candid interview in GQ with the "Duck Dynasty" star in which he calls homosexuality and other unconventional sexual behavior sin.
"We're Bible-thumpers who just happened to end up on television," he told GQ. "You put in your article that the Robertson family really believes strongly that if the human race loved each other and they loved God, we would just be better off. We ought to just be repentant, turn to God, and let's get on with it, and everything will turn around."
Robertson then noted about modern day morality: "Everything is blurred on what's right and what's wrong. Sin becomes fine."
When asked to define what in his mind is sinful he explained listing various types of sexual sins, according to biblical scripture, including homosexuality.
"Start with homosexual behavior and just morph out from there. Bestiality, sleeping around with this woman and that woman and that woman and those men," explained Robertson in the interview who later paraphrased a portion of Corinthians for the New Testament of the Bible to explain his point.
"Don't be deceived. Neither the adulterers, the idolaters, the male prostitutes, the homosexual offenders, the greedy, the drunkards, the slanderers, the swindlers—they won't inherit the kingdom of God. Don't deceive yourself. It's not right," he said.
Gay rights advocates, however, took offense to the discussion calling the comments "hateful" and "homophobic." The criticism resulted in A&E announcing Wednesday evening that the star would be suspended indefinitely, which sparked outrage among conservatives.
When asked how Robertson has been handling the criticism being leveled at him so far, Pastor Kellet said: "He's very calm, and very confident that if he serves the Lord, God will take care of everything."
In a statement Thursday, Robertson further pointed out that: "I myself am a product of the '60s; I centered my life around sex, drugs and rock 'n' roll until I hit rock bottom. My mission today is to go forth and tell people about why I follow Christ and also what the Bible teaches, and part of that teaching is that women and men are meant to be together."