Duck the Halls: Listen to First Track From Duck Dynasty's Christmas Album (VIDEO)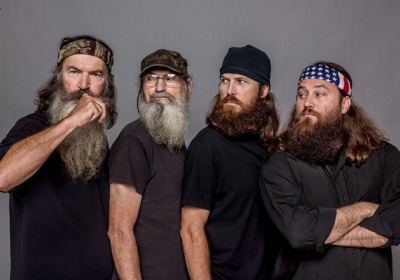 Prepare to jam out this holiday season to tunes sung by the Duck Dynasty crew. "Duck the Halls: A Robertson Family Christmas," hits stores today, featuring songs both by stars of the reality television show and already established country and folks music stars.
Performing on the Christmas record are Missy, Uncle Si, Phil and Sadie, along with well-known musicians like George Strait, Josh Turner, Luke Bryan and Alison Krauss.
Those wanting to test the waters of the new album can listen to its first release, "Ragin' Cajun Redneck Christmas," below. In the song, the Robertson's remind their fans of the holiday's true meaning, "You can't buy me nothing I ain't got / Some folks wanna to know what it's really for, / Down here, we know it's about the Lord."
Other tracks include lighter Christmas tunes like "Rudolph, the Red-Nosed Reindeer," "Baby, It's Cold Outside," and "I'll Be Home for Christmas." If you're looking for Uncle Si's solo, he'll be winning hearts singing "You're a Mean One, Mr. Grinch."
The most quirky group sing-along on the album may be "Hairy Christmas," an ode to show's iconic beards, sung by the bearded themselves included Willie, Phil, Uncle Si, Jase, and Jep.
The album's producer is Buddy Cannon, a veteran of the music industry, who is most recognized for producing country music star Kenny Chesney.
A&E's "Duck Dynasty," a reality show chronicling the Robertson's family Duck Commander duck call, Louisiana-based business, has been a massive hit for the cable network. More than 11 million viewers tuned in to the season 4 premiere in September, making it cable's most-watched non-fiction telecast to date.