Duggar Family Endorses Rick Santorum (VIDEO)
Rick Santorum has received an unexpected endorsement from one of America's largest families. TLC's "19 Kids and Counting" Duggar family attended a rally for Santorum in Polk City, Iowa, today.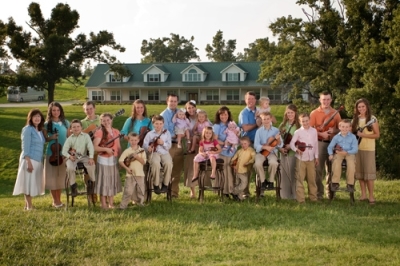 Family patriarch Jim Bob Duggar told the audience, "All the people in America that have conservative family values have to get behind Rick Santorum for president." Duggar brought along 12 of his 19 children, creating quite a media sensation, though the Duggar family is used to the spotlight.
Jim Bob, wife Michelle, and their 19 children are the focus of a reality TV show on The Learning Channel (TLC). They are known for being a conservative, religious family, while Santorum is a conservative Catholic with seven children. The Duggars recently lost their 20th child, Jubilee Shalom, at 20 weeks.
This is not the first time the Duggars have endorsed a candidate; in 2008, they campaigned on behalf of Mike Huckabee, who is the former governor of their home state, Arkansas.
The Duggars are quite active in promoting their family's story as well as encouraging others through ministry and other resources.
The Duggars' show just wrapped its eighth season on TLC, which featured footage from their book tour promoting A Love That Multiplies. According to publishers, the book focuses on Michelle and Jim Bob's challenges raising a large family and the strength they find through their faith in God.
Polls show that Rick Santorum is currently in third place, with 18 percent of the vote. He is trailing candidates Ron Paul and Mitt Romney going into the Iowa Caucus, which will be televised tomorrow night.
The Christian Post Daily Report 01.02.12