Duggar Husband Derick Dillard Receives Backlash for Soliciting Online Donations for Mission Work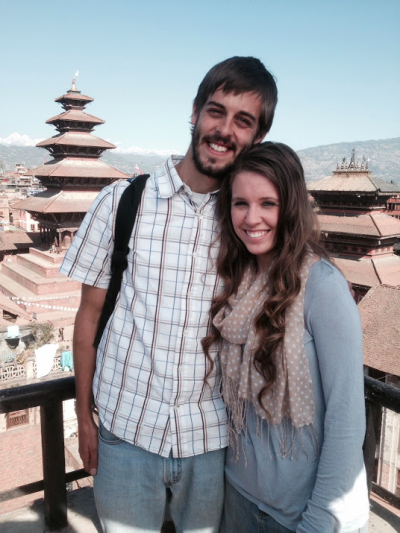 Derick Dillard, the husband of Jill (nee Duggar) Dillard, is receiving backlash from critics on social media for soliciting online donations for his new missionary efforts.
In May, the Dillards returned home from Central America where they worked as missionaries for two years. On Saturday, both Derick and Jill took to Twitter to reveal "big news about our new steps in ministry."
The wife and mother of two who rose to fame with her family on TLC's "19 Kids and Counting" provided a link to Pure Charity, a fundraising platform that Derick is using to solicit $6,500 for missionary work this year.
In the letter on the charity website, Derick said he wanted to invite fans to share in the excitement of his next steps in ministry while he attends a program through his place of worship, Cross Church in Springfield, Arkansas.
"For the next year, I will be serving through a program at my home church, called the Cross Church School of Ministry," he wrote. "I am so excited about this incredible opportunity for further ministry development, and I would like to invite you to share in this excitement with me."
The father of two went on to explain why he was soliciting the $6,500.
"I started a fundraiser on Pure Charity to raise the funding I need for various missions opportunities I will have throughout the year. I have a donations goal of $6,500," he wrote. "This will enable me to fulfill my specific calling to ministry this year, including trips for Gospel-advancement and humanitarian work in Northwest Arkansas, North America, and abroad."
Derick, who said he believes that the one year residency program at the Cross Church School of Ministry will be an asset in his vocational ministry, received backlash for the campaign that he asked people to "kindly consider" donating to or sharing with others.
One person questioned why Derick needs so much money to do missionary work in his home state and asked for an account of the donations that fans have given him throughout the years.
"You have GOT to be kidding. You are asking for money to fund trips to NW Arkansas for gospel advancement? You are LIVING there," the comment states. "And you need to get a whole lot more specific on your gospel and humanitarian advancement. Do you have an accountant's report of how those funds were managed?"
Another person who commented on the charity page supported their admonishment of Dillard's tactics by citing 1 Timothy 5:8 which states, "Anyone who does not provide for their relatives, and especially for their own household, has denied the faith and is worse than an unbeliever."
While the majority of the comments spoke out against Derick's request for donations, some showed their support for his ministry efforts.
"Just wanted to leave a little positivity after reading a lot of negative stuff. Keep following God's calling on your life," another person wrote. "It's always worth it. Having spent some time in missions myself, I know some people never understand, but to God be the glory! Your reward will come one glorious day!"
Dillard's latest announcement comes just weeks after he asked people to stop donating to the Dillard Family Ministries. In The Duggar Family blog post, the Dillards revealed how much people's financial contributions have aided their missionary work in Central America.
"Thank you so much for your support of Dillard Family Ministries through your prayers and financial resources. It has been a joy and blessing to see how our Lord has worked in Central America, and your generous giving has been a huge part of making that possible," the message from the Dillards states. "During our time working with SOS Ministries over the past two years, we have witnessed God transforming the lives of many involved in the gang community and positively influencing the lives of young people for the sake of the Kingdom."