On Easter, Remember Christians Carrying a Cross of Persecution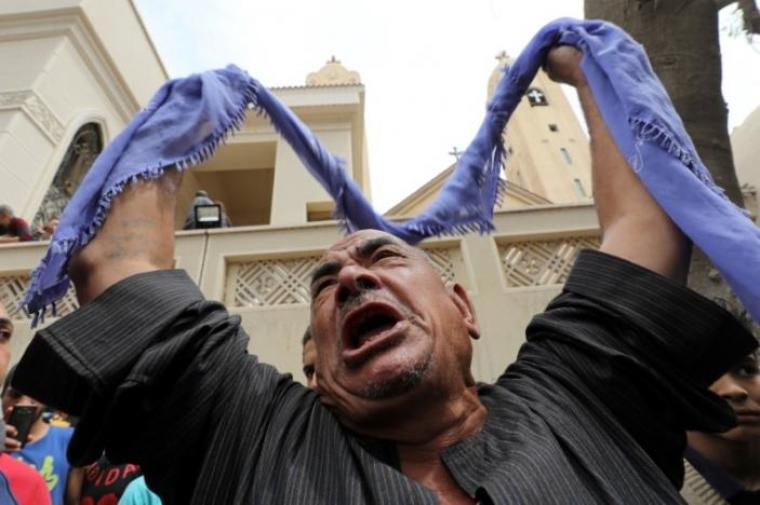 Just a week ago, on Palm Sunday, explosions rocked two churches in Egypt, killing 45 Coptic Christians and injuring more than a hundred. While the bombings were horrifying incidents that merited international media attention, they were far from isolated. Egypt's Coptic community has endured increasing persecution from Islamic extremists, targeted simply because of their faith.
On Easter Sunday, I hope that the thoughts and prayers of the world will be with the Coptic Christians who have survived these brutal attacks, and all those who continue to practice their faith in the midst of horrible risks.
Egypt's Christians aren't alone in their suffering. In Nigeria, this Easter weekend marks the third anniversary of the kidnapping of the Chibok school girls at the hands of Boko Haram. When they were first captured, the "Bring Back Our Girls" campaign helped garner the attention of the world around this tragedy. Yet here we are, three years later, with nearly two hundred innocent girls still missing.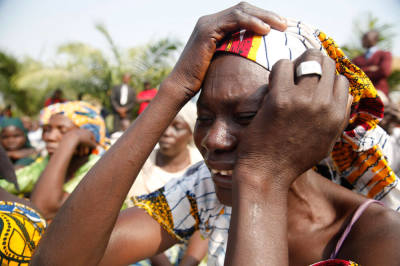 I met with the fathers of the kidnapped Chibok girls in Jos, Nigeria, in the fall of 2015. Each of these men lost a daughter to the world's deadliest terror group on that fateful day in 2014. They told me that they live with constant uncertainty. They are always wondering if their daughter is dead or alive, and what horror she might be facing.
One father described the constant anxiety this way: "Sometimes I can feel okay, when I am with my family or with my church, but when I am alone, it all comes back." He put his head in his hands and started softly sobbing, "I miss her, I miss her, I miss her," with tears running down his face.
In the Middle East, hundreds of thousands of Iraqi Christians remain displaced after they were forced to flee their homes when ISIS invaded their cities on the Nineveh Plain. Many will spend this Easter in "caravans," plastic containers lined up in IDP camps in northern Iraq.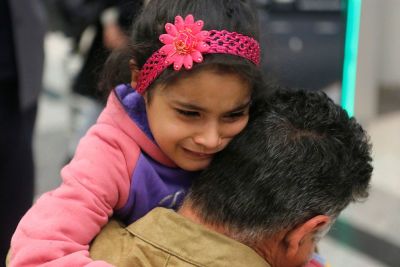 Visiting with Iraqi Christian refugees in Jordan, I learned the story of Christina, a young Iraqi refugee woman who had gone into labor the day that ISIS was invading her family's village. In tears she begged her doctor to help her with the delivery, but he said, "There is no time."
People around her were fleeing with only the clothes on their backs. Out of options and out of time, Christina delivered her baby on the road leading out of the city as the family fled. She was unable to feed her tiny baby girl, and the infant nearly died multiple times. Miraculously, she and her new daughter survived the arduous journey. But by the time she reached Amman, Christina's trauma was so deep that she couldn't speak for months. Only after spending time at one of Open Doors trauma-counseling centers for Iraqi refugee women was she able to speak up and share her story and begin healing.
This Easter Sunday, I'm thinking of Christina. I'm thinking of the millions of Christians like her around the globe, who face the suffering and heartache of being targeted for their faith, forced to flee as refugees, or to bury a family member killed by a bomb at church.
For millions of Christians around the world this Sunday, the mere act of attending church comes loaded with risk. I've attended services with Christians in Lahore, Pakistan, while armed guards stood outside to protect worshippers. One of the most beautiful church services I ever attended was in Jos, Nigeria, where victims of Boko Haram raised their voices in joyful songs. Only weeks before, members of that same congregation had found a bomb in the church. Amazingly, the crude device was discovered and thrown away from the church only seconds before it detonated. Undaunted, the congregation continued to show up in full force Sunday after Sunday. Their courage left me confounded and convicted.
The level of risk that hundreds of thousands of believers face this Easter Sunday — for the simple act of going to church — is undeniably heartbreaking.
Around the world, from IDP camps in Iraq to churches in Nigeria, from the jungles of Colombia to the churches in remote villages of Ethiopia, I have found a common thread in the words I have heard from persecuted Christians. Many simply want to know that they are not forgotten.
Easter Sunday is an opportunity not only to remember persecuted Christians around the world, but to let them know that they are remembered — through writing letters of encouragement, advocating on their behalf, sharing their stories, visiting them and praying for them.
One Iraqi priest, walking me through a camp for displaced Christians in Erbil told me, "We can feel the prayers of people around the world."
I really hope he will feel them this weekend. My thoughts and prayers this Easter Sunday go out to those who face the greatest risk—and often pay the highest price—for a faith they hold deeply. For them, the carrying of Christ's cross isn't just something they will hear about in church this Sunday, but a reality that shapes their lives every day.
Kristin Wright serves as the director of advocacy at Open Doors USA,
a global advocate for religious freedom and persecuted Christians. Visit OpenDoorsUSA.org for more information on helping the persecuted church.