Ebola Showed Government and Faith Groups Need Each Other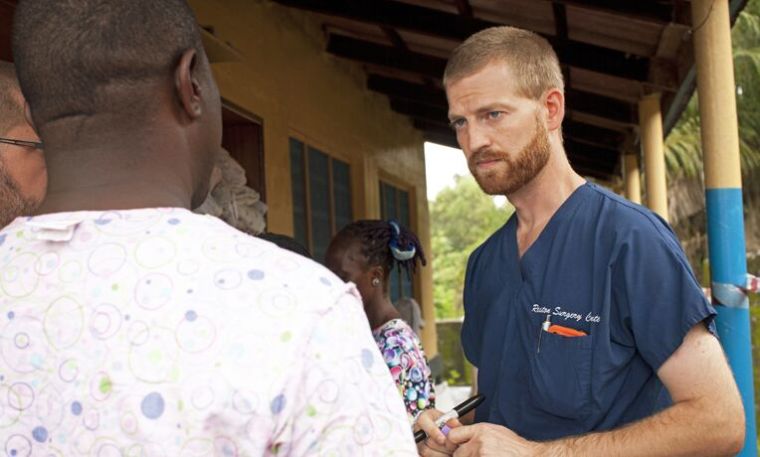 Dr. Kent Brantly of Samaritan's Purse almost paid the ultimate price for serving others. The dramatic TV images of this American doctor weakened by Ebola and struggling to walk into Atlanta's Emory University Hospital are hard to forget. Getting him from Liberia to Atlanta was even harder. I know because I was in the middle of this drama working closely with the U.S. State Department to get him home. Without strong partnerships between Christian and secular organizations and the U.S. government, it never would have happened.
Protecting the vulnerable is a difficult and often hazardous calling, but is central to our faith. Through his faith, Dr. Brantly chose compassion and ministering to others over fear of a place and people unknown to him, not to mention access to modern well-equipped hospitals.
He says, "There are innumerable lessons we could draw from that experience ... choosing compassion over fear, the teachings of Jesus to love your neighbor as you love yourself."
My faith also led me to work in Liberia where accessing healthcare was a challenge, even before Ebola. I witnessed how swiftly Ebola swept through communities and crossed borders killing over 11,000 people. I also know how much worse it would have been had there not been partnerships and learning from one another as we tried to save lives and contain the disease.
Rear Admiral (Ret.) Boris Lushniak, MD, MPH, who was in charge of the U.S. government's Ebola response in Liberia, said, "The mission was a success because of the vast partnerships formed and the coordinated efforts of the international public health community."
He credited lessons learned from our Serving in Mission (SIM) hospital about treating Ebola and keeping medical staff safe as vital to the response.
American faith-based organizations are industrious and we're also generous. We raised $6.58 billion in FY15 according to recently released data. Just 12% of FBO funding comes from the federal government. But U.S. government resources, influence, and leadership are absolutely critical to our work, safety and success.
It's not just pandemic emergencies that require partnerships. There are many examples of American NGOs in the trenches partnering with the U.S. government to turn the tide. Stopping the HIV/AIDS death sentence is a spectacular example of success that would have never happened without the leadership of President George W. Bush and non-profit partnerships created under PEPFAR. The dramatic decrease in malaria is another. Polio another.
Many countries beyond our borders experience unparalleled suffering and loss of life, not just due to disease, but also natural disasters, conflict and extreme poverty (which has been reduced in half thanks to U.S. foreign assistance leadership). Life-saving aid is often the sole face — and the face of America's soul — in many parts of the world, the only beacon of hope during the darkest hours. The need for a strong and positive U.S. presence in the world is vital. It's impossible to put a price tag on the enormous goodwill generated by American leadership.
Nations are deeply grateful to the U.S. for saving the lives of literally millions infected with HIV, malaria, TB and more; for the rush of clean water; and the survival of a mother and her newborn. Liberians know Dr. Brantly and other Americans, including two of my SIM colleagues, nearly lost their lives to save the lives of their countrymen, and they see them as heroes.
American faith-based organizations are trusted partners before, during and after a crisis, serving in areas of conflict, assisting refugees fleeing terrorist attacks and wars, and treating the sick where virtually no health systems exist. We have much to offer — deep reach into communities, expertise, experience and proven success in increasing capacity of local organizations so they can meet the needs of their own people.
My role as Director of Global Services for SIM and Board Member of Christian Connections for International Health brings me in regular contact with high-level officials at the U.S. Departments of State and Defense.
As Gregory Starr, Assistant Secretary of State for Diplomatic Security, said after the Ebola crisis, "You don't wait for the crisis to find your partners."
Pentagon leadership is among the most stalwart supporters of non-defense diplomacy and development. Regardless of personal motivation, they know foreign assistance keeps us all safer abroad and here at home.
I witnessed God's hand at work throughout the Ebola crisis. I witnessed partnerships that contained Ebola's spread, saved untold numbers of lives, and rescued an American doctor who nearly died for his dedication to the least of these.
I pray our leaders in Congress will be wise and merciful as they evaluate U.S. foreign assistance to discern what we are able to offer those in dire need. I hope they will do so prayerfully considering the many good works and effective partnerships that make U.S. foreign assistance the success that it is for vulnerable populations as well as for American taxpayers.
Bob Blees is Vice President and Director of Global Services, SIM USA, an international mission agency with more than 4,000 workers serving in more than 70 countries, and serves on the board of
Christian Connections for International Health
.