Eddie Long a 'King?' Religious Scholar Refutes 'Bizarre' Ceremony
New Birth Missionary Baptist Minister Declared 'King' In Bizarre Sunday Ritual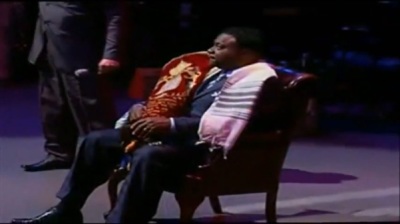 A number of religious figures have stepped up criticizing the 14-minute long YouTube clip of Bishop Eddie Long of New Birth Missionary Baptist Church being proclaimed a "king" by a Messianic rabbi.
Rabbi Ralph Messer, during a Jan. 29 service at the Baptist church in Lithonia, Ga., directed assistants to wrap Long in a purportedly 312-year-old priceless Hebrew scroll from World War II, and proclaimed that Long was now "hidden in the word of God." After inviting Long to sit down on a chair and handing him the Torah scroll, four helpers lifted the chair on which Long was sitting and paraded the minister across the podium, while Messer proclaimed him a "king."
SEE VIDEO OF EDDIE LONG BEING CROWNED KING HERE
The rabbi went on to say that Long sits between two courts, the court of justice and the court of blessings. Worshipers in attendance applauded as the minister was ushered about in the air on the chair as the ceremony continued.
Messer, who leads Simchat Torah Beit Midrash (STBM) – a congregation promoting interfaith discussions –  teaches principles of the Torah that he claims "produce life" or prosperity. 
The video of the rabbi proclaming the troubled Long a "king" has sparked hundreds of comments from people on YouTube and Twitter who were either confused by the ceremony or did not quite understand how Long, who has been embattled in accusations of sexual misconduct and faces a divorce, might be considered a "king" in any context. A number of religion authorities, however, have also weighed in with their opinions on the issue.
The Rev. Wil Gafney, Ph.D, an Associate Professor of Biblical Hebrew and Jewish and Christian Scripture, wrote a lengthy commentary for The Huffington Post in which she exposes no less than 27 different ways in which Rabbi Messer presented "false" understandings of the Torah.
"He does not – represent recognizable Jewish thought or practice in his (mis-) representations of the Torah and other Jewish sancta – or for that matter, New Testament and Christian biblical interpretation and theology," Gafney writes.
Long, who keeps a stoic expression throughout the ceremony, wiping his eyes with a napkin on a couple of occasions, was also criticized for simply going along with the "royal" decree.
"Bishop Eddie Long has officially gone off the deep end. How much was this 'rabbi' paid to crown Long a 'king?,'" tweeted pastor Lee Grady from Orlando, Fla., also a contributing editor for Charisma magazine.
"(The ceremony) in no way represents any Jewish ritual that I'm familiar with," said Bill Nigut, Southeast Regional Director of the Anti-Defamation League, an Anti-Semitism organization. "We do not proclaim individuals to be kings," he added, the AJC.com reported.
"We wouldn't wrap a Jewish person in a Torah scroll and declare him king. As a Jew, I find that use of symbols very off-putting," expressed Rabbi Joshua Heller of Congregation B'nai Torah in Sandy Springs.
"The Jewish community does not associate itself with the Messianic congregations. We don't feel like this does due justice to either the Jewish or Christian community," Heller noted.
Angus Johnston, a historian and advocate at StudentActivism.net, also insisted in an article that as "bizarre" as the event was, Rabbi Ralph Messer is not a Jewish rabbi.
Johnson writes in his article, "There's nothing that's not creepy about the whole thing, and it's been greeted with the mockery it deserves, but there's one piece of the story that hasn't gotten a lot of attention but should: Rabbi Ralph Messer isn't Jewish.
"Messer is a proponent of so-called Messianic Judaism, a religious movement founded in the 1960s that wraps evangelical Christian theology in Jewish cultural trappings."
"It's my prayer that the world stop judging Christians & churchgoers based on Eddie Long & his wackadoo shenanigans," tweeted Jawn Murray, a media personality associated with EMI Gospel, a Christian music label, reminding others that people should not be quick to put all Christians in the same basket based on the actions of a few.