Eddie Long's Successor at Georgia Megachurch, Bishop Stephen A Davis, Resigns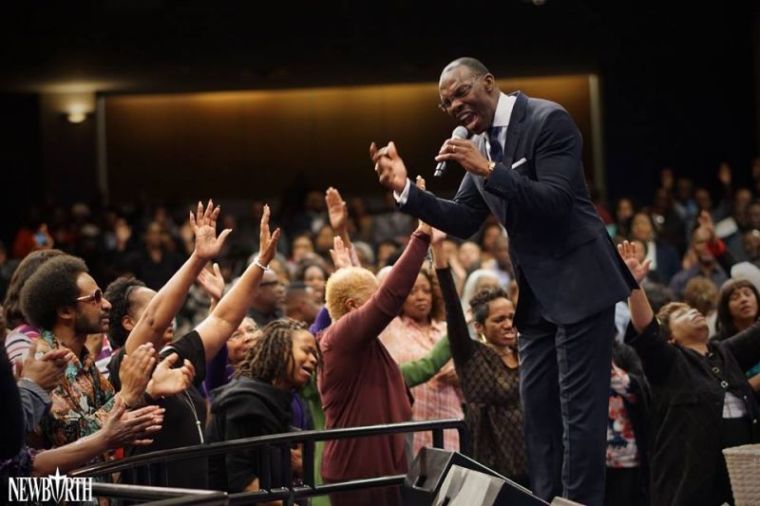 Bishop Stephen A. Davis, who took over as senior pastor at New Birth Missionary Baptist Church in Lithonia, Georgia, following the death of controversial longtime pastor Eddie Long in January 2017, has resigned.
According to the megachurch, Davis stepped down to concentrate on the New Birth ministry he founded in Birmingham, Alabama, which was formerly the Refiners House Church before becoming part of the New Birth expansion in 2010.
The resignation was accepted by the church's board of directors.
"I love my New Birth family both in Birmingham and Stonecrest. However, at this time my wife, my children and the New Birth Birmingham family need my full attention," Davis said in a statement Wednesday. "We will remain a[t] New Birth Church in Birmingham and maintain our relationships with New Birth Stonecrest Congregation."
According to a press release sent by the church, Davis' 16 months as senior pastor "allowed the New Birth ministry to continue moving forward following Bishop Long's transition."
The church expressed its gratitude for Davis for guiding the congregation with "heartfelt dedication and commitment."
"I am so grateful that Bishop Davis honored the wishes of my late husband by serving New Birth at a time of need," Long's widow, Vanessa, said in a statement. "We pray God's blessings over him, his wife, first lady Darlene, and the Birmingham church family."
Long died last year of cancer at 63. He had faced multiple allegations that stemmed from lawsuits brought by men who accused Long of having sexual relationships with them as teenage members of his congregation. Although Long never publicly discussed the accusations, he settled with four of his accusers in 2011.
Davis' resignation comes after rumors swirled in February that he had resigned and that there was a financial dispute between Davis and Long's oldest son, Edward.
Michelle Porter, Davis' executive administrator, shot down those rumors as false.
New Birth Board Chairman Thomas W. Dortch Jr. told the Atlanta Journal-Constitution that all the travel required for Davis to keep up with his responsibilities was taking a toll. Dortch said that there was a "strain on Bishop Davis from having to come back and forth from Birmingham to Atlanta weekly while maintaining his other churches — one in Birmingham and one in Tuscaloosa.
Dortch said that the travel "became a major challenge for him."
No information was provided on who will assume Davis' position at New Birth Lithonia.
In Long's book, The Untold Story: The Story of Adversity, Pain & Resilience, he claimed that New Birth had more than 25,000 members at one point in his career. But that number dwindled as he faced the allegations of sexual abuse. As previously reported, the church membership dropped to between 8,000 to 10,000 in 2016.