Egyptian Muslim Destroys Quran, Religious Leader Calls for His Death (VIDEO)
A YouTube video of an Egyptian man ripping pages from the Quran, the Muslim holy book, and denouncing it as "the source of all evil," has angered conservative Muslims in the Islamic nation, with many calling for his death.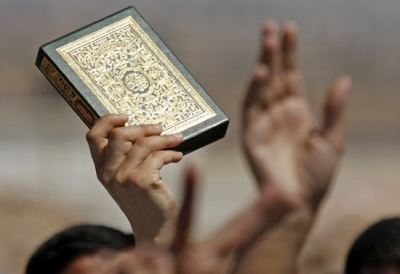 "There it is, Allah's book; this is the basic catastrophe. I don't know what day it is of this disgusting month of Ramadan. You are making the tearing of the Quran such a big and dangerous thing... it is instinctive to tear up this book, those sons of [profanity] think they can threaten me and challenge me not to tear up the Quran, but I want to prove to them that they are nothing, and what is the big deal in tearing up this book?!" the unidentified man begins, in a translated excerpt provided by the Gatestone Institute.
The Gatestone Institute describes itself as a "non-partisan, not-for-profit international policy council" that is dedicated to reporting on international issues such as human rights.
The Egyptian man, as he tears pages from the Quran, calls the book "the source of all evil" and says, "It is this garbage that is causing us to run in a demonic, never-ending circle that will never end."
The video was played on TV shows in Egypt, where insulting the Islamic holy book is viewed as a serious offense by many Muslims.
On a talk show for the Al Hafiz channel, a Muslim cleric identified as Dr. Mahmoud Sha'ban reportedly declared:
"Someone like him must receive the punishment he deserves — and it is death! He is an apostate… It is clear from what he says that he is a Muslim, and must be killed as an apostate. As for that act itself, it is an infidel act, and he deserves to be struck by the sword in a public place — and as soon as possible; as soon as possible; as soon as possible. It must be announced and photographed and disseminated among the people, so that all the people may know that we respect our Quran and its words from Allah, and whoever insults it, receives his punishment from Allah. If people like him are left alone, they will only get bolder and bolder."
The guests on the show agreed with the notion that the man needed to be found and killed — with the third guest suggesting that it was not only Muslims, but anyone who insults the Prophet Mohammad or the Quran that needs to be put to death.
Attempts by the television show host to suggest that the state needs to be allowed to handle such people were met with disdain as Muslim cleric Dr. Sha'ban repeated that death was the only punishment for such an offense.
The Gatestone Institute noted in its report that ever since the Muslim Brotherhood took control of the country earlier this year, radical Islamists have become even more empowered. The report, written by Raymond Ibrahim, revealed incidents in which a Muslim youth was killed for publicly holding hands with his fiancée, and flyers promising rewards for the killing of Egypt's minority Coptic Christians.
Some recent reports have also circulated claiming that Muslim Brotherhood supporters have literally crucified those opposing newly elected President Mohammed Morsi, with naked bodies found strung up on trees.
Below is a YouTube video of the Al Hafiz talk show which features a clip of the man ripping pages from the Quran:
Egyptian Muslim Destroys Quran, Religious Leader Calls for His Death