Elevation Church Pastor Steven Furtick Announces Father's Death
North Carolina Megachurch Leader's Dad Passes Away From ALS (Lou Gehrig's Disease)
"My Dad is with the Lord. Love you forever LTrain. You finished strong. Take your rest, and do your dance. Let the wild hog eat. I'll make you proud," Elevation Church Pastor Steven Furtick wrote of his father Larry Furtick via social media Wednesday night after he passed away from ALS, or Lou Gehrig's Disease.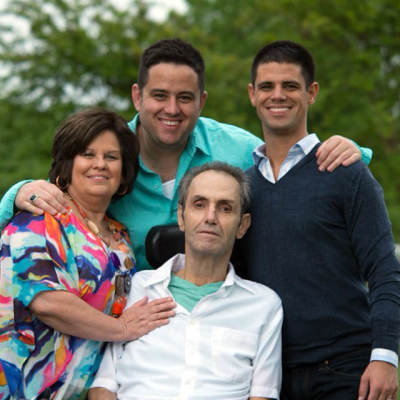 Just hours after announcing earlier Wednesday that his father was "holding up" despite being told by a hospice over the weekend that the elder Furtick "had just a few hours to live," the North Carolina megachurch pastor shared the sad news with supporters just before 10 p.m. ET.
Thousands have responded to the news of the elder Furtick's passing by writing to the pastor via social media simple messages like "love and prayers," as did LifeChurch.tv Pastor Craig Groeschel. Passion City Church Pastor Louie Giglio also tweeted at Pastor Furtick: "Lifting you up to Jesus and rejoicing in the hope that holds forever."
Elevation Church as well as Pastor Furtick had been updating congregants and supporters throughout the week, and the Christian minister disclosed Wednesday afternoon that family and close friends had been gathered at the elder Furtick's bedside and would appreciate continued prayers.
"He's in and out of consciousness, in incredible pain. ... He could pass any minute, or it could be days. But we know Christ is near and and LTrain is close to his reward," read Pastor Furtick's message earlier in the day that he had titled "Dad's final round with ALS."
He had also tweeted a Bible passage, Isaiah 35:10, which reads in the NLT: "Those who have been ransomed by the LORD will return. They will enter Jerusalem singing, crowned with everlasting joy. Sorrow and mourning will disappear, and they will be filled with joy and gladness."
Upon her father-in-law's passing, Pastor Furtick's wife, Holly Furtick, tweeted another passage: "Precious in the sight of the Lord is the death of his faithful servants. (Psalm 116:15 NIV)." She added, "We love you Ltrain."
According to the ALS Association, Amyotrophic lateral sclerosis is a fatal condition that causes progressive degeneration of nerve cells in the brain and spinal cord.
Pastor Furtick dedicated his 2012 New York Times bestselling book, Greater: Dream Bigger. Start Smaller. Ignite God's Vision for Your Life, to his father, writing: "The start you were handed wasn't much, but you worked what you had. And God made your life into something much greater than anyone could have reasonably expected. Thank you for teaching me to bunt and giving me a tractor-trailer to learn punk rock. I'm proud to be your son."
In Greater: Dream Bigger. Start Smaller. Ignite God's Vision for Your Life, Pastor Furtick shared that his father had been diagnosed with ALS only a few years after surviving liver cancer. The Christian Post was unable to confirm his age Wednesday evening, but the elder Furtick was apparently in his early 60s.
Pastor Furtick, 33, founded the Matthews, N.C., Elevation Church in 2006, and the Southern Baptist megachurch averages about 15,000 weekly attendees across seven locations in North Carolina. He, his wife and their three children live in the Charlotte area.