End of Christianity 'Very Near' in Iraq, Anglican Bishop Warns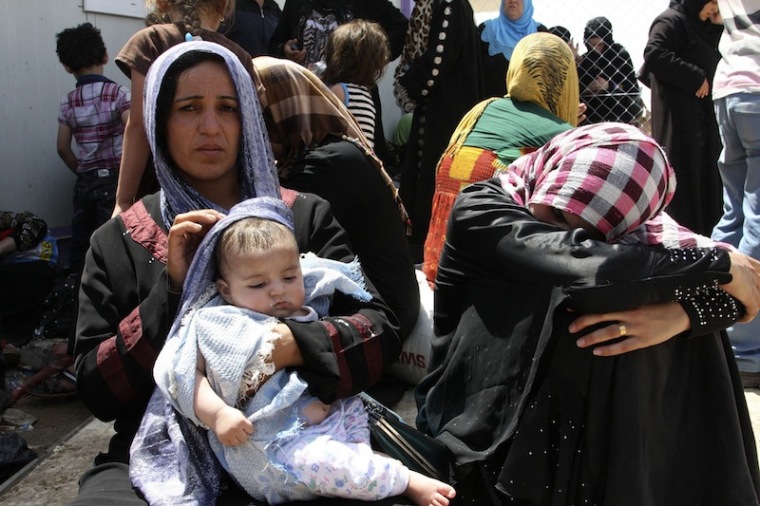 The end of Christianity in Iraq could be "very near" according to Canon Andrew White, the vicar of the only Anglican church in Iraq, as Islamic militants continue their attacks of Christians and the central government.
"Things are so desperate, our people are disappearing," White said in an interview with BBC Radio 4 over the weekend. "We have had people massacred, their heads chopped off.
"Are we seeing the end of Christianity? We are committed come what may, we will keep going to the end, but it looks as though the end could be very near."
ISIS militants had warned Christians in the northern state of Iraq that they need to convert to Islam, pay a tax or be put to death, forcing thousands of them to flee the region. The militants have also been painting the letter "N" for Nasrani, the Arabic word for Christian, in Christian homes in Mosul.
The Islamic extremists have declared an "Islamic state" in the territory of Iraq and Syria, and have vowed to take control of Baghdad.
ISIS killed 31 people in the capital during a suicide bombing last week, which wounded another 58.
White, who was in London at the time of the interview, urged the international community to offer urgent help to the persecuted minority.
"The Christians are in grave danger. There are literally Christians living in the desert and on the street. They have nowhere to go," the vicar said.
He continued: "We do not want Britain to forget us. We – and I'm saying 'we' talking like an Iraqi Christian – have always been with the British because they have already been with us.
"Individual churches, individual Christians in Britain, have been a bigger help than anybody around the world."
Watchdog groups like International Christian Concern have said that up to a million Christians lived in Iraq prior to the U.S.-led invasion in 2003 against the government of dictator Saddam Hussein, but that number has dropped to less than half.
Other church leaders, such as Syriac Patriarch Ignace Joseph III Younan, who last week traveled to Washington to speak with federal government representatives and members of Congress, have also condemned the "mass cleansing" of Christians from Mosul by what he called "a bed of criminals."
"We wonder how could those criminals, this bed of criminals, cross the border from Syria into Mosul and occupy the whole city of Mosul ... imposing on the population their Shariah (law) without any knowledge of the international community," Patriarch Younan said, referring to Islamic State fighters, according to Catholic News Service.
"What happened is really kind of a cleansing based on religion. You have heard about what they did: proclaim -- they announced publicly with street microphones, the ISIS – there's no more room for Christians in Mosul, that they either have to convert, pay tax, or just leave. And they have been leaving now since then with absolutely nothing," he added.
Patriarch Younan noted that "there is no more Christian presence" in Mosul, which he described as "tragic" because it had been the largest Christian city in Iraq, and a nucleus of Christians for many centuries.
"And we have at least 25 churches in that city. All are abandoned. No more prayers, no services, no more Masses on Sundays in Mosul because no clergy, no people there that are Christian," he said.