Erica Campbell Says Christians Need to Think Before Criticizing One Another After 'I Luh God' Criticism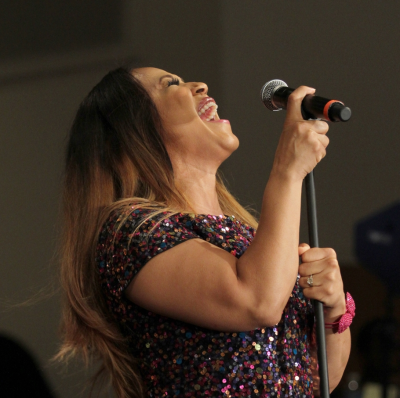 Gospel singer Erica Campbell, of the duo Mary Mary who has experienced solo music success with her Help and Help 2.0 albums, is defending her decision to bring edgy new sounds to the gospel music industry like "I Luh God," despite heavy criticism from some fans.
After some fans questioned the the 43-year-old singer's decision to blend God centered lyrics over an edgy "trap music" beat frequently heard in secular settings, the first lady of California Worship Center church is speaking up.
"They're used to (me) very pulled up and polished and singing 'Yesterday' and 'Help.' But, I just wanted to have fun, declare my love for God and at the same time reach an audience that I think the gospel community sometimes ignores," Campbell told CNikky.com " There is Christian hip-hop but I feel that more caucasian children gravitate to it. So, I figured, you're my people so, let me get with my folks!"
Campbell, who grew up in Inglewood, California, and revealed that growing up in a rough neighborhood has influenced who she is as a person. Even if she has not previously showcased that to the world, it is still a part of her experience.
She accepts that not everyone will appreciate songs like "I Luh God," but cautioned critics to think about what they're doing to the body of Christ when they publicly bash her musical expression.
"... I think before you criticize, and especially before you criticize publicly, ... because what that does is make the Christian body look even more divided and more argumentative and at war with each other. If you know me, or you know someone that knows me, contact me as opposed to posting something ugly or nasty," said Campbell. "Now, you've created this conversation and the people that like it are mad and the people that don't like it are mad, and really God gets no Glory out of that. If you take all of the music away, which is the main thing people are mad at, and you just look at the words, you change your total view."
Campbell said she's used to doing things differently and facing criticism because of it. Still, she believes that the devil can attack the church in situations where members criticize one another.
"What we have to understand is that this is the enemy's number one tool. He knows that we're not going to stop going to church, but if he can get you to go to church and fuss and argue about things, then you can't hear God's directive," the singer said. "So, if you're distracted by someone who wears a dress and you don't like the dress, etc. you've got to really assess yourself and say 'What is really going on?' 'What do I really have a problem with?'"
Campbell does not take her career for granted and spoke to The Christian Post last year about remembering her purpose when accidentally offending people.
"I really love Jesus and I'm really really grateful for what I do. I don't take it lightly," she told CP. "It is never my intention to offend people but I know sometimes they get offended. I just hope that they hear and see my heart in the things that I say and the music that I sing..The real purpose is to reach people for Jesus."