Ethiopians March in Mass Rally Condemning Slaughter of Christian Compatriots at Hands of 'Satanic' ISIS
Ethiopians March in Mass Rally Condemning Slaughter of Christian Compatriots at Hands of 'Satanic' ISIS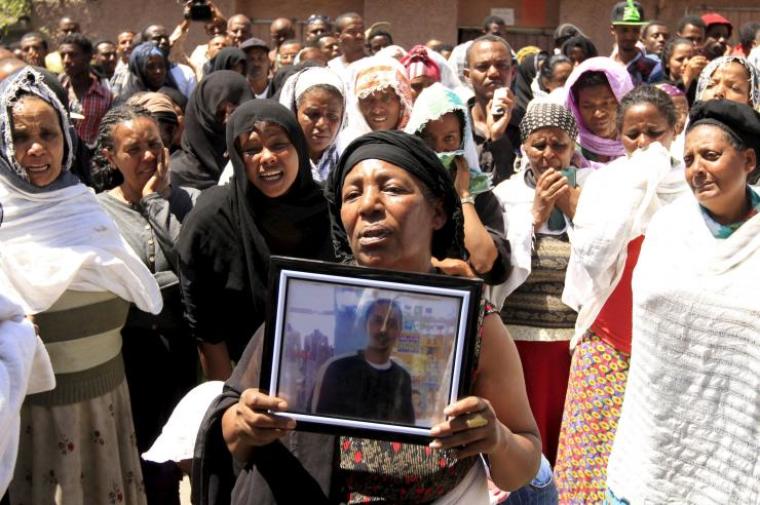 Tens of thousands of Ethiopians marched on Thursday in the capital of Addis Ababa in solidarity with the 28 murdered Christians at the hands of terror group ISIS. Prime Minister Hailemariam Desalegn described the terror group at the rally as "Satanic."
"This week's cruel act, which was committed against our citizens in Libya, not only gives a glimpse into terrorism, but also shows the Satanic acts and objectives of those who committed the act," Desalegn told the mass rally in Addis Ababa's Meskel Square, according to BBC News.
The response comes to a video released by ISIS on Sunday depicting the execution of two groups of Ethiopian Christians, one where the hostages were shot, and the other where they were beheaded. The militants directed their message to "the nation of the cross," referencing a previous video they released in February that showed the beheading of 21 Coptic Christians.
ISIS has become active in several towns across Libya after capturing significant territory in Iraq and Syria.
Reuters noted that protesters at the rally carried slogans such as "We will not bow down to terrorism!" and "The world must be united against terrorism."
Although the rally was condoned by the government, several scuffles reportedly broke out with police, forcing officers to use tear gas to subdue the protesters.
Desalegn further said that Ethiopia must fight "home-grown extremism," and warned that those who decide to illegally immigrate risk falling prey to human traffickers.
"It is clear to everyone that our fellow citizens all have the right to live and work in any part of the world. But the illegal migration that leads to unnecessary suffering and death carried out by illegal human traffickers must stop," he warned.
The murdered Ethiopians are believed to have been migrants making the route across the Sahara aiming to reach Europe via Libya. Many in the region take their chances with such trips in order to escape high unemployment rates and conflict.
Family members have so far been able to identify two of the victims.
"I am in pain. The innocent son of a poor mother butchered like he was," said Ahaza Kasaye, the mother of one of the men. "But I am heartened to see so many Ethiopians mourn him."
According to the CIA World Factbook, Ethiopia is a religiously diverse nation, with close to 43.5 percent of the population belonging to the Eastern Orthodox Church, another 33.9 percent identifying as Muslims, and the majority of the rest belonging to other Christian denominations.
The faith communities in the country, which enjoy relatively peaceful relations, have said that they have been left stunned by the terror act.
The slaughter of the Ethiopian Christians has been condemned both by Christian groups and Muslim leaders around the world. The University of Al Azhar, the highest academic center of Sunni Islam, said earlier this week that the killings committed by ISIS "go against any religion, law or human conduct."