Eugene Peterson's Son Reveals His Father 'Fooled' Everyone, Had Only One Real Sermon for the World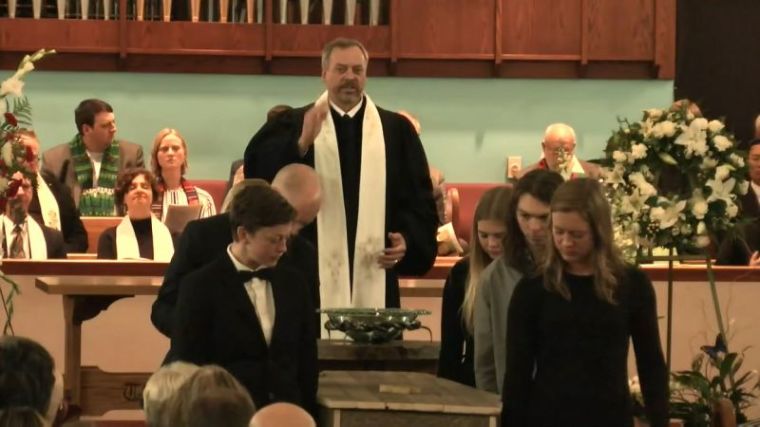 The family and friends of Christian author Eugene Peterson celebrated his life at his memorial service on Saturday, with son Leif revealing the one message his father had for the world.
Peterson, most famous for The Message Bible, passed away at the age of 85 in October, leaving behind a legacy of influence.
Leif Peterson touched on that legacy during his speech at First Presbyterian Church in Kalispell, Montana, recalling that his family for years received messages from people explaining how Peterson led them to ministry and saved their marriages.
He said that in the latter stages of his life, his father didn't always understand the full context of the letters that were sent to him, but appreciated that they were good news.
"My dad's message was that good news always plays out best in relationships. The writer of Genesis tells us that at the end of each day of creation, God looked around the world that He had done, and saw that it was good," Leif Peterson said.
"I think my dad did that a lot. He was always looking around at the mountains, at the flowers, at the birds, at the relationships forming and playing all around him, and you could tell from that signature twinkle in his eyes, what he was thinking 'oh man that's good, that's really good.'"
Leif Peterson revealed that he used to joke with his father and tell him that he "only had one sermon, one message" despite decades of creativity in sharing the Bible with people in new ways, something which he believes to be fairly accurate.
"It's almost laughable how you fooled them, how for 30 years every week you made them think you were saying something new," he said as part of a poem addressed to his father.
"They thought you were a magician in your long black robe hiding so much in your ample sleeves, always pulling something fresh and making them think it was just for them," he continued.
"They didn't know how simple it all was. They were blind to your secret."
Leif Peterson said that he knew his father's secret, however, as he had been telling him for 50 years.
"For 50 years you steal into my room at night and whispered softly to my sleeping head. It's the same message over and over:
'God loves you. He's on your side. He's coming after you. He's relentless.'"
Eugene Peterson's other son, Eric Peterson, a Presbyterian pastor in Colbert, Washington, led the service on Saturday.
"Our family has been so deeply touched by the ways you have reached out, by the variety of gestures, of remembrance and support, tribute to Eugene that has been very meaningful to us," Eric Peterson said at the beginning.
"Wherever we are, we have gathered for a variety of reasons, but hopefully among them is to give thanks to God for an extraordinarily well-lived, well-played life," he added, noting that his father dedicated his life to serving the God that he loved for over 85 years.
"In matters of life and death, God has the final say. It's a big word, a big celebration, an extraordinary word: Life. There is no power that is not subject to his life," he said.
The pastor later revealed that Eugene Peterson's six grandchildren carried his coffin in and out of the service.
Christian pastors and authors from around the world hailed Eugene Peterson's life and works following his passing.
Winn Collier, pastor of All Souls in Charlottesville, Virginia, who is writing Peterson's biography, said that in one sense, the author was "holy."
"I do not write this glowing homage because he was a faultless man without failings or shortcomings. Eugene wrestled with temptations, and in his private writings, he demonstrated a relentless grappling with his humanness. For a man who insisted on honoring what it means to be human in God's image, it would be disgraceful for me to caricature Eugene as anything other than human," Collier wrote at the time.
"And yet he was also holy. He loved the Father, Son, and Spirit. He loved his family like mad. He loved his friends."
Watch the memorial service for Eugene Peterson below: