Evangelical President Jimmy Carter Believes Churches, States Should Decide Whether to Marry Gays, Not Federal Government
Evangelical President Jimmy Carter Believes Churches, States Should Decide Whether to Marry Gays, Not Federal Government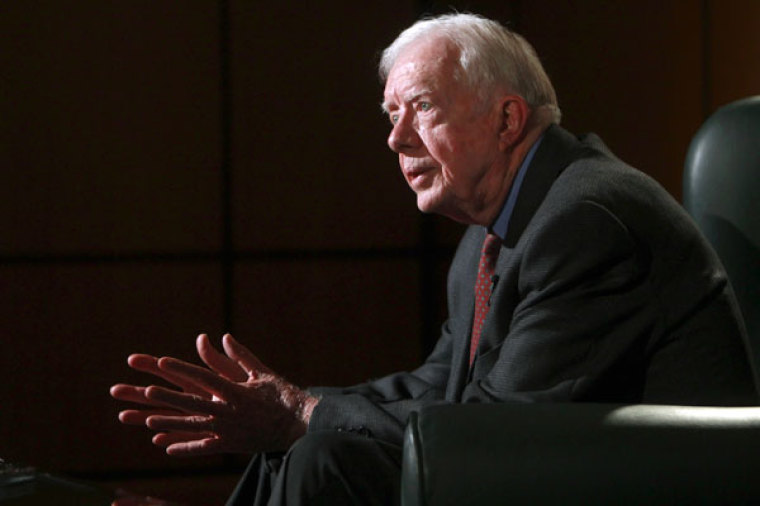 Despite his personal belief that gays should have the right to a marriage license, former U.S. President Jimmy Carter, an Evangelical Christian, says he believes churches and states should be allowed to decide whether or not to marry gay people.
"Well, I kinda draw what I consider to be the right line. I don't think that the government ought to ever have the right to tell a church to marry people if the church doesn't want to. I'm a Baptist and the congregation of our church will decide whether we have a man or woman as pastor and whether we'll marry gay people or not," said Carter when asked in a recent WFAA interview on how he reconciles his conservative faith tradition which denounces homosexuality with his position on gay marriage.
"If my church votes not to marry gay people, we wouldn't do it and I wouldn't want them to. But I think all people ought to have an equal right and people that happen to be gay I don't think it's a preventable or caused by anything, I think they have equal rights to marry," Carter continued.
When asked about the recent Supreme Court decision to not hear cases in which state marriage laws preventing gay marriage were overturned by federal courts, Carter said he believes that the people in each state should be allowed to decide on whether or not they want to allow gay marriage.
"I'm kind of inclined to let the states decide individually. And now as you see more and more states are deciding on gay marriage every year, but if Texas doesn't want to have gay marriages I think that's a right for Texas people to decide," he said.
In 2012, President Barack Obama shared Carter's position that gay marriage isn't a federal issue. In recent interview with The New Yorker, however, Obama argued that gays have a constitutional right to marry.
"Ultimately, I think the Equal Protection Clause does guarantee same-sex marriage in all fifty states," Obama told The New Yorker's Jeffrey Toobin. "But, as you know, courts have always been strategic. There have been times where the stars were aligned and the Court, like a thunderbolt, issues a ruling like Brown v. Board of Education, but that's pretty rare. And, given the direction of society, for the Court to have allowed the process to play out the way it has may make the shift less controversial and more lasting."