Evangelical 'revivalist' churches drawing more Catholics in DRC: 'Miraculous healing'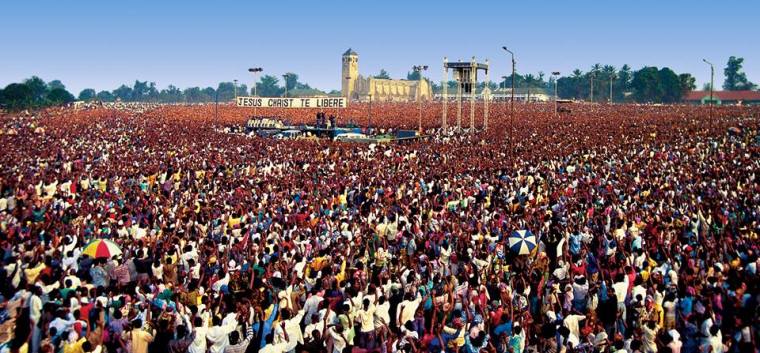 Congo is home to the largest Roman Catholic community in Africa, representing around 40% of the country's 96 million inhabitants. But many Catholics are reportedly attending Evangelical churches, which, they say, are more relevant to their needs, including "miraculous healing."
Ahead of Pope Francis' four-day visit to the Democratic Republic of Congo, which begins Tuesday, Reuters took a look at the country's religious landscape.
There are at least 30,000 revivalist churches in Congo, also known as "churches of awakening," the newswire stated, citing an association representing these churches.
Deo Malela, a Catholic who regularly attends an Evangelical church in the eastern city of Beni, said some illnesses cannot be cured in hospitals, but instead require divine and miraculous healing that is unexplainable.
"It does me good to have the base of the Catholic church and add these miracle solutions of the revival church," he said.
Pastor Davis Alimasi, an Evangelical from Beni, told Reuters that people are drawn to the church because they discover "truth, healing and faith." The Holy Spirit communicates with them in various ways, he added.
"There are illnesses where you can go to hospitals (and) you don't find solutions, but here you have a divine and miraculous healing that you can't explain," 28-year-old Malele told Reuters after attending an Evangelical service in Beni. 
The Evangelical movement in Congo grew in the 1980s when Mobutu Sese Seko was the country's president. At the time, he sought to counter criticism from Catholic citizens.
Malela said the Catholic Church still provides him with a stronger sense of community and "political protection," so he has not departed from the church he was raised in.
Evangelical churches continue to grow as the eastern DRC has been plagued by armed conflict and violence for decades.
The pope's visit to DRC, the first by a pontiff since 1985, seeks to raise awareness about the decades-long conflict inflicting the country. Francis lamented the world's "growing inability to weep" in the face of injustice, AFP reports. 
Militia groups and rebel groups have long operated in the region. Among its major sources of violence and terror are the various ethnic-based militia groups, which have targeted civilians and government forces.
These militia groups often fight for control of resources such as gold, tin and tungsten and have been accused of committing human rights abuses, including rape and murder.
Earlier this month, at least 17 Christians were killed and dozens injured in a bombing that targeted an Evangelical church in Kasindi town in North Kivu province.
The Allied Democratic Forces, a militant group that pledged its alliance to the Islamic State, claimed responsibility for the bombing, AFP reported at the time.
The ADF is considered one of the most dangerous armed groups in the DRC, responsible for thousands of civilian deaths and bomb attacks. The group is also active in Uganda.
The United Nations peacekeeping mission in the DRC has been deployed in the region since 1999 to protect civilians. However, it has faced challenges in effectively stemming the violence.