Evangelical Vote Backing Trump Proved Larger Than 'Feminist, Gay, Hispanic' Vote: Ralph Reed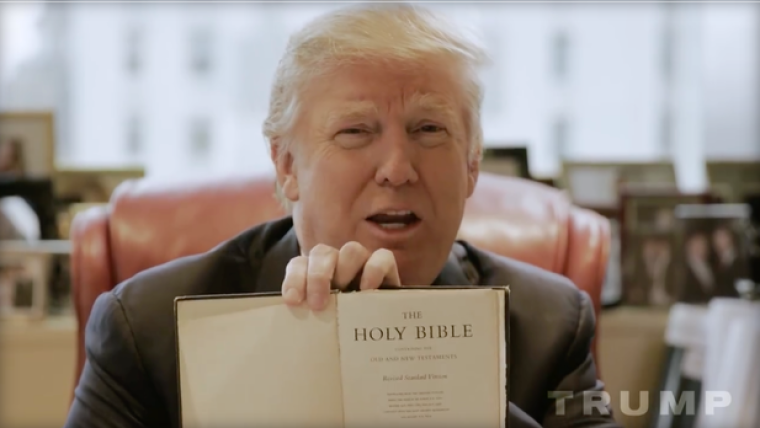 Evangelical voters who backed Donald Trump in his presidential election victory last November came out in greater numbers than opposing sides, such as feminists and gay people, according to Faith and Freedom Coalition Executive Chairman Ralph Reed.
Reed talked about exit polls in an interview with SiriusXM and Breitbart News Saturday, and claimed that evangelicals made up 36 percent of the electorate, which, he pointed out, was "larger than the union vote, the feminist vote, the gay vote, and the Hispanic vote combined."
Reed commented on the release of the Access Hollywood tapes that revealed Trump having a lewd conversation about women with TV host Billy Bush back in 2005, saying it constituted an "attack" on the Republican.
"When the Access Hollywood tape hit, remember, these folks had gone through the DWI being dropped on George W. Bush on the Thursday before the election in 2000. Whenever you have anyone who is willing to deliver on the issues and the values that beat in the heart, and give meaning to the souls of these people, they know you're going to come under attack," Reed stated.
He further argued that Democrat Hillary Clinton's support for abortion turned many against her, while Trump's pro-life comments were instrumental in him winning the election.
Reed insisted that "the media wants us to think that he was some late convert who did not care about this, and was just playing the faith community. Not true. I know it for a fact."
Still, the evangelical leader said that the Trump administration needs to continue pushing a repeal of Obamacare in order to help faith-based organizations that are opposed to funding contraceptives.
He urged politicians to back Trump's executive order ceasing the enforcement of the Johnson Amendment through legislation, warning that a Democratic president will once again seek to restrict churches and ministries from speaking on political matters.
Back in March 2016, Reed claimed that Trump "checks all the boxes" when it comes to social issues for conservatives, such as marriage, abortion, religious liberty, and support for Israel.
Reed noted in another interview in February that despite Trump's problematic past remarks in favor of the pro-choice position, and his multiple failed marriages, evangelicals are able to extend a forgiving hand.
"Evangelicals have a long history of accepting converts to the pro-life and pro-family cause at their word," Reed said at the time.
Different polls have showed different statistics when it comes to the question of how many evangelicals ended up actually voting for Trump.
The Cooperative Congressional Election Study, which surveyed over 64,000 American adults in the days following the 2016 election, showed in March that 60 percent of evangelicals voted for Trump.
Exit polls, on the other hand, had said that 81 percent of white evangelicals voted for the billionaire businessman.
The Public Religion Research Institute, meanwhile, released survey results in September suggesting that white evangelicals are in major decline, and in 2016 only made up 17 percent of the population.
Several scholars challenged the results, however, including Professor Tobin Grant, department chair of Political Science at Southern Illinois University.
Grant said at the time that other polls show that the white evangelical population has remained steady over the past decade.
"The decline that they (PRRI) show in their survey doesn't match what we see in other surveys that are of higher quality and are seen as more accurate," Grant told CP, citing a General Social Survey graph of "white (not latino) 'Born Again'" Christians, which shows a mostly flat line from 2004 to 2016 at around 20 percent.