Supreme Court Travel Ban Decision Bad for Persecuted, Child Refugees, Bishop Says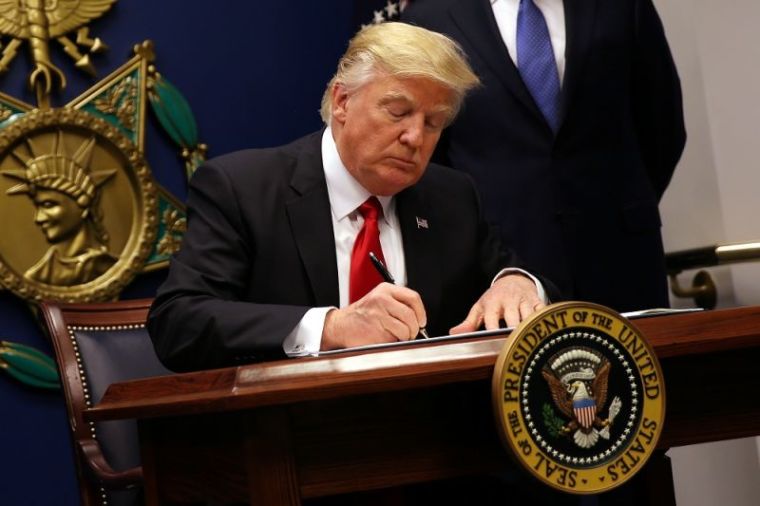 The United States Supreme Court on Monday decided to let a limited version of President Donald Trump's travel ban go into effect and Christian leaders within the refugee resettlement community have expressed concern.
The nation's high court decided to let parts of Trump's March 6 executive order banning travel from six Muslim-majority countries — Iran, Libya, Somalia, Sudan, Syria and Yemen — for a period of 90 days, and refugee resettlement into the U.S. for a period of 120 days, to take effect.
As the court has agreed to hear arguments over Trump's full travel ban in the Fall, it's Monday opinion allows the ban to take effect "with respect to foreign nationals who lack any bona fide relationship with a person or entity in the United States."
This means that foreign nationals from the affected countries who do not have a clear relationship with a person or entity in the U.S. will not be allowed to enter the country. But, individuals coming for a job, to attend school or connect with family members would be allowed to enter.
When it comes to the issue of the refugee ban, the court's opinion stated:
"American individual or entity that has a bona fide relationship with a particular person seeking to enter the country as a refugee can legitimately claim concrete hardship if that person is excluded. As to these individuals and entities, we do not disturb the injunction," the opinion states. "But when it comes to refugees who lack any such connection to the United States, for the reasons we have set out, the balance tips in favor of the Government's compelling need to provide for the Nation's security."
Conservative Justices Neil Gorsuch, Clarence Thomas and Samuel Alito were in favor of letting Trump's travel ban go into effect "in full." An opinion written by Thomas states that the "court's remedy is unworkable" because it will "burden executive officials" by forcing them to decide which individuals "have a sufficient connection to a person or entity in this country."
While Trump has called the court's decision to let parts of his ban go into effect as a "a clear victory for our national security," leaders in the refugee resettlement community don't see the court's decision as a "clear victory."
"Today's decision will have human consequences," Bishop Joe Vasquez, the chair of the of the U.S. Conference of Catholic Bishops' Committee on Migration, said in a statement.
The USCCB is one of nine refugee resettlement agencies authorized by the State Department to resettle refugees in the United States.
"While my brother bishops and I appreciate the Court's ruling to allow individuals who have a 'bona fide relationship' with a person or entity in the United States to continue arriving, we are deeply concerned about the welfare of the many other vulnerable populations who will now not be allowed to arrive and seek protection during the proscribed pause, most notably certain individuals fleeing religious persecution and unaccompanied refugee children," Vasquez asserted. "Going forward, as the Administration begins its review of the refugee program, we urge a transparent, efficient and timely review. We ask that such review include civil society and refugee service providers as well as national security and immigration experts."
Church World Service, another Christian refugee resettlement agency, expressed in a statement that the the court's decision "does not reflect our nation's proud legacy of welcome, nor the strong support for refugees among the American people."
The CWS statement adds that the organization is seeking clarity about whether a refugee's relationship with a "resettlement office, faith organization or community group" will allow them to enter the country under the terms set by the court.
"The Supreme Court's decision flies in the face of this commitment by restricting entry to refugees with certain connections to the United States. Some of the world's most vulnerable refugees have no ties to the United States — including families with children fleeing war, violence and persecution. To make a U.S. connection a prerequisite for refugee admissions in our country is to jeopardize lives and deny safety to millions," the statement reads. "Enabling any variation of President Trump's discriminatory refugee and Muslim ban to go into effect — even temporarily — is an imprudent, devastating blow to our fundamental values of justice and humanity."
Leaders from the evangelical refugee resettlement agency World Relief also offered a statement on the court's decision, saying in a press release that the agency is still evaluating the impact that the decision will have on the immigrants and refugees they serve.
"We are hopeful that upon the Supreme Court's full review this fall, the court will rule in favor of continuing the refugee resettlement program in full, and in so doing, reinforce this traditional American value," World Relief President Scott Arbeiter said in a statement.
World Relief's CEO Tim Breene stated that although it is "right" to take matters of national security seriously, "World Relief does not believe compassion and security have to be mutually exclusive."
Ralph Reed, a leading social conservative activist and chairman of the Faith & Freedom Coalition, issued a statement supporting the court's decision.
"People of faith support reforming America's broken immigration system but believe securing the border is a critical first step. The federal government has a constitutional responsibility to protect the homeland," Reed, who serves on the president's evangelical advisory board, said. "That is why we support the Trump administration's policy of strictly vetting foreign nationals from countries plagued by civil war, terrorism and Islamic radical extremism that pose a danger to our security."