'Even in Darkness, It Is Possible To Create Light' — Elie Wiesel Top Quotes on Survival, Faith and Perseverance Upon News of Death
Uplifting Quotes from One of the Survivors of an Event that Have Disheartened Numerous People Towards Survival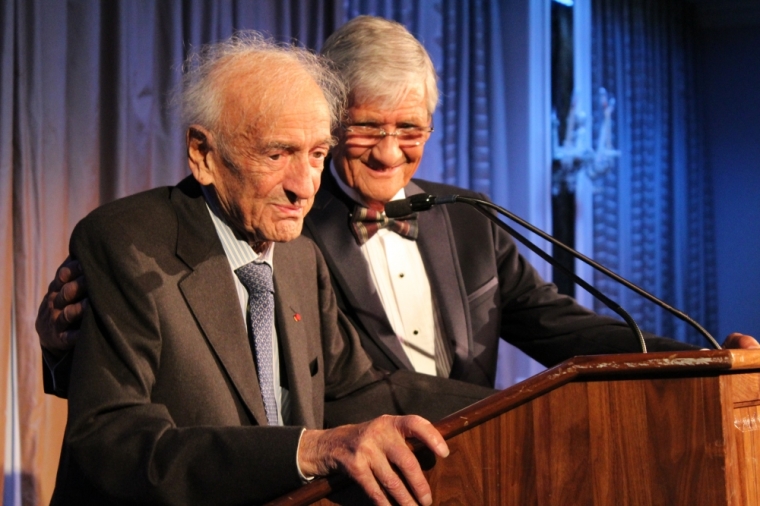 Elie Wiesel, one of the Holocaust survivors, has died in his Manhattan home in the US at the age of 87. He dedicated his life assuring the events from the grim days under the Nazis would never be forgotten.
Wiesel was from Romania. In 1944, he and his and family were deported to Auschwitz. One of his sisters and his mother were killed in Nazi death chambers. His father died in the Buchenwald camp.
He grew up to become a journalist and wrote books based on his experiences during the war. In 1986, he was awarded the Nobel Peace prize for his motion against racism, violence and repression.
Here are the inspiring sayings from a wise man who had known hope and faith more closely than most people of recent generations could have.
"Keep your anger and hatred for another day, for later on. The day will come, but not now."
- from "Night" Ch. 4
"I have not lost faith in God. I have moments of anger and protest. Sometimes I've been closer to him for that reason."
"We have to go into the despair and go beyond it, by working and doing for somebody else, by using it for something else."
"Our obligation is to give meaning to life and in doing so to overcome the passive, indifferent life"
"Man, as long as he lives, is immortal. One minute before his death he shall be immortal. But one minute later, God wins."
"Hope is like peace. It is not a gift from God. It is a gift only we can give one another."
"I swore never to be silent whenever and wherever human beings endure suffering and humiliation. We must always take sides. Neutrality helps the oppressor, never the victim. Silence encourages the tormentor, never the tormented."
"Ultimately, the only power to which man should aspire is that which he exercises over himself."
"Words can sometimes, in moments of grace, attain the quality of deeds."
"Only the guilty are guilty. Their children are not."
"Whenever an angel says, 'Be not afraid!' you'd better start worrying. A big assignment is on the way."
"Whoever survives a test, whatever it may be, must tell the story. That is his duty."
"Whatever you do in life...think higher, feel deeper."
"Everything is possible."
"Even in darkness, it is possible to create light." - from "Open Heart"
"The opposite of love is not hate. It's indifference."
"Every moment is a new beginning." - from "Open Heart"
"Man can live far from God -- not outside God. God is wherever we are. Even in suffering? Even in suffering." - from "The Perils of Indifference"
"One person of integrity, can make a difference, a difference of life and death."
"I had a teacher that always told me, 'Don't promise, because if you promise, you must keep it.' I promised, so here I am."
"It's not perfect. Nothing is perfect. Sometimes it takes time for the words to become more than words."
"There are victories of the soul and spirit. Sometimes, even if you lose, you win."
"Friendship marks a life even more deeply than love. Love risks degenerating into obsession, friendship is never anything but sharing."
"For me, every hour is grace. And I feel gratitude in my heart each time I can meet someone and look at his or her smile."