Ex-Creflo Dollar Church Member Claims Preacher Gave Away 2 Flat Screen TVs in Church After Jet Debacle, Perhaps Out of 'Guilt'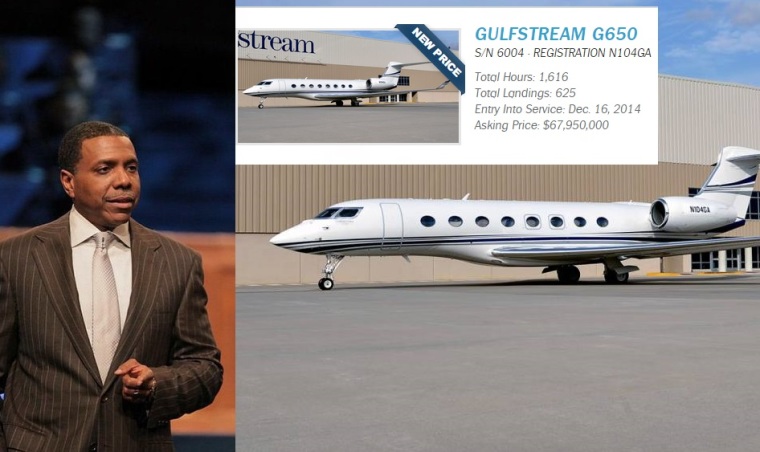 A former member of World Changers Church-New York, pastored by popular televangelist Creflo Dollar, claims the prosperity preacher pacified his congregation with two flat screen televisions after the backlash over his appeal to the public for $65 million to help him purchase a luxury jet for his ministry.
"I'm one of those people that have said, I am not giving it to him; I'm giving it to the ministry because he does do good things around the world for other people. So when I'm giving, I'm giving to do outreaches and things like that," began the ex-member, identified only as Theresa, in an interview with the Advise Show TV.
"Trust me, I'm not defending him; because after I heard about this whole jet thing I was like, 'this is ridiculous. Is he serious?' I was upset because he came back from his so-called sabbatical 'oh yeah, I 'm well-rested' but he didn't even offer no apology for what he did," she continued about Dollar's reaction to the backlash over the appeal many onlookers found to be extravagant.
"He just continued, 'OK, let's start this new series.' … [And then] he just turned around and gave away two flat screen TVs at the end of the service," she explained.
Theresa said she was surprised by Dollar's generosity because she had never seen him give away anything in church before.
"Never, never, there's never been a raffle, nothing like that," she said.
"That was his guilt. That was his guilt. You couldn't even come to your congregation who you get money from and supposedly love, and you want us to learn this and that. You couldn't even apologize for your wrong. … I'm not gonna understand that," she said.
Theresa noted that the $65 million appeal for a new private jet wasn't the first time Dollar had asked the church for an extravagant amount of money.
She claims the preacher once had a dream to purchase Madison Square Garden which is valued at about $4.5 billion.
"He told us he was trying to purchase Madison Square Garden and the people were looking at him like he was crazy," she said.
Dollar, claims the ex-member, also tried raising $81 million to build a church in Astoria, Queens, but she left the church before that campaign was completed and wasn't sure if he managed to raise the money.
Theresa said even though she likes the way Dollar preaches she didn't like not getting the opportunity to shake his hand while she was a member.
"He's untouchable. First of all, he's surrounded by bodyguards. ... From what I've seen at the church, I know of about four. But I'm not sure how many he travels with, but yeah, he's untouchable," she continued.
"My personal opinion is that he doesn't want to deal with common folk because he has other people in place to deal with that. He likes to tell us that his schedule doesn't permit him to be on a commercial flight or to do these other things that pastors actually do. Like maybe shake your hand, have a meeting," she said.
Theresa further explained that she left the church six times in tears prior to her latest departure but was convinced to return by friends.
When asked why she would go back to the church after being hurt so many times she said her friends encouraged her to come back and told her "God is gonna work it out."
As for what happened when Dollar faced his church for the first time after the jet debacle last month, Theresa said Dollar got a hero's welcome.
"When he stepped back on stage after that G650 jet thing, he received a standing ovation for about 2 minutes," she said.