Ex-Porn Star Leaves Sex Industry for New Life in God
Brittni, a former porn star, committed her life to God and left the adult entertainment industry after a member from XXX Church preached to her at a porn convention. The Gospel message ultimately led her to find the love she was searching for during her seven years as an adult entertainer.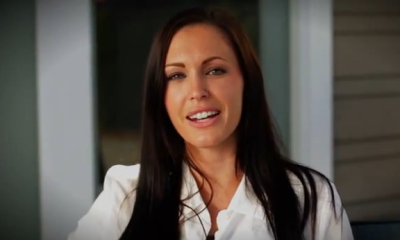 Rachel Collins from XXXChurch.com, a Christian-based online ministry aimed at fighting porn addiction, attended several conventions to connect with women in the industry to spread the message of hope in a non-judgmental way. For the next few years, Brittni kept in touch with Collins until Collins' message became her epiphany.
"…Thank you Jesus I found him, I'm home!" said Brittni, during her testimony. "It's been a long seven-year journey of porn, prostitution, stripping, drugs, alcohol and several failed suicide attempts."
Formerly known as Jenna Presley, Brittni got involved in the industry during college as a stripper. After being approached by producers who saw her dancing, she took their offer to star in porn films and shot her first scene the very next day.
"I felt so loved that day because I was put in hair and make-up, I was told I was beautiful and I was told I was going to be a star," she recalled.
Brittni said her life goal was to become a model and actress and the opportunity to be on camera was her big break, or so she thought.
"I always felt like I had to say yes to everything because I felt that would give me credibility as a star. Wanting to be famous my whole life, I guess was resorted to wanting to be loved; but sharing that side of yourself and becoming so empty and feeling so helpless like there's just no hope, you dig such a hole, that you're in a pit of self-pity..."
Her feeling of helplessness and longing for love led her to drug abuse and to an outlet she hoped would end her misery, only to find out her efforts were worthless.
"The feeling of not caring whether you live or die, the feeling of 'you know what, nobody loves me except for these fans' who I'm really disgusted by because they see me in my most personal moments, it's not worth it, I would give it all back," said Brittni. "All those lonely nights by myself, cutting my wrists and feeling like, 'what's going to happen tomorrow? I don't really care if tomorrow comes anyway,' wanting to die, trying to kill myself, spending all my paychecks on drugs … where's the accomplishment …?"
During her time as a porn star, Brittni made hundreds of movies to the point of exhaustion.
"Not only does it leave you drained but I had to start finding ways how to do the scenes because I was so robotic, I was like a rubber Barbie doll, I had no emotions, I was plastic," said Brittni. "I would get undressed from the outfit I would wear to put on lingerie just to get undressed again to do a scene. I felt so hopeless and so empty inside … I became my alter ego."
Eventually, her tumultuous lifestyle came to an end and now her message for women is one of hope, much like Collins' message was for her.
"As women, we are worth it, we are worth love, we are worth real love and you're not going to get that love from the industry. I want every woman in the industry to know what real love feels like because if they're anything like me, we don't know what real love is and we were searching for it … I feel like there's going to be many more souls in that industry that are going be saved. I feel like you guys have been praying and I feel like Jesus is answering these prayers right now," she said, as she concluded her testimony when speaking to Collins.
Here is a related video: