Ex-SBC Pres. Johnny Hunt confesses to 'only kissing and some awkward fondling' in defamation suit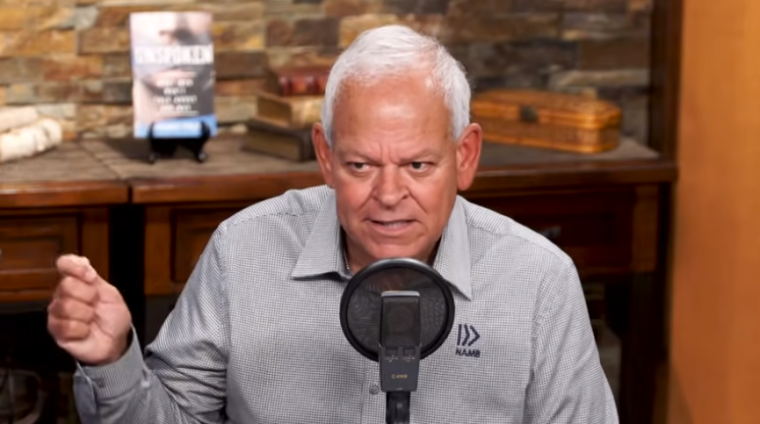 Former Southern Baptist Convention president Johnny Hunt has admitted to "only kissing and some awkward fondling" between himself and the wife of a younger minister who accused him of sexual assault while on a beach vacation with his family in Panama City, Florida, 12 years ago.
The details come from a defamation lawsuit filed by Hunt's lawyers Friday in a federal court in Tennessee against multiple parties, including the SBC, the SBC Executive Committee and Guidepost Solutions, which investigated the allegations against Hunt.
The lawsuit describes the incident as a "brief, inappropriate, extramarital encounter with a married woman."
"At most, the encounter lasted only a few minutes, and it involved only kissing and some awkward fondling," the lawsuit states. "This was a private failing by Pastor Johnny and the woman involved, and the story should have ended there. But it didn't."
Hunt takes issues with being named in the May 22, 2022, report compiled by outside investigation firm Guidepost Solutions detailing the results of an investigation into allegations that SBC leaders intimidated whistleblowers and exonerated churches with credible claims of negligence of sexual abuse victims. 
Hunt's attorneys argue that naming him in the Guidepost report was a "strategic decision to deflect attention from the SBC's historical failure to take aggressive steps to respond to reports of child sex abuse and other sex crimes in its past."
The lawsuit asserts that Hunt "was named because the woman with whom he had the brief, extramarital encounter in 2010 had disclosed that encounter to the Guidepost investigators."
"The encounter involving Pastor Johnny had nothing to do with the types of reports that led to Guidepost's engagement. It should not have been included in Guidepost's report. Indeed, it should not have been published at all," the lawsuit contends. "By focusing on the allegation against Pastor Johnny — an allegation by an adult woman that involved noncriminal conduct — and by then taking aggressive action against Pastor Johnny, the Defendants sought to create the appearance that the SBC has learned from its previous mistakes and is now working to protect victims of sex crimes." 
An SBC Executive Committee spokesperson told Baptist Press that the committee is "aware of the complaint against the Convention filed by former SBC president Johnny Hunt."
"We are reviewing the complaint and will not be commenting on active litigation at this time," the spokesperson said. 
In January, six months after he was suspended as pastor emeritus by First Baptist Church Woodstock in Georgia following an investigation into allegations he sexually assaulted the younger pastor's wife, Hunt returned to public preaching and declared that God's call on his life is "irrevocable."
Pastor Jeremy Morton and other members of the leadership team at First Baptist Church Woodstock suspended Hunt last summer after the release of the Guidepost report. 
"We have recommended to our former pastor, Johnny Hunt, a clear process of counseling, accountability, and restoration," Morton and other members of the leadership team at First Baptist Woodstock noted in a letter announcing Hunt's suspension. "We also believe it is in the best interest of FBCW to suspend his role as Pastor Emeritus."
The wife of the younger pastor, who considered Hunt a mentor, told investigators that while she was on a beach vacation with his family in Florida, Hunt sexually assaulted her and told her he wanted to have sex with her three times a day.
The woman and her husband, both 24 years younger than the 69-year-old Hunt, who served as SBC president from 2008 to 2010, told investigators that the assault took place after the June 2010 SBC annual meeting in Orlando that year. She claims the advances were unwanted.
Hunt, in a May 27, 2022, statement addressed to the church on his Instagram account, admitted that while he did have an encounter with the younger pastor's wife, the Guidepost Solutions report was "sensationalized" and included details that were not true.
"Our brief, but improper, encounter ended when — in response to an overwhelming feeling of conviction — I stopped it, and I fled the situation. I remember saying just before leaving the condo, 'This is not right. I have no business being here. I love my wife.' I have never been in a room again privately with the woman involved," Hunt wrote.
As a result of being named in the report, Hunt claims he lost his job, money from speaking engagements as well as publishing opportunities.
"His losses are substantial, and Defendants should be held liable," the lawsuit states. 
Reacting to questions from a reporter about the lawsuit at New Season Church in Hiram, Georgia, on Sunday, Hunt said that he would "not be preaching this morning if the assault and abuse charge was true," according to The Atlanta Journal-Constitution. 
In November, Pastors Mark Hookver of NewSpring Church in Kansas; Mike Whitson of First Baptist Church in Indian Trail, North Carolina; Steven Kyle of Hiland Park Baptist Church in Panama City, Florida; and Benny Tate of Rock Springs Church in Milner, Georgia, claimed that Hunt was eligible to return to professional ministry after completing a restoration program. 
SBC President Bart Barber pushed back on that claim and said those pastors don't speak for the convention. 
"Indeed, it is not clear that they even speak for their own churches," wrote Barber. "For those Southern Baptist churches who practice ordination to ministry, the authority to ordain is generally considered to arise from the congregation, but no indication has been given that any of these four congregations have consented to or given their authority to this process."