New 'A.D: The Bible Continues' Clip Reveals the Coming of the Holy Spirit on Pentecost; (Watch Here)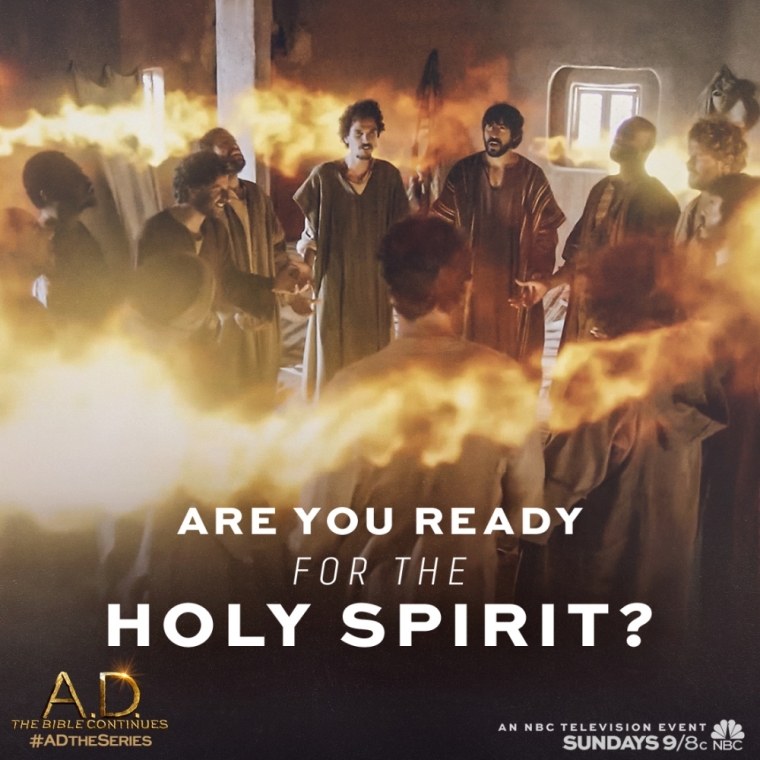 "A.D. – The Bible Continues" is returning to NBC with its third and most dynamic episode yet this Sunday, revealing the moment the Holy Spirit appears at last.
The Roma Downey and Mark Burnett-produced series first premiered on Easter Sunday earlier this month, and it has already garnered critical acclaim. Its return to primetime television this Sunday, April 19, "A.D." will finally feature the Pentecost and reveal the promise of Jesus.
So far, "A.D" viewers have seen the crucifixion of Jesus Christ, the resurrection, and ascension. And this Sunday, the Holy Spirit will appear. Downey and her husbad Burnett recently sat down with Pastor Rick Warren to discuss the new television series and the important role of the Holy Spirit.
"We knew that a big part of this story was going to be, and had to be, the Holy Spirit, because I believe once the heart is open, then grace and God moves in and does the rest," she said. "The Pentecost, which is in episode 3, is just spectacular. Mark [Burnett] and I always speak that the star of the show is the Holy Spirit."
Episode three will also see zealot revolutionaries try to assassinate Pilate during the festival of Pentecost. Empowered by the Holy Spirit, the disciples start to preach the Gospel. Caiphas arrests Peter and John.
In a teaser clip from the new "A.D." episode, the Lord's Prayer is recited by Jesus' disciples as they prepare to receive the Holy Spirit. During the prayer, a powerful light forms in the clouds above before descending onto earth.
"A.D. – The Bible Continues" will air on NBC this Sunday, April 19 at 9 p.m. ET. The encore of last week's Episode 2 will air directly ahead of the highly-anticipated new episode, paving the way for two hours of Bible engagement on national television this week.
Watch the "A.D." episode three preview here.