Experts Warn Boy Scouts Delegates Against Being 'Snookered and Bamboozled' Into Gay Vote
As delegates of Boy Scouts of America prepare to cast their votes on a controversial amendment to their membership standards on homosexuality, legal experts warned them on Tuesday against being "snookered and bamboozled" into accepting it.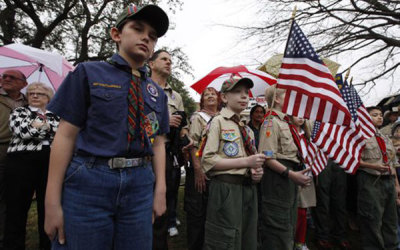 Next Thursday, some 1,400 members of Boy Scouts of America's national council are expected to vote on the resolution seeking to revise the organization's membership policy on homosexuality at their annual meeting in Grapevine, Texas. If accepted, the resolution would lift an existing ban on youth who are "open or avowed" homosexuals. A ban on adult leaders, however, would remain in place.
"There is going to be a showdown in Grapevine Texas," said Cathy Ruse, senior legal fellow at Family Research Council, on Tuesday.
"There are troubling reports of an influx of delegates. Votes at meetings are done by voice votes, this time it will be paper ballots filled out in delegates' hotel rooms and counted by friends of the BSA executive," said Ruse in describing what she believes is a calculated and elaborate push to deceive the organization's delegates to support the resolution.
In a panel discussion organized by the Heritage Foundation on whether or not the looming proposal is a prudent or fatal compromise, a three-member panel of legal experts, including Ruse, agreed it would be disastrous for the organization if the "incoherent" resolution is adopted.
"It is inconceivable that scouts would be able to maintain their policy against adult leaders (if the resolution is adopted)," said panelist Edward Whelan, president of Ethics and Public Policy Center.
He questioned how the proposed policy would be applied to a youth who is 17 years and 11 months old and another who is 18. He then further argued that it would be very difficult to legally defend excluding gay adult scout leaders after adopting a resolution like the one currently on the table.
Whelan also pointed to the Boy Scouts of America v. Dale (2000) Supreme Court ruling which agreed that the organization's current membership policy is constitutionally protected under the First Amendment. The organization was victorious in that case because it explicitly articulated that homosexuality is not consistent with the values it seeks to instill.
The language of the new resolution, however, relinquishes any protection under that argument.
"Boy Scouts of America's top leaders aren't serious about finding middle ground. They are trying to snooker and bamboozle local scouts and parents," said Whelan.
Ruse said she believes the incoherent nature of the new proposal was designed to render the arguments from the Dale ruling useless.
"In the Dale case, the reason why Boy Scouts were said to have a First Amendment right was because they had speech and association right to uphold this policy. If the speech is so incoherent there would be no legal basis for the courts to uphold this bifurcated policy," said Ruse. "In my opinion, this is all by design … It is an irrational rule and no one wants to be put in the position of enforcing it."
Another panelist, John Stemberger attorney, former Scoutmaster, and founder of OnMyHonor.net, said the resolution is simply being pushed out of peer pressure.
"This is not a decision that is being done by anything other than peer pressure," he said. "What's unfortunate is that the Boy Scouts of America is not looking out for what's best for the boys."