Fabricio Werdum vs. Cain Velasquez Rematch Fight News 2016: Werdum Believes Title Will Stay With Him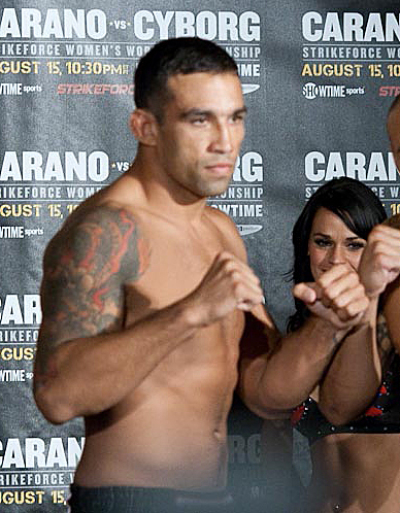 Current UFC heavyweight champion Fabricio Werdum is extremely confident that the title will remain around his waist after his scheduled rematch with former titleholder Cain Velasquez.
The two men last fought at UFC 188 in June in Mexico, where Werdum won via third round submission. Then the interim champion, "Vai Cavalo" was able to unify the titles to become the UFC's 18th overall undisputed champion.
The rematch between both fighters is now scheduled to take place at UFC 196 on February 6th in Las Vegas. And with two months away from the fight, Werdum has already assured himself of the victory.
In a report MMA Fighting, the Brazilian champion and Brazilian Jiu-Jitsu black belt even issued a warning to Velasquez to be wary about his right arm.
"And now, just asking Cain Velasquez, be careful with the right arm, it's my specialty," Werdum told veteran mixed martial arts journalist Ariel Helwani. "Don't come inside my guard, please, because, hey, be careful with the right arm."
Werdum, a decorated grappling champion who won gold medals in the prestigious Abu Dhabi Combat Club tournaments (ADCC), the IBJJF World Championships (Mundials), and the Pan Amercian Jiu-Jitsu Championships, is clearly no slouch on the ground.
In mixed martial arts, 10 of his 20 victories ended by submission (20-5-1, with 16 wins by stoppage).
Most notably, he was able to hand the great Fedor Emelianenko his first loss in 2010, after a ten-year undefeated reign. Werdum finished Emelianenko with an armbar in the first round.
Velasquez is no pushover in the grappling department as well, being a wrestling champion in his high school and college days. He also trains with elite fighters such as light heavyweight champion Daniel Cormier and middleweight champion Luke Rockhold at the American Kickboxing Academy (AKA) in San Jose, California.
That being said, Werdum also gave credit where credit is due and believes Velasquez will come in twice as tough, this time around in their rematch.
"The rematch, he (will) come very strong again. I think I have more confident this time," Werdum said in the report. "I think he come very good, for sure, 100 percent, but I beat him again, man."