Father Tom Uzhunnalil Thanks God for His Captors Following 18-Month Abduction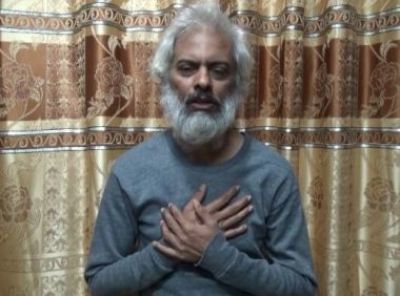 Father Tom Uzhunnalil, the Indian priest who was held hostage by Islamic extremists for over 18 months in Yemen before being released last week, said during a news conference that he thanks God for his captors, adding that they did not hurt him while he was held captive.
Uzhunnalil, a Salesian priest who was captured when terrorists attacked a Missionaries of Charities retirement home in Yemen in March 2016, spoke with journalists in Rome on Saturday, just days after India's external minister announced that he had been freed.
Uzhunnalil thanked those who prayed for him while he remained in captivity. However, he was also thankful for the very men responsible for putting him in the terrifying situation to begin with.
"I thank in the name of the Lord God even my captors, who have been understanding to me and have not hurt me," the Catholic News Agency/Eternal Word Television Network quoted the 57-year-old Indian national as saying at a press conference.
The priest explained that his release is a result of "God's intervention."
"And that is due to the prayers and sacrifices of all my brothers and sisters, all of you around the whole world — my own country, other countries, Christians, Muslims, Hindus, all men of goodwill," he continued. "I'm sure each one has made sacrifices."
Uzhunnalil added that "the best weapon against any enemy is love, prayer, forgiveness."
"With your prayers and sacrifices, you have brought me from God and have brought me here," he stressed. "I do not know how to thank you all. May the Lord God bless you and reward you and give you courage to go through whatever difficulties may come as we go on in this world."
Even though it was initially thought that Uzhunnalil's captors were aligned with the Islamic State, he explained that his captors never identified themselves, the Catholic Herald reported. It was initially believed that Uzhunnalil was to be crucified on Good Friday 2016. But those rumors proved to be false.
In the same attack in which Uzhunnalil was kidnapped, 16 civilians were killed, including four nuns.
"Why they did not kill me, why they didn't tie my hands, I don't know," Uzhunnalil stated. "Perhaps they wanted some ransom or whatever it is. I only believe that maybe God had put that into their heads when I said, 'I am Indian,' and they made me sit there while they killed the others, the Sisters."
The priest said that it was on Sept. 11 that his captors told him that he would be released. After traveling blindfolded in a car and waiting for hours, the deal for his release fell through. Uzhunnalil recalled one of the captors misunderstanding the idea of the Holy Trinity when he told him "[y]ou might have prayed to the third God, now you must pray to the second God so tomorrow can go well."
According to the Catholic Herald, Uzhunnalil was returned to his cell that night only to be woken up during the early morning hours of Sept. 12 and taken on the same journey as the day before.
But this time, he was taken out of the car, put into another car and driven for over a day through the desert before he was finally set free.
"Now you are free, now you are safe," he recalled being told. He was later transported to Oman's capital of Muscat and taken to a hospital.
The priest's release was a joint effort undertaken by the Indian government, the Vatican and the government of Oman.
Throughout his time in captivity, Uzhunnalil asserted that he had put his trust in God and that he was not afraid.
"I said to myself: With the knowledge of God, nothing will happen to me. For Jesus has said, 'Not a hair will fall from your head without the heavenly Father's knowledge,'" he explained, according to CNA/EWTN. "Those words, that phrase flashed in my mind. Maybe that's what gave me strength, kept my mind serene, calm."
The day after his release, Uzhunnalil met with Pope Francis at the Vatican.
"In that meeting, the Pope kissed my hand. I never deserved it," Uzhunnalil said during the press conference. "I'm only grateful to God for his blessings, I'm sure he prayed much for me."
In a video posted to Facebook, Uzhunnalil assured that he is in good health but still needs to recuperate from his physical weaknesses. He stated that he has no other illness other than his diabetes. 
"I feel happy. I feel strong in my mind and soul," he said. "I am sure God will put me back to whatever mission He wants me for as long as He wants."