Federal Judge Upholds Louisiana's Ban on Gay Marriage; Says State Has Right to Define Marriage as Union of a Man and a Woman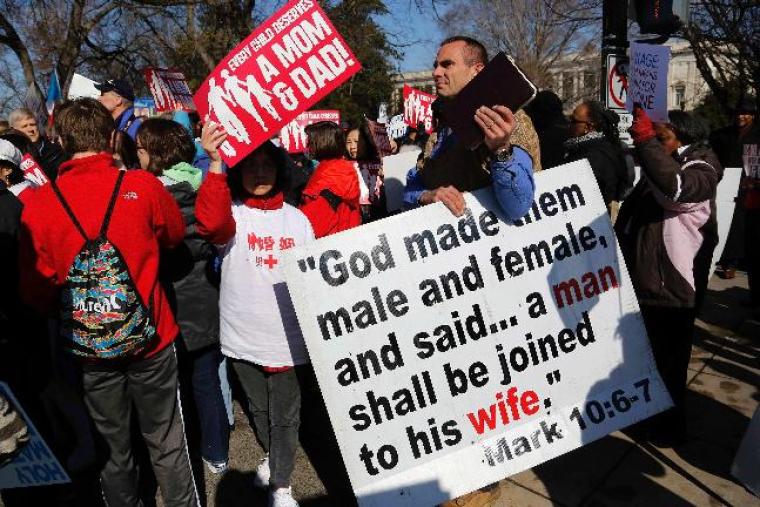 In a decision that has sent gay rights advocates in a tizzy, a federal judge upheld Louisiana's ban on same-sex marriage Wednesday handing opponents of such bans across the country their first defeat in a federal court since the Supreme Court ruled in 2013 that the U.S. government cannot withhold federal benefits to married gay couples.
"The State of Louisiana has a legitimate interest under a rational basis standard of review for addressing the meaning of marriage through the democratic process," Judge Martin L. C. Feldman of the U.S. District Court for the Eastern District of Louisiana wrote in his decision cited by Talking Points Memo.
Feldman, who was nominated to the federal bench in 1983 by President Ronald Reagan, explained that the idea of same-sex marriage was "nonexistent and even inconceivable until very recently." He noted that: "Many states have democratically chosen to recognize same-sex marriage. But until recent years, it had no place at all in this nation's history and tradition."
This Court is persuaded that Louisiana has a legitimate interest ... whether obsolete in the opinion of some, or not, in the opinion of others ... in linking children to an intact family formed by their two biological parents, as specifically underscored by Justice Kennedy in Windsor," Feldman explained in his ruling.
He also argued that the reasoning being pushed by opponents of same-sex marriage bans is a potentially slippery slope that could lead to incestuous marriages and other unconventional unions.
"For example, must the states permit or recognize a marriage between an aunt and niece? Aunt and nephew? Brother/brother? Father and child? May minors marry? Must marriage be limited to only two people? What about a transgender spouse? Is such a union same-gender or male-female? All such unions would undeniably be equally committed to love and caring for one another, just like the plaintiffs," argued Feldman.
J. Dalton Courson, a lawyer for the plaintiffs, told The New York Times that while he was disappointed with the ruling he was aware that lifting the same-sex marriage ban would not be easy.
"We always anticipated that it would be a difficult challenge," he said. "We certainly are disappointed, considering the string of rulings in favor of same-sex marriage."
The Times noted that 21 consecutive federal court decisions ruled that same-sex marriage bans are unconstitutional since the Supreme Court struck down part of the federal Defense of Marriage Act last year.
Courson says Feldman's ruling is expected to be appealed to the U.S. Court of Appeals for the Fifth Circuit but one legal scholar told Talking Points Memo the the Fifth Circuit is likely to uphold the ban.
"This ruling is only surprising because so many courts have gone the other way in the last year," Adam Winkler, a law professor at UCLA told TPM.
"The Fifth Circuit leans conservative, so one might think the court would uphold the ban," he noted before adding, "yet so many judges, regardless of their political leanings, have voted to strike down marriage bans."
Supporters of the ban praised Feldman's decision.
"It's refreshing to see this recognition of the right of states to manage their own affairs," Louisiana Attorney General Buddy Caldwell said in a statement cited by The Times.
The challenge to Louisiana's same-sex marriage ban was brought in the case of Robicheaux vs. Caldwell by gay rights group Forum for Equality and seven same-sex couples who were either seeking to be married in the state or seeking to have their gay marriages recognized there.
Read Feldman's Complete Decision Below: