Female athletes call on Senate to protect women's sports: 'Title IX changed my life'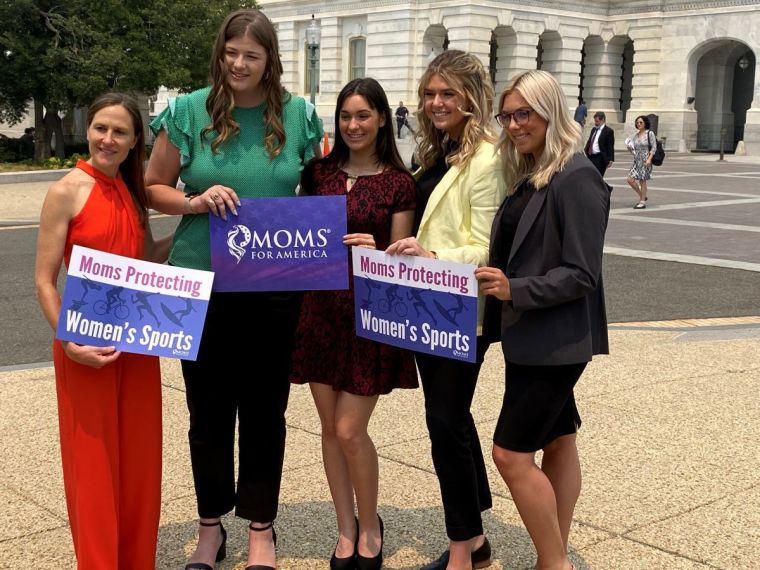 WASHINGTON — Female athletes gathered on Capitol Hill this week to share their experiences and push for legislation to prevent biological males who identify as females from competing in female sports. 
In a Wednesday press conference at the House Triangle, current and former female collegiate athletes joined state and federal lawmakers and the advocacy group Moms for America to urge the U.S. Senate to approve the Protection of Women and Girls in Sports Act.
The Republican-controlled U.S. House of Representatives passed the measure in a 219-203 vote in April, but the bill is stalled in the Democrat-controlled Senate, where its prospects are grim.
The bill would make it a violation of federal law for "a recipient of Federal financial assistance who operates, sponsors, or facilitates athletic programs or activities to permit a person whose sex is male to participate in an athletic program or activity that is designated for women and girls."
Directed at schools that receive Title IX funding to provide equal opportunities for women and girls in education and sports, it bases the definition of the term "sex" solely on "a person's reproductive biology and genetics at birth."
The legislation comes in response to policies allowing trans-identified athletes to compete on sports teams that correspond with their stated gender identity as opposed to their sex. Critics of such policies maintain that they have devastating consequences for biologically female athletes since they allow biologically male athletes to compete against them. 
Most notably, the National Collegiate Athletic Association, a major organization governing collegiate athletics in the United States, came under fire in 2021 for allowing trans-identified male Lia Thomas to compete in women's college swimming championships after the athlete broke women's swimming records. Thomas competed on the men's swimming team for three seasons before switching to the women's team.
Female athletes at the press conference shared their firsthand experience competing against male athletes, including Thomas, and detailed pushback they've received for their advocacy.
Lee University volleyball player Macy Petty shared that in high school, she played in a club tournament attended by many scouts seeking athletes to play for their colleges and universities. She said she was "trying to get noticed and get a scholarship."
"When I walked into the court, there was something different," she said. "I looked on the other side of the court, and on the other team was a very tall and athletic man. I did not sign up to be in a co-ed league, and there [were] male courts just across the convention center."
Petty contrasted the courts on the other side of the convention center with the ones the women's volleyball team used, specifically highlighting how the men's volleyball team "had nets over seven inches higher than the female net that I was playing with." She lamented that "the ruling authorities decided that this boy's feelings overrode our opportunity to play in a female-only league."
"This athlete played on a net seven inches shorter than he should have as a man, and with his biological advantages, he wooed the college scouts," he said. "I hate to think of what young lady was passed over to make room for him on that college team."
Petty urged lawmakers not to "force women to compete against men and belittle them when their biological differences arise."
"Instead, let's provide them with an opportunity to compete within their own teams, change in their own spaces and reserve female athletic roster spots and scholarships for females," she said. 
Evie Edwards, a professional cyclist, elaborated on the biological differences between men and women that give men an advantage in athletics.
"We know females experience puberty differently than males. Boys develop muscles and bones, which are advantageous for any sport they choose to participate in," Edwards said. "Female puberty often brings weight gain and distribution shifts in fat, lean muscle, breast development and of course, menstruation."
Edwards contends that females have had "much higher rates of knee injury" and "experience higher rates of concussion than their male counterparts in sports."
Abby Carr, a Harvard University swim team junior, cited "more muscle mass, height, endurance, greater bone density, lung capacity and overall athleticism" as additional examples of biological differences between men and women that give men an advantage in athletics.
Kassidy Comer, a former NCAA basketball player at Midwestern State University, pointed to statistics from Yale Medicine finding that "women are 2-8 times more likely to tear an [anterior cruciate ligament] than men are."
Additional information she shared from the article described how "the female pelvis is wider, which changes the mechanics of how the thighbone, tibia and femur function." Specifically, she detailed how a wider female pelvis causes "more stress on the soft tissues that support the joints, which can lead to both chronic and acute injuries."
Edwards, who now has children of her own, explained that her 11-year-old daughter shares her interest in competing in sports but expressed dread over "the inevitable decision that we will have to make if she continues her athletic pursuits [with] trans-identified males."
"Our decisions will be rooted in concerns for her physical safety, her self-esteem and her well-being," she said. 
Edwards said she was even accused of sexual harassment and sexual misconduct for wearing a "Save Women's Sports" shirt during a cycling competition.
Harvard University's Carr shared a "brief but powerful anecdote rooted in empirical fact" based on her experience as a female swimmer.
"In December of 2015, at age 12, I went 2 minutes and 5 seconds in the 200 butterfly. This was not only a meet record, but it was faster than all of the 11, 12 boys who competed in the race."
Carr contrasted her performance as a 12-year-old athlete with her showing at a championship race last year.
"My time, 1:57, was the top time in the league. Over the course of the seven years in between those two races, I trained upwards of 20 hours a week, waking up some mornings at 4:30 a.m., to get to the pool before school only to go back after school and train another two hours in the afternoons. This was a gradual process, chipping away slowly and painfully at my time, sometimes only improving by a matter of milliseconds."
On the other hand, the top time at this year's men's swimming conference was 1 minute and 42 seconds.
"My time would not have even qualified to be recruited for a men's team in D1 swimming, let alone be competitive with other male swimmers in the league," Carr said. 
Carr attributed the difference in performance between the sexes to biological changes that materialize during puberty, flashing back to an experience she had as a 13-year-old.
Identifying that age as the point where "boys began beating me for the first time in my life," she recounted the moment when her coach pulled her out of the pool during practice as she was "showing increasing frustration at the reality that the same three boys I had trained with my entire life were now beating me for the first time in practice."
"I will never forget my coach telling me that the days of me beating these boys, or any boys for that matter, had ended. They were simply growing faster and stronger. It's just puberty."
Carr discussed her experience competing against biological males as a collegiate swimmer, including against Thomas, in an interview with The Christian Post.
"My team has competed directly against Lia Thomas. We have, in fact, lost," she said.
"I have competed against other transgender athletes in Ivy League, Iszac Henig, and I have won," she added. In contrast to Thomas, who competed on the men's team before identifying as a female, Henig is a trans-identified female who previously competed on the women's swimming team before transitioning to the men's team.
Taylor Silverman, who competes in women's skateboarding, said she has been "bumped from first place to second" on multiple occasions because she had to compete against trans-identified males.
"It was a different male each time," she said.
She said she is speaking up after three instances of having to compete against biological males. She complained to contest organizers at Red Bull about how trans-identified male athletes received $5,000 in prize money intended for a female athlete. But she said her complaints were "completely ignored."
The concerns shared by the attendees at Wednesday's press conference have prompted 21 states to pass laws requiring athletes to compete on sports teams that correspond with their biological sex: Alabama, Arizona, Arkansas, Florida, Idaho, Indiana, Iowa, Kansas, Kentucky, Louisiana, Mississippi, Montana, North Dakota, Oklahoma, South Carolina, South Dakota, Tennessee, Texas, Utah, West Virginia and Wyoming.
Even if the bill were to pass the U.S. Senate, President Joe Biden has vowed to veto the "discriminatory" legislation if it were to ever make it to his desk.
While much of the efforts to require athletes to compete on sports teams that correspond with their biological sex as opposed to their gender identity have taken place at the state level, speakers at the press conference emphasized that Congress has an obligation to protect women's sports as well.
Idaho Republican State Rep. Barbara Ehardt, the first woman to sponsor a ban on trans-identified males in women's sports at the state level, brought up her personal experience with Title IX, a federal civil rights law designed to provide equal opportunities for women and girls in education, including in athletics.
"Title IX changed my life," she exclaimed. "I was born in the '60s, grew up in the '70s."
When Ehardt told people she "wanted to play sports" as a young girl, they told her, "that's not what girls do." After Title IX was passed in 1972, Ehardt was able to play basketball in junior high school as well as high school and college. As an adult, Ehardt has spent 15 years as a Division I women's basketball coach.