House Democrats vote against bill to protect women's sports; Hakeem Jeffries claims issue 'doesn't exist'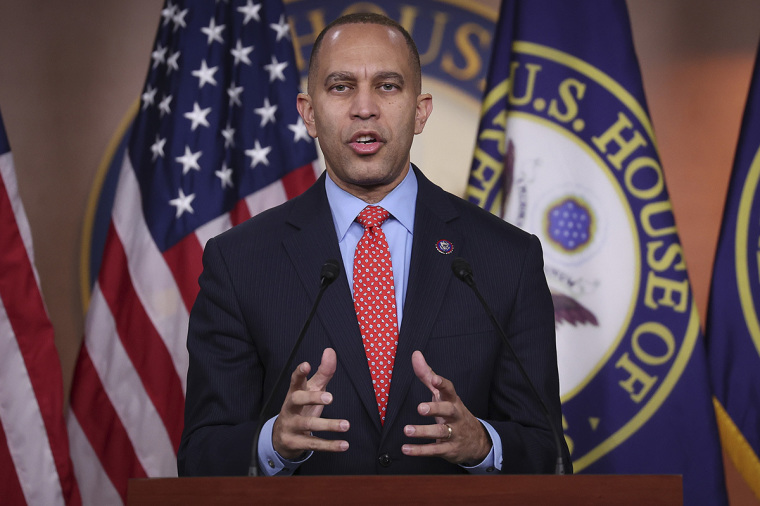 House Republicans passed the Protection of Women and Girls in Sports Act on Thursday to ban trans-identified athletes from competing in girls' and women's sports by amending Title IX protections to only apply to female athletes. All House Democrats voted against the bill. 
On Thursday, the Republican-controlled House voted to approve the Protection of Women and Girls in Sports Act in a 219-203 vote. 
House Minority Leader Hakeem Jeffries, D-NY, criticized the measure, claiming that "extreme MAGA Republicans are trying to sensationalize an issue that doesn't really exist." 
Kelley Robinson, president of the LGBT activist group the Human Rights Campaign, condemned the House for passing the bill in a statement:
"Rather than focus their energy on doing literally anything to improve the lives of children, House Republicans have prioritized attacking transgender youth as a political ploy. ... All kids — including transgender, nonbinary and intersex kids — have the right to enjoy the benefits of camaraderie, teamwork, self-discipline and sportsmanship that come from school sports. Instead, anti-equality extremists just don't want to let kids play. We know that attacking trans kids didn't work in the 2022 election, and it won't work in 2024 either."
Riley Gaines, a former collegiate swimmer who has become an outspoken critic of policies allowing men to compete in women's sports, reacted to the vote in an appearance on Fox News' "The Faulkner Focus" on Thursday. "I feel grateful for the leadership of Greg Steube, for the leadership of Speaker Kevin McCarthy, Virginia Foxx, Claudia Tenney, all the cosponsors of this bill for standing up for women," she declared.
IN FOCUS: @Riley_Gaines_ sends a message on the @FaulknerFocus to Dems for not supporting the 'save women's sports' bill. @HARRISFAULKNERpic.twitter.com/OeiSwtpHIW

— Fox News (@FoxNews) April 20, 2023
Gaines also weighed in on Democrats' refusal to support the measure. She proclaimed that "the war on women is underway and the Democrats will pay for this in 2024."
The bill now heads to the U.S. Senate, where it is unlikely to pass given that Democrats control the chamber. Even if it did pass the Senate, President Joe Biden has indicated that he would veto the "discriminatory" legislation if it ever made it to his desk.
The text of the bill declares that it is a violation of federal law for "a recipient of Federal financial assistance who operates, sponsors, or facilitates athletic programs or activities to permit a person whose sex is male to participate in an athletic program or activity that is designated for women or girls." The legislation clarifies that "sex shall be recognized solely based on a person's reproductive biology and genetics at birth."
Meanwhile, the Biden administration has submitted a proposal to the Federal Register that would require recipients of federal funding under Title IX that enact policies requiring athletes to compete on sports teams that correspond with their biological sex instead of their chosen sexual identity to make sure that criteria for participation on sports teams is "substantially related to the achievement of an important educational objective" and minimizes harm to trans-identified students wishing to compete on teams that align with their gender identity.
In other words, the proposed rule would forbid Title IX recipients from implementing blanket bans preventing trans-identified males from participating in women's sports. Title IX is a federal civil rights law that requires schools to provide equal opportunities for women and girls in education, including in sports. Failure to comply with Title IX could result in educational institutions losing federal funding.
The divergent actions by the Biden administration and the U.S. House on the issue of participation in women's sports comes as 21 states have passed laws requiring trans-identified athletes to compete on sports teams that align with their biological sex: Alabama, Arizona, Arkansas, Florida, Idaho, Indiana, Iowa, Kansas, Kentucky, Louisiana, Mississippi, Montana, North Dakota, Oklahoma, South Carolina, South Dakota, Tennessee, Texas, Utah, West Virginia and Wyoming. 
The push to pass these laws reflects concerns about fairness for women athletes who have to compete against men who identify as trans. USA Powerlifting has identified "increased body and muscle mass, bone density, bone structure, and connective tissue" as factors that give men an advantage over women in sports. 
A study published in the British Journal of Sports Medicine in December 2020 found that trans-identified males maintain a competitive advantage over their biologically female counterparts even after a year of taking feminizing hormones. Real-world examples of men dominating women's sports competitions have also motivated efforts to pass laws making biological sex the determining factor in what sports team an individual competes on. 
Most notably, University of Pennsylvania swimmer Lia (Will) Thomas, a trans-identified male swimmer who previously competed on the men's swimming team, drew national headlines after shattering women's swimming records while competing on the women's swimming team in the 2021-'22 school year. Thomas' athletic career also received national attention when the swimmer set a record in Ivy League championships last year and shortly thereafter, won a 500-yard freestyle at the National Collegiate Athletics Association Division I national championship. 
Thomas competed against Gaines as part of the NCAA championship, where both tied for fifth place. The NCAA's insistence that Thomas hold a fifth-place trophy in a photograph celebrating their achievement and that Gaines would get to hold a sixth-place trophy even though they tied infuriated Gaines and led her to speak out on the contentious topic of trans-identified males in women's sports.