Former Potter's House pastor Chris Hill confirms New Year's Eve arrest, opens up about 'horrible' divorce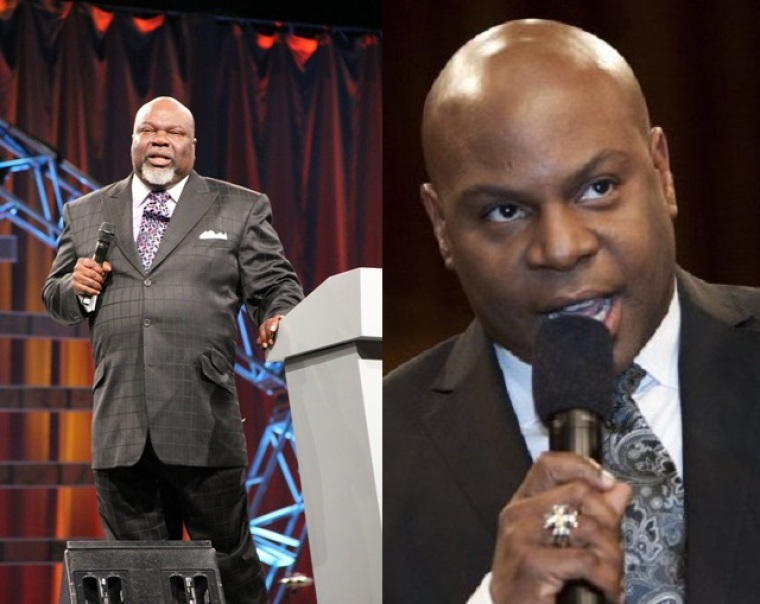 Former senior pastor of The Potter's House Church of Denver Chris Hill, who resigned in 2017 over an alleged affair with a married parishioner, confirmed Tuesday that he was arrested on New Year's Eve and jailed for just over a week in Atlanta in a harrowing experience he said left him feeling dehumanized.
"First time I'm in this situation and I'm like, 'My God, you've got to get me out of this. You've got to get me out of this.' But no. … they took me around the corner. They stuck me with a needle for tuberculosis because I'm gonna be around people. And then they took me! Me!" Hill, a protégé of Bishop T.D. Jakes, said in a Facebook Live broadcast as he described how he was processed at the Clayton County Sheriff's Office.
"They fitted me for an orange jumpsuit and forced me into a shower and checked me in ways that my God, no man should check another man. ... I'm telling you, I felt totally, totally dehumanized. Totally, totally broke down. It wasn't so much that it was physical as it was spiritual and totally, just totally dehumanizing," the 50-year-old preacher said.
"Ladies and gentlemen, yes, this really happened," Hill added. "A lot of people thought it was a hoax because it's completely out of character, completely out of the norm. Usually, I don't even put myself out there like that."
Hill first highlighted his unexpected arrest at the Atlanta Hartsfield-Jackson International Airport in a social media post on Saturday which was quickly deleted. Authorities, he said, had alleged that he was a fugitive of justice but could not provide any further details as to why he was being arrested. The post was not deleted, however, before media personality Larry Reid of the "Larry Reid Live" show was able to get a screenshot and shared it with his audience.
"I am not a flight risk nor fugitive nor have I ever been. I have my 15-year-old son and my 74-year-old mother who is sick with Alzheimer's who I am responsible for. I was just on my way to do my missions work. I am asking for your support, prayers, and that you do anything in your power to contact both the city of Arlington Municipal Court and or the Clayton County sheriff's office in Atlanta, Georgia, to either give me a charge or release me. My friends, colleagues or anyone who cares about justice help me get out of jail. #freechrishill," Hill wrote in the post which came five days after being in jail.
A representative from the Clayton County Sheriff's Office confirmed with The Christian Post on Wednesday that Hill was booked on New Year's Eve and released approximately one week later on Jan. 8. The representative could not, however, immediately reveal the circumstances behind the pastor's arrest.
In his broadcast on Tuesday, Hill explained that he was on his way to a four-week, four-country mission trip in Africa when he was singled out by authorities.
"I [had] flown from Denver to Atlanta, I was changing planes and boarding 1D, had my ticket, I'm the second person on the plane, and boom, I turn the corner and there are these four brothers from customs and security that are standing there and they are standing there and asking the person in front of me his name," Hill said.
He explained that they later stopped him and asked him for identifying information then proceeded to detain him.
"They tell me that there is a warrant for me in Texas. And they start walking me back," Hill said.
Hill, a father of two boys who divorced his former wife, Joy Turner Hill, approximately two years ago, said he has custody of his teenage son and declared that his arrest was not related to child support.
"Now you have to understand. I didn't miss a court date. I'm not late on my child support. I don't pay child support because I have the child. You have to understand, I am the child support. I'm his sole support. His momma don't pay no child support. I take care of that child. He lives with me so, no, all the things, rumors, and crazy? I'm not late on anything. It wasn't a charge. There wasn't a charge on me for five days while I was in lockup. That's why #freechrishill," he said.
The Denver pastor explained that when he made the social media post on Saturday he was in a panic. He said when he was first arrested, he wasn't sure who to call at the time and the only thing he could think of was his office and his pastor. He never thought to reach out to most of his friends who are preachers or public speakers because he knew they would be preparing for New Year's Eve services. He didn't call his children either because he didn't want them to worry.
The day after his arrest, he explained with strong emotion, he was taken to court in handcuffs "like a slave."
"And I have done no crime. I have no charge and no crime and done nothing wrong, done nothing but help people my whole life. And here I am like a slave in stocks hopping into court.
"They don't have anything on me. No charge. Then the court case is that fast … in a chain gang. I spent my whole life ministering to people in jail, my whole life helping people, feeding people and this is my situation. Ladies and gentlemen, I was praying to God. Court lasted for me about two minutes and then off we go and they are saying to me you have 72 hours, we're gonna have to let you go because your bond is so low."
After 72 hours, Hill was still in jail because he said authorities told him that Texas officials were not going to spend money to transport him due to the nature of the charge. Georgia officials also could not release him, he said, because "Texas has a hold."
"Now I'm in this legal limbo and you asked me why I #freeChrisHill? By the Saturday, I had been there for almost five days. And by the Saturday, I reached out to my staff and I said, 'Say something. Tell people I'm here. At least they can be praying. Tell people I'm here. At least they can cry out to God,'" he said. "In a moment of really panic. I don't know if you've ever been in a panic but I was in a panic that day. And I'm sorry if I scared you."
To illustrate how afraid he was at the time, Hill shared details of his "horrible" divorce, which he went through almost two years ago and was able to remain quiet about it.  The idea of losing his freedom, he said, forced him to speak up.
"I went through a horrible divorce almost two years ago. I lost everything. I lost my home. I lost my vehicles. I lost the church that I built with my own sweat and blood with the help of the Holy Ghost. I lost it all. I never said a word. I never said a word," he said.
"I have two sons. They love their mother. I'm not trying to drag our business through the streets. I'm not that person. I'm really not that person. I've never gone live on Facebook to talk about any of this. But when you've been locked in a cage, and when you've been locked up like an animal, there is something that says when I get out of here, I'm gonna finally tell my truth," he continued.
He further explained that even though he only divorced two years ago, his marriage was over for at least 10 years but he fought to keep it together for the sake of his children, and alleged that his ex-wife threatened to destroy his ministry if he left her.
"The reality [is] I divorced 10 years ago," he said.
"She said if you leave me I will destroy your ministry. I will destroy something that you put 30 of your years in to build ... and so I stayed," he said.
He talked about how he rescued his niece from foster care and was raising her as his own but his ex-wife chose to send her back while he was overseas on business.
"This was not something that just happened. Oh my God!" he said of his marriage. "I held on for 10 years living with somebody that put my blood back [in foster care] and I couldn't get her out of the system. She aged out of the system because I trusted her with someone who I cared about," he said.
Hill's marriage and his ministry began unraveling in early 2017 when his then-wife of more than 20 years alleged in a mass text message to church members that she was able to verify that her husband had been carrying on an affair with their young goddaughter, Shirnae McFarlane, who married Arthur McFarlane III on Sept. 26, 2014.
Three months later, Hill resigned as senior pastor of The Potter's House Church of Denver that year. Following counseling and a public show of repentance, Bishop T. D. Jakes said he had been restored to ministry with the laying on of hands.
"God said that if we confess our sins, that He is faithful and just to cleanse us from ... all unrighteousness. I just believe that this is what the grace of God is for," Jakes said in a clip of Hill's restoration.