Former President Jimmy Carter's Church Flooded With Calls After Announcing He'll Be Teaching Sunday School Despite Brain Cancer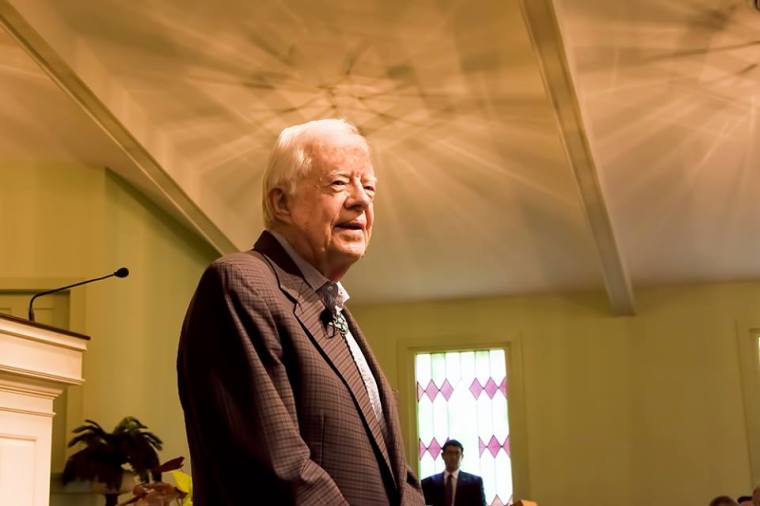 If all goes well and he is able, former President Jimmy Carter will be teaching his Sunday school class at Maranatha Baptist Church in Plains, Georgia, this Sunday and several Sundays more over the next three months while he's being treated for brain cancer.
If you plan on sitting in on one of those classes, however, you might find the competition a little stiff as the church only seats 300 people and you are not allowed to make reservations.
"Because of the high volume of calls we have been experiencing as of late, we ask for your understanding and patience as we seek to return your call," a recording on the church's voicemail noted when The Christian Post reached out to find out more about the class on Friday morning.
In a return call to CP a few hours later, Pastor Jeremy Shoulta of Maranatha Baptists Church explained that the church is expecting "probably our largest crowd in years" on Sunday.
"There has been a large response to President Carter's teachings we do expect this Sunday will be probably our largest crowd in years. We are going to fill in as many people as we can, we are going to utilize as much overflow space as we can and we are going to do our best," said Shoulta.
"Our church was not built to accommodate the size of the crowd we anticipate this Sunday. ... We have had a lot of people calling in and writing in. So yes, we do anticipate having a big crowd this Sunday," he explained.
Information on the church's website shows that Carter's class starts at 10 a.m. EDT. The church doors open at 8:30 a.m., but if you arrive before that you will have to make a line as seating is only assigned on a "first-come, first-serve basis."
"We're gonna stick to these rules as much as we can," said Shoulta. "It is still first-come, first-served basis where seating is concerned. As usual our doors don't normally open until 8:30 a.m. and for now we are going to stick to that even though certain modifications may need to be made. We do know people who are going to be getting here very early to line-up."
Last Wednesday, Carter announced that he was diagnosed with cancer that had spread to other parts of his body without saying where. At a news conference on Thursday, the 90-year-old Carter revealed that doctors had discovered cancer earlier this year on his liver and it had also been found on his brain. He noted that he would receive his first radiation treatment on Thursday afternoon.
While his cancer treatment remains his "top priority," Carter was keen to note that he doesn't expect it to interfere with his usual Sunday school class at Maranatha Baptist Church.
"I plan to teach Sunday school this Sunday, and every Sunday, as long as I'm physically and mentally able," said Carter at the conference.
As of now, according to Maranatha's website, Carter's Sunday school class schedule, which is subject to change, is: Aug. 23, 30; Sept. 6, 13, 27 and Oct. 4, 18 and 25.
Reviewers of the church on Facebook rank it a stellar 4.9 out of a possible 5 stars and highly recommend Carter's class.
"Such an honor to attend Sunday school at Maranatha. To be in the sanctuary with President Carter, a great American statesman, is an unbelievable experience. My thoughts and prayers are with President Carter and his family as he faces health challenges," wrote Jane Taylor of her experience.
"Our visit to Maranatha Baptist in March of 2007 remains a highlight of our lives. Meeting all of the wonderful people at the church who gladly welcome the many visitors, Ms. Jan and her delightful 'briefing,' and then having the amazing opportunity to sit and listen to former President Carter teach the Bible ... just an absolutely incredible experience," explained Cindy Scott.
Hedy Fraunhofer, who says she considers herself an agnostic, said her experience of the class showed that Carter "seems to truly live his faith."
"My family and I came to attend President Carter's Sunday school lesson. I was raised Catholic and now consider myself agnostic. I had never attended a Baptist service, but was inspired by the inclusive spirit of the whole gathering and the pastor's well-written and intelligent sermon. Of course, meeting President and Mrs. Carter in person was the experience of a lifetime. I have long admired their life's work. I am now further moved by how President Carter seems to truly live his faith. Thank you all!" she noted.