Former trans-identified man slams suicide narrative in Netflix film 'Pray Away': 'Not the truth'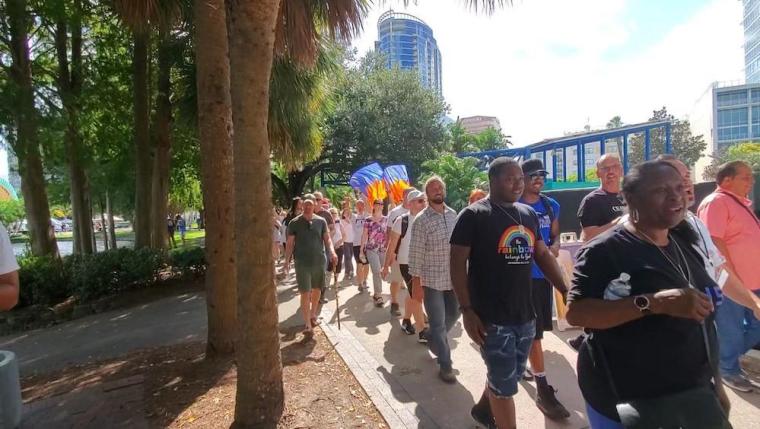 'Hear the Gospel and choose life'
When asked to respond to the theme of the film that people who walk away from sexual temptation due to religious convictions are suicidal, both men answered candidly. They also slammed the notion that preaching freedom and the love of Christ to the LGBT community is harmful. 
McCall shared that he struggled with depression and was suicidal while living as a transgender women, and even was admitted to a psychiatric ward in Tennessee. It wasn't until he left his former lifestyle behind that he was freed from his struggles.
"So these people that are saying all this, they need to understand there are many people that are set free from suicide and depression by following Jesus," he said. 
The secular world, he added, will not share statistics of individuals who have found freedom in Christ because "they don't want people to be able to hear the Gospel and choose life."
"So what they do is, they come out that all these people are just committing suicide because they are told that it's a sin. That is not the truth," he declared. "The truth is that many people are set free from suicide and depression."
McCall agreed with what Dr. Michelle Cretella, executive director of the American College of Pediatricians, told CP. She said there is "no evidence that 'destigmatizing efforts' will solve the problem because there is no evidence that the higher rates are due primarily to stigmatization."
She noted that Sweden is among the most LGBT-affirming nations in the world, yet, LGBT mental illness and suicide rates in Sweden are just as elevated in that country relative to the general population than anywhere else.
"It shows you clearly that it is a problem within the community, that these people feel an oppression, and a darkness, and a depression, and suicide over them," McCall stressed. 
He added: "Even on my hardest days. There's just a peace deep within knowing that God is with me and that through Jesus Christ, I'm reconciled to God. Through Jesus's sacrifice. It's not my works that saved me or my actions, but through His blood, I'm saved." 
Understanding what God did for him, McCall said, makes him want to obey His way above what this world says he should be doing. 
"I'm not perfect. I've made many mistakes, even after being saved, but there's just a peace that comes when you follow Him, when you obey Him, and when you love Him," he emphasized. 
Another message pushed in "Pray Away" is that many people who came out of the same-sex lifestyle and married someone from the opposite sex still found themselves tempted by the same sex. 
Nevertheless, McCall and Pagan maintained that temptation does not mean one is suppressing their true selves.
"People that say that I'm just suppressing myself and all those things," McCall shared. "It can be hard to relate to me from someone that doesn't know Jesus or have a relationship with Him, because a lot of people are so consumed in their feelings, and what they feel." 
"I think that having faith in God takes us out of our feelings, and we want to obey Him, we want to love Him," he explained. "I don't sit around all day in a corner of a room just hoping I won't be gay today, or mess up or all those things. It's a relationship with Him; it's walking with Him."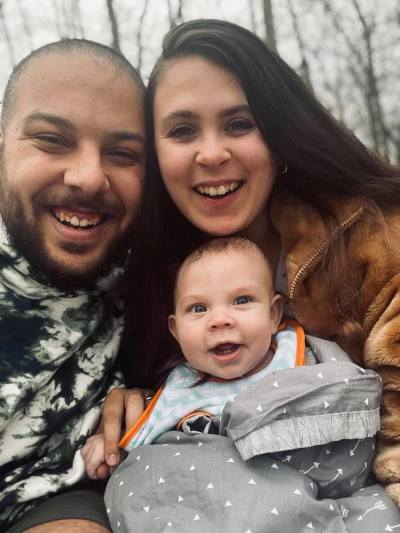 Pagan has been married to his wife, Madison, for two years. The couple has a son and twin boys on the way.
Now, Pagan says he knows he is in God's perfect will for his life.
"I don't have control over what temptations are, and neither did Jesus. Jesus was tempted in every way like we are, yet He was without sin. I believe in process with the Lord, we can get to a place where the same desires don't appeal to us anymore."
He added: "For me, it's not so much as tempting to be with the man so if a feeling comes up that's familiar, I'm just not going to respond to it. I bring it out into the light. I talked to my wife about it. I talk to my community."
Pagan said that when sin lingers, it is because some doors are left open to the enemy internally. 
"The majority of the time that I struggle with something being wrong, the enemy tries to bring in what's familiar," Pagan confessed. "It's more of a warfare since … the enemy tries to come in and tempt something and tries to manipulate what I can reach in a normal emotional way, by selling myself short in a sexual way."
He continued: "So I know this is a moment where I need to be vulnerable with family in a healthy way and let them challenge me, let them give me advice. Let them comfort me. But if I don't, then the perversion comes into eroticized those said things." 
McCall wholeheartedly believes American schools are indoctrinating the youth to embrace the transgender lifestyle. In "Pray Away" he is heard saying the school system is teaching children to "chop up their bodies."
"It's very clear that in the American education system and university system, they are having psychologists, psychiatrists come in and counsel people to change their bodies. They're counseling people to cut off body parts, add body parts, put in things that are unnatural to the body, such as women getting testosterone and males getting estrogen," he noted. "That is not a natural process in the body, and it can cause many complications years down the road." 
"Be very careful about the council that we're getting through state schools or universities," McCall commented. "We need to rely on the Word of God, the Bible, godly counsel, and we need to be very careful about changing people, how they're built."
Both former LGBT activists said God loves gay people but does not agree with their choice to indulge in same-sex relations.
"Jesus loves gay people. Jesus loves everyone. The Bible tells us that God so loved the world that He gave His only Son that anyone who might believe in Him will not perish but have eternal life," McCall stressed.
"So of course, God loves everyone," he continued. "When Jesus was on that cross, when Jesus was being beaten and spit on and mocked and crucified and then the sin of the world being placed on Him, I know that He thought about all of the people that identify in the LGBTQ umbrella of that identity. He was dying for everyone, including those people. So if He didn't die for them, He didn't love them. And of course, He loves them. The Scriptures tell us that while we were still sinners, He died for us. So His love goes beyond anything the world could imagine."
'Homophobia and transphobia wielded outwards'
According to The Guardian, director Stolakis labeled McCall's Freedom March movement "an example of homophobia and transphobia wielded outwards." 
In response, McCall said that Freedom March is different from Exodus because it doesn't have counseling.
"We don't counsel people and those things. Freedom March is a different whole movement of itself. Freedom March is very about people's testimonies," he said.
"The people that are coming to Freedom March and speaking at Freedom March are people that already had encounters with God. Keeping Freedom March focused on Jesus and not on behavior modification is where we will continue to grow in the grace of God and continue to just see God's love poured out, and people actually realizing that God loves them," he said.
In the documentary, Yvette Cantu, who spent 14 years working for the "ex-gay" movement and is still currently married to a man, said she is not sure why the former LGBT movement "isn't dying."
In response to this, McCall told CP: "Any movement that has any hint of God in it will never die. He will continue to save people. He will continue to raise up people, to speak grace and truth until this world is ended. God never sleeps nor slumbers, He will continue to speak grace and truth into people's lives." 
Although McCall agreed to be in the film, he said he does not agree with the message of "Pray Away," which promotes LGBT acceptance and gay marriage in the Church.
"Where I stand on gay marriage, and things like that is, I do not agree with gay marriage, as in two men or two women being married. I believe that two men can love each other and two women can love each other and be close friends and have a bond that's just amazing. We read about bonds like that in the Bible between men and women. But I believe when it turns into sexual activity between two men and two women, I believe that is not according to God's plan and I believe it's falling short of Him, which is what sin is, just falling short of the mark," McCall said.
"I do believe that homosexual marriage is not how God intended it to be. I believe in marriage between a man and a woman coming together and unifying and having a family. That's what I believe marriage is," he added.
McCall stressed he doesn't "condone any violence towards the homosexual community," "belittling them or having bigotry towards them."
"I believe that everyone is created in the image of God and I believe that we should respect, honor and love everyone, no matter where they are, and lead people into the truth and lead people into the light of God," he said.
McCall ended the interview by answering whether he believes one is able to "pray the gay away."
"I think that some people do get delivered where they never struggle with that temptation again, and I do think there are people that may struggle their whole life with that temptation," he answered. "Either way, it's about following Jesus, receiving Him and loving Him, really."