Fox News' Lauren Green Says 10 Commandments Brings Faith and Science Together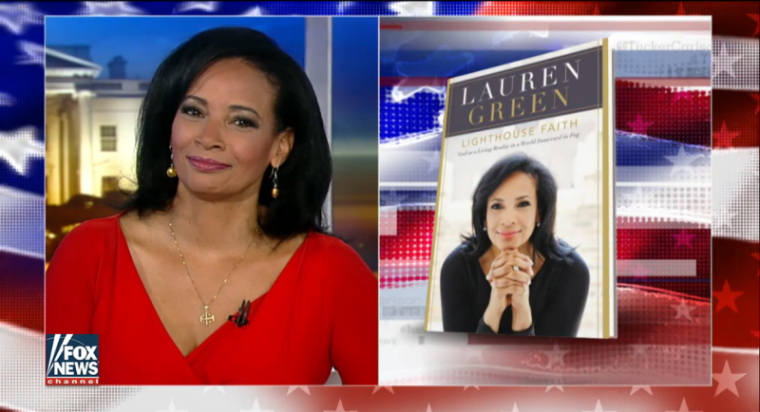 Fox News' chief religion correspondent, Lauren Green, has released a new book that goes into detail about her personal faith journey in which she says she's reconciled both faith and science.
During an interview on "Tucker Carlson Tonight," on April 27, Carlson commended Green for not being afraid to openly talk about her personal beliefs in the book, Lighthouse Faith: God as a Living Reality in a World Immersed in Fog.
"That's the only thing you can do. Your whole life is really an example of what you believe," Green said in response.
The Minnesota native revealed that faith has always been a part of her life but it was a sermon on the 10 Commandments that helped bridge faith and science together.
"I really began to get on the fast track after I heard a sermon on the 10 Commandments and realized something was really brewing here that was both a product of faith and science and really bringing them together," she explained, noting that she named her book Lighthouse Faith because it's an "emblem of God's loveand His law."
"Love of course, because it's a symbol of hope, of strength, of coming home, of comfort, all of those things," Green added. "But it's also a symbol of God's [law] because it is in structure — just like the 10 Commandments. That's what blew me away."
The 10 Commandments, Green emphasized, are not just an arbitrary list but an actual description of who God is.
"You couldn't break commandments two through 10 without first breaking number one," she told Carlson. "That taught me it was a structure. You got a seminal point and everything in the system is related to that seminal point."
She then boldly quoted the first Commandment which says in Exodus 20: "I am the Lord your God, who brought you out of the land of Egypt, out of the house of bondage. You shall have no other gods before Me."
Follow Jeannie Law on Twitter:
@jlawcp