Francis Chan at Exponential West: Church Planters Need to Set Aside 'a Lot of Strategies Out There' to Focus on Basic Gospel Message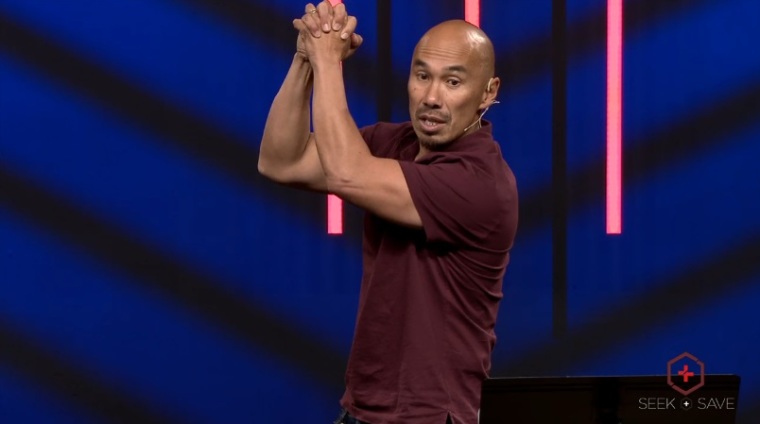 Evangelist Francis Chan urged thousands of Christian leaders at the Exponential West conference to keep it simple in regards to church planting strategy, saying that two things will produce believers – unity in the Church and bringing communion back to the forefront.
"I know there's a lot of strategies out there, but I'm saying for fruit that lasts I think we need to rethink this," Chan said on Tuesday of the three-day conference hosted at Saddleback Church in Lake Forest, California, ending Thursday. "We are talking about a miracle and so I'm saying lets abide in Him. Let's seriously believe that we can be one, just as the Father and the Son are one, and pursue that in the Church."
He added, "Let's bring communion back to the forefront of proclaiming His death. I know these things don't seem like they would work. But, we are talking about raising the dead so I think it's our best shot."
Chan, author of Crazy Love: Overwhelmed by a Relentless God, preceded his statement about "raising the dead" by comparing the miracle that Jesus performed to the transformation that occurs when a non-believer accepts Jesus into his life.
"When you think [about] what's going on to reach the lost, there's so many methods, but Jesus said they are going to believe, not when you bring… and I'm not against any of that stuff … I'm just saying Jesus didn't say bring this guy in, bring a famous person to give their testimony, He says when you guys are united, when you are one something happens…
"I want us to really think through what we are trying to do, which is raise the dead, and it's not going to happen through our cleverness," he emphasized. "It's going to happen by men and women being so attached to the vine that the fruits are just going to happen. And it's going to happen when men and women, called the Church, they are so united that a miracle happens."
Chan shared how Christian leaders living outside the U.S. make the observation that Christian leaders in this country are sometimes "content with the podcast … we are content with the book, we are content with the sermon, and we are content to take a selfie with someone who has been with Jesus."
He explained that leaders should encourage others to have their own "mountain top" experiences as Moses did.
"A movement starts when the founder really knows Jesus. You know how movements die? When the followers only know the founder," Chan said.
"The Bible says that 'they are going to believe in Jesus when you are unified.' That's how we reach out to the world. I believe in personal evangelism. We have to do that. The future of the Church depends on the average person being able to preach the Gospel, but I also believe that there is an apologetic in scripture that says the world is going to believe when the Church really lives like the Church and they become one," he said.
While church leaders and planters may think about many things they need to have a successful church, Chan believes there should be an emphasis on communion.
"When we think about proclaiming the Gospel we think about getting a great communicator to proclaim the Gospel, but during that time with His disciples Jesus said, 'When you take this piece of bread…' What? 'When you break this bread, remembering my body that was broken for you. When you drink this cup with the new covenant, you are proclaiming my death until I return.' I'm supposed to preach the Gospel by taking communion? That's what He said."